We may receive a commission when you make a purchase from one of our links. As an Amazon Associate we earn from qualifying purchases. Thank you for support!
Thinking of buying an antique or used spinning wheel? Before you buy that antique spinning wheel it's important to do your research to make sure you get the best possible price and a wheel you will love.
While there are some good deals to be found for sure, it's important to make sure you know what you are getting into. You don't want to accidentally end up with a problem wheel or paying more for a wheel than it is actually worth.
I see in a lot of Facebook groups new spinners posting pictures and asking, "Is this a good wheel to buy?" so today I wanted to share some tips for what to research and consider when buying an old wheel.
7 Things to Know Before Buying a Used Wheel
For many new spinners, spending a few hundred or thousands of dollars for a spinning wheel can be out of the question. When I first started to spin yarn I didn't even have money for proper hand carders, let alone a wheel!
Hopefully, these tips will help you find a wheel you love and save some money in the process!
1. Beware the SWSO: Not All Spinning Wheels Are Functional!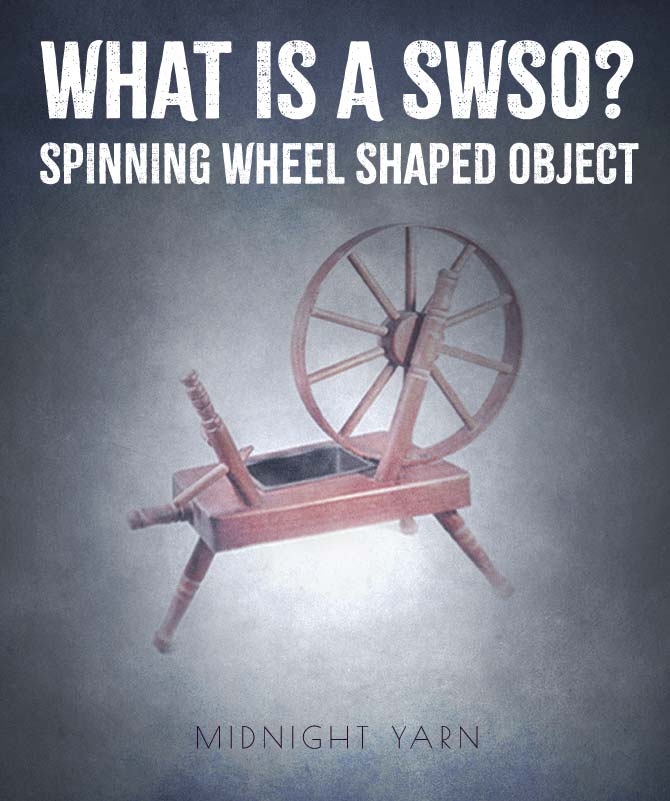 Many people claim to sell "antique spinning wheels" but this does not mean they are functional. Many spinning wheels I see on Craigslist are only decorative in nature – the wheels don't even spin!
Non-functional spinning wheels are sometimes called "SWSO's" – An acronym for Spinning Wheel Shaped Object. These may look like spinning wheels, but they aren't actually functioning spinning wheels for making yarn.
Most of the time, these SWSO's are much smaller than actual wheels, or you may even see an area to plant flowers like the example shown above.
When you buy a spinning wheel, it's very important to know the anatomy of a spinning wheel and what parts are required.
Being able to identify things such as a flyer and mother-of-all or even what type of wheel you are looking at can help you tell the difference between real spinning wheels and the SWSO's.
It's also important you understand the different types of spinning wheels – a Great Wheel may seem like it's not functional at first, but they very much are!
---
2. Ask The Seller the Right Questions
Sometimes asking questions can help you identify if the wheel is in good condition and functional.
What is the age of the wheel?
Who is the manufacturer?
Is the person selling an experienced spinner?
What types of yarn did they spin with it?
Does the wheel use bobbins or a spindle?
Do the Pedals move up and down?
Does the wheel spin?
Are any parts missing?
Can the tension be adjusted?
Asking these questions can help you avoid buying a wheel that is for decorative purposes only. An experienced spinner with a functioning wheel will be able to answer all of those questions very easily. It's very important to make sure whatever wheel you choose is functional!
---
3. Check the Condition of the Wheel
Most spinning wheels are made of wood. Some are made of solid wood, while others are made from plywood or MDF covered with veneer.
Over time, wood can crack, warp and split. Before buying a used spinning wheel, make sure you carefully inspect any potential cracks and look carefully for places where it may have been glued.
While MDF has some benefits, it's important to know it can be heavy and is just as prone to warping as solid wood.
Wheels are also prone to being damaged due to environmental issues. In a very damp or humid climate, wheels may exhibit signs of swelling or even be carriers for mold spores.
In extremely dry climates, wood is prone to shrink. This can cause cracking or make parts of the spinning wheel prone to splitting and breaking.
In addition to the wood, most wheels have a number of metal bearings. Be sure to inspect any for signs of rust and wear.
---
4. Know The Right Wheel for What You Want to Spin
There are a lot of different types of spinning wheels. If you know what kind of yarn you want to spin, this can narrow down your choices.
If you want to spin bulky and chunky art yarns, you will want to take into account how the wool is drafted and whether the wheel can handle spinning thick bulky yarns.
Some wheels require upgrading to a jumbo flyer and larger bobbins. This can add to the overall expense of a used wheel and it could actually be cheaper to buy a new one!
The fiber you like to spin with can also influence your decision. Some wheels will be more comfortable to use when working with plant-based fibers such as linen, cotton, and bamboo.
If you research different types of wheels and manufacturers, this can also help make the search much easier.
Typing in something specific like "Ashford Traditional Wheel" or "Spinolution Worker Bee" can help you find the exact used wheel you want when searching used listings online.
---
5. Understand the Current Market Conditions
Supply and Demand can greatly influence the price and availability of different wheels.
If the market is oversaturated, it's possible to find great deals for a bargain. If the choices for used wheels are slim, there can be a lot of competition and prices will be higher.
Some times of the year are better to buy a spinning wheel than others. Manufacturers and yarn shops often run sales based on seasonal demand and availability.
If you are buying antique spinning wheels, it's also important to take into consideration whether you are paying a higher price simply because of the item's age.
Many antique dealers may offer spinning wheels, but they know very little about spinning. They may have a high price for an item based on its age, but not be aware of whether or not it is functional or if all parts are in good working condition.
Sometimes it's actually less expensive to buy a brand new wheel with bonuses and accessories than it would be to buy a used one that needs a lot of work or additional parts.
See this post on how to value vintage items and collectibles.
---
6. If Possible, Try Before You Buy
Everybody spins differently and likes different things. Trying a wheel first can help you make sure you will be comfortable with the wheel while spinning.
I have sat down at spinning wheels I didn't think I would like and ended up loving them. There are also wheels I thought I would love but ended up not really liking.
Trying a wheel before you buy it can help ensure you get one that works for your needs.
---
7. Look for Accessories & Bundles Included With the Used Spinning Wheel
If you are lucky, you will be able to find a used spinning wheel that offers additional bonus accessories. These accessories can be pricey when purchased separately, so if they are included in the sale that really sweetens the deal.
Lazy Kates, jumbo flyers, extra bobbins, hand carders, and yarn winders are all tools you are sure to appreciate! If you are really lucky, the spinner may even include some fibers to get you started!
---
Where to Buy a Used Spinning Wheel
Now that we know what to look for and what to avoid, you're ready to start hunting for a new-to-you used spinning wheel to call your own.
It can be a bit of a hunt to find them, but it is possible! Here are some options to explore.
Your Local Spinning & Weaving Guild
If you are not yet a member of a local spinning & weaving guild near you, this is a great way to buy a used wheel.
You may be able to buy some of the guild's older equipment for a very fair price or even purchase wheels from guild members. They are usually super helpful in making sure you know what you're getting – you will never get a SWSO from them!
Thrift Stores
It's very rare, but occasionally you can randomly walk into a thrift store and see a spinning wheel for sale. You probably won't find one for $20 since most thrift stores are savvy on their value, but you might be able to find one for under $200 this way.
If you have friends who love to shop at thrift stores, it never hurts to ask them to keep their eyes open for you!
Estate Sales
Estate sales can be a hidden treasure trove for all sorts of fiber equipment. You can go to estate sales in person or you can even research local online estate auction sites for listings.
If you shop online estate auctions, check if they have a preview open house. Be aware that you are required to pick up and move any items you bid on!
Craigslist
Craigslist is a great way to find spinning wheels that are near you for sale. Sometimes you can find spinners who are downsizing or just want to make sure the wheel goes to a good home where it will be appreciated.
It is very important on Craigslist to do your due dilligence – I've seen more than a few "decorative only wheels" for sale that have no hope for ever spinning yarn.
eBay
eBay is a great place to find a wide variety of wheels, especially if you have your heart set on antique wheels.
When shopping on eBay for a used spinning wheel, it can be helpful to check to search for listings available for pick-up. This way you won't have to worry about it being damaged in shipping and you can try before you buy.
Facebook
There are tons of fiber equipment sales groups on Facebook. You can also do well by setting up alerts for your own local flea market and buy/sell groups.
Amazon
Finding used spinning wheels on Amazon is a long shot, but you never know! I've been surprised a couple of times to see gently used fiber equipment for sale on there.
---
Buying a used spinning wheel is a great way to start spinning without spending a lot of money. I hope you find these tips helpful and a wheel you love.
Do you have any tips for buying a used spinning wheel? Anything buyers should be aware of and look out for? Share your experiences in the comments section below!