Going into a thrift store is like being in a magical place of wonder and possibility for me. Every thing I see I know can be used for something else or made into something beautiful. Today I thought I'd write what I call the ultimate guide to repurposing thrift store finds – important things you need to know about choosing materials, what types of paints and glues to use, and more!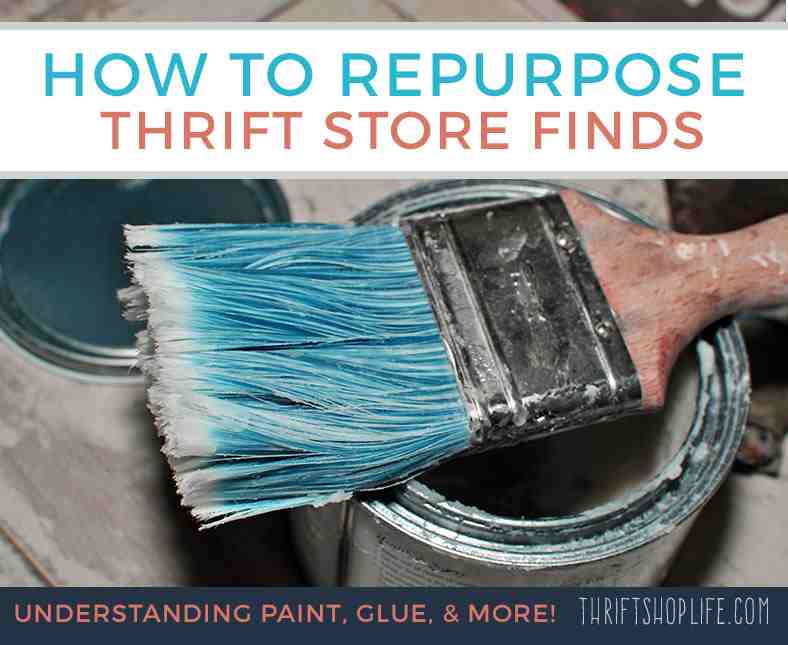 Step 1: Find Things to Repurpose
Look Carefully
:
There are awesome things to be had at the thrift store – but be prepared to do a little or a lot of rummaging around! The good stuff I find is usually not on some shelf neatly displayed, but rather in boxes or buried behind something else.
Turn it Upside Down and All Around: Sometimes to see the potential in an item you have to look at it from a different angle! For example, lamp bases can be used for a number of things – vases, mantel pieces, even a bird bath stand 😉 Vases and glasses and tea cups can be turned upside down and attached to a plate for a pedestal stand…so many possibilities when you look at something differently!
Remember Anything Can Be Painted: They make paint for glass, for metal, and even for plastic – you can paint it any color and make it lovely!
Once you find awesome stuff, you're probably wondering how to actually repurpose it…this is where this post will be VERY useful in the future!
Glues and Adhesives
There are a number of glues and adhesives on the market. For gluing wood, I freaking LOVE Elmer's Carpenter Glue…I use it for everything wood-related!
For other objects however, especially metal or plastic or glass – you might want to use something like E6000 Glue… it sticks to everything and you won't be disappointed…just be sure to read ALL OF THE manufacturer's warning labels and directions for use!
Wood Fillers for Repairing Knicks & Scratches
If you buy something that has knicks or scratches that is made out of wood, you can use paintable, sandable, acrylic wood filler. Again, I really am happy with Elmer's brand for this – but there are a number of others that will work just as well. The key is to look for the words acrylic, paintable, and sandable!
Step 2: Clean the Item to Prepare for Repurposing
One of the downfalls of thrift store shopping is stuff can be kind of dingy and dirty and dusty. Cleaning it properly is an absolute must if you plan to do any refinishing or gluing or painting.
GooGone – Great for getting rid of sticker residue
Jewelry Cleaners – You can make your own or purchase inexpensively for cleaning jewelry and metal objects.
Sandpaper – Will clean up anything wood very quickly and easily, and puts you one step closer towards refinishing it.
There are plenty of great ways to clean, and Pinterest and Google are your friends 🙂
Step 3: Know Which Paint to Use!
Understanding Paints
For painting objects, there are a wide variety of types.
Spray Paints: I like Rustoleom and Krylon Spray Paint brands – especially when painting plastic or metal. Be sure to look on the spray paint bottle for its intended use.
Chalkboard Paint – This is great for refinishing furniture or making DIY chalkboard projects. Our local home improvement store had about 10 color choices…you may need to special order or order online if you can't find it near you locally.
Multi-Surface Acrylic Paints: For smaller paint projects, I really like Folk Art Multi-Surface and Enamel paints. They really do stick to everything and anything – and best of all they are inexpensive – you can find at any craft store or even retail stores with craft departments like some Wal-mart stores.
Latex Paint – This can be used for refinishing furniture, but be sure to clean and sand before applying! I recommend using first a flat paint in your color choice and then varnishing with your favorite sealer.
Varnishes & Sealers: There are a number of clear coat sealers available, and will help lengthen the durability of painted items.
Wood Stains: Wood stains can be neat, you can do some cool effects with them, but you will absolutely HAVE to completely strip and sand the furniture to get them to soak in and then seal with an acrylic sealer. Also – note that you must use wood stain before gluing, as most wood glues are not stainable or will cause discoloration.
Do you have any tips for repurposing thrift store finds? I'd love for you to share them in the comments below – and of course if you find anything in this post helpful, please share on Pinterest or Facebook!