We may receive a commission when you make a purchase from one of our links to sites such as eBay and others. As an Amazon Associate we earn from qualifying purchases. Thank you for support!
Perhaps one of the most interesting and unusual things in my collection of ephemera is this Victorian Scrapbook that was created sometime in the late 1870's and includes hundreds of meticulously fussy cut images from trade cards, greeting cards, advertisements, and more.
I can't say that I know a lot about the history of the book or its creator, but it's a very interesting look into the history of scrapbooking, bookbinding, and journal making.
Scrapbook Construction
The journal is made up of a monk's cloth cover, which was decorated in cross stitch in true Victorian Redwork style.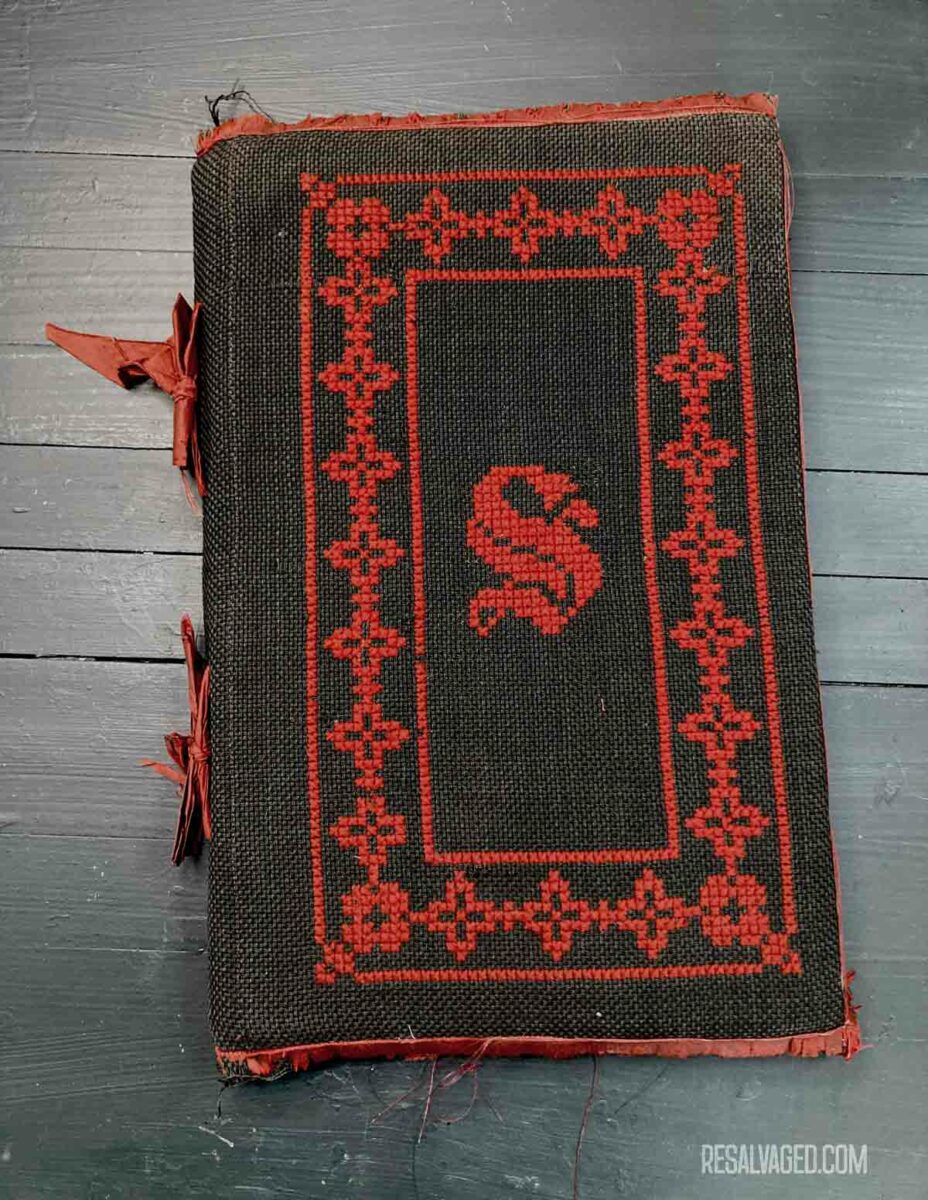 Victorian Redwork embroidery and cross stitch is stunning when you see it in real life – the red dyes that were used at the time often look just as good today nearly 150 years later as they would have originally.
I actually had to adjust the saturation from the original photo just because the red was TOO bright and it was hurting my eyes lol.
Every square inch of this scrapbook has been covered with images, including the inside and back covers. Here is a photo of the inside cover where you can see a little more of the book construction: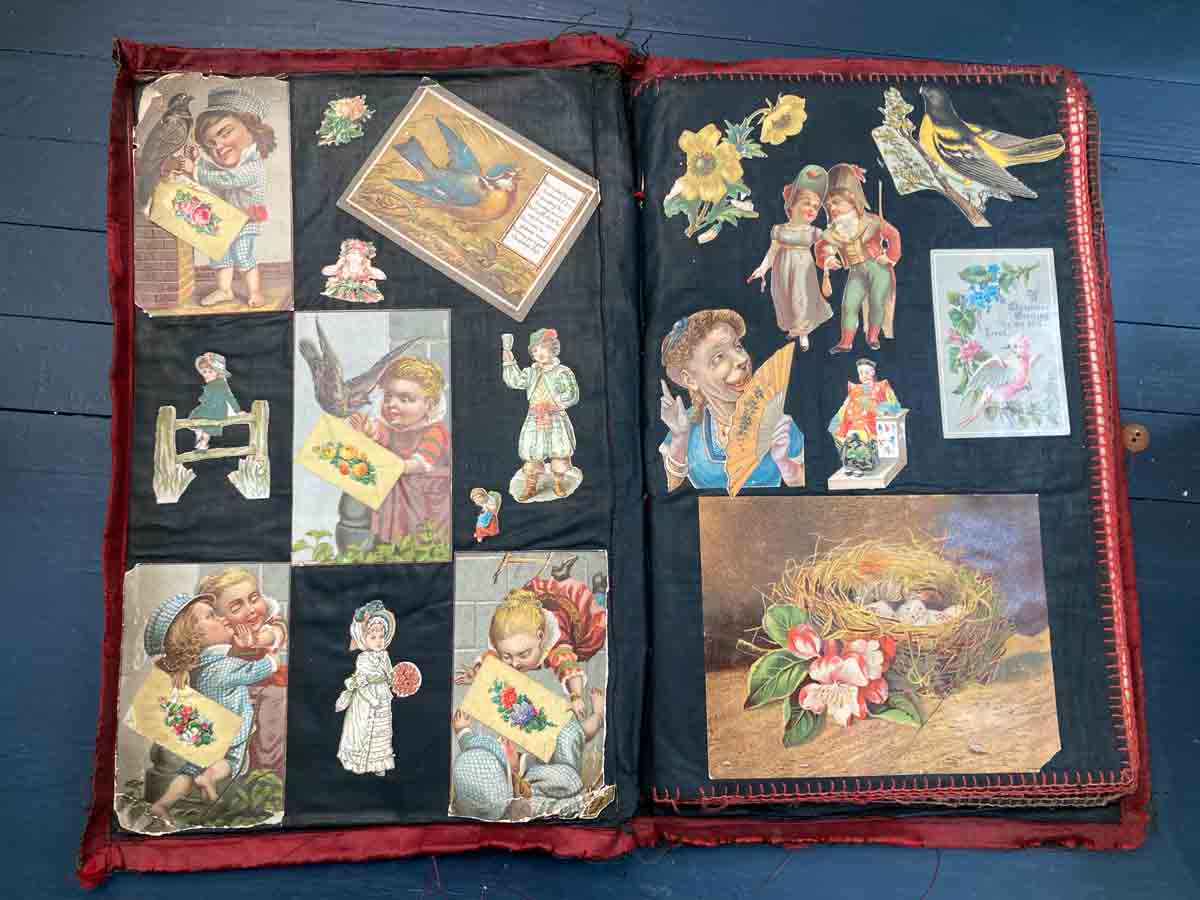 The cover cloth is sewn around two sturdy pieces of cardstock weight pieces.
All of the pages of the book are a satin weave fabric. It is stiffer than silk would normally be, so I'm not sure exactly what the pages are and the only true way to test silk that I know of is by burning it and of course we won't be doing that!
The pages are in different colors – some are black, some are white, and some are red/maroon.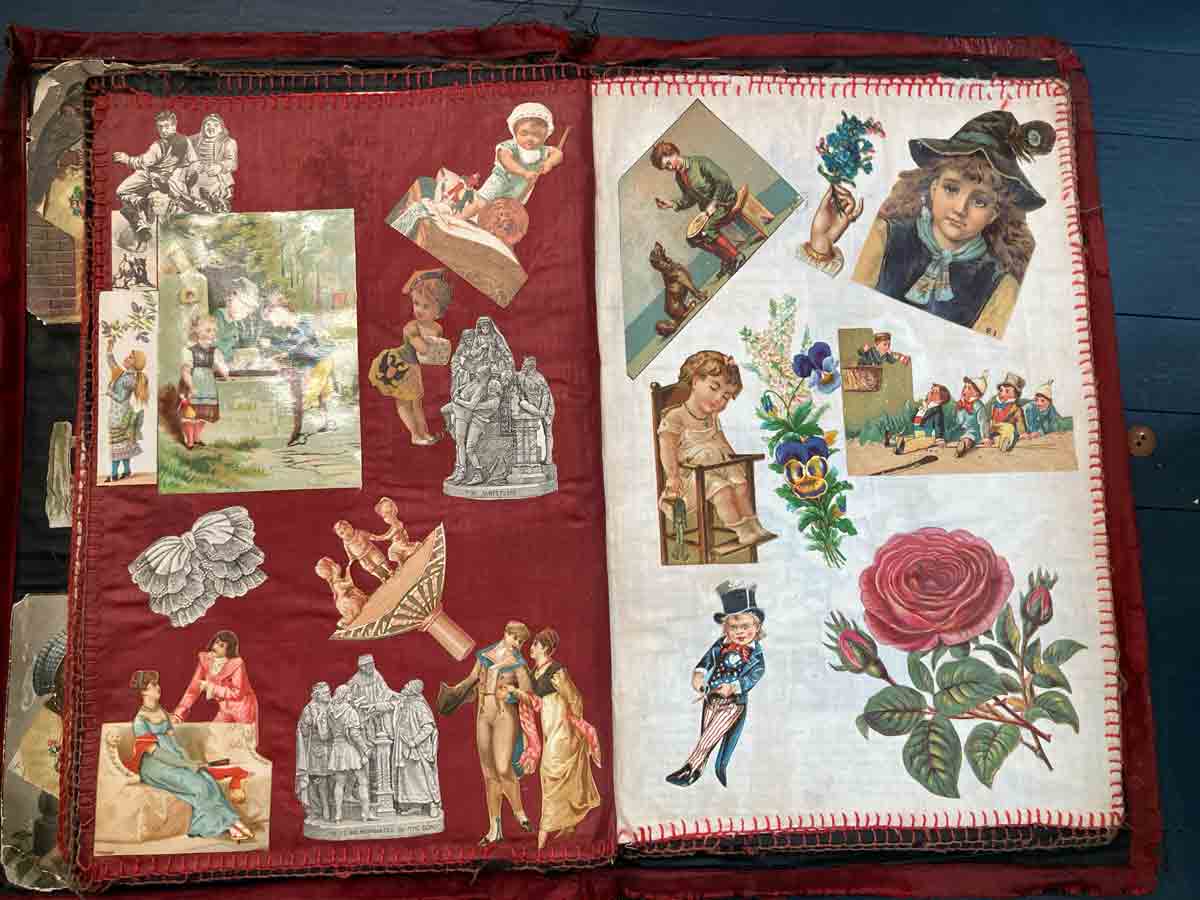 Each page is only a single layer of fabric, but the creator did a blanket embroidery stitch around each page.
One thing for sure is whatever glue this person used in the 1870 I wish I could find it today! It's unbelievable that the die cuts are still stuck to the fabric after all these years and they are NOT coming off.
The binding of the book is done in one signature with a simple 4 hole pamphlet stitch tied with ribbon. Some of the inner pages, but not all, are reinforced with basting stitches in black thread to hold them together.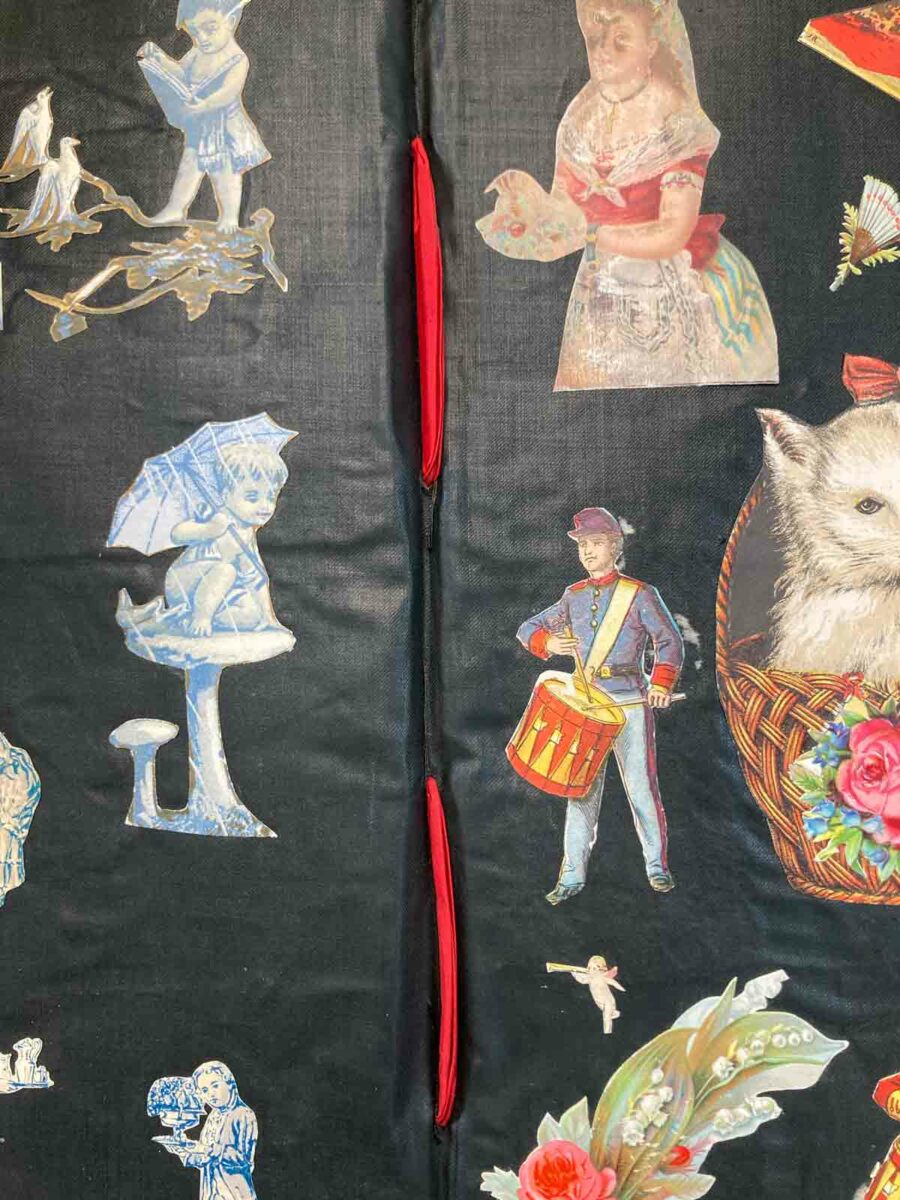 About the Images in This Scrapbook
There are about 68 pages in all if you include the front covers and each page contains at least 5-6 photos. I did not count, but I would guess there are at least 500 images in this scrapbook!
Most of the images are from the 1870's-1890's. I did find a couple of images that were not attached that had the date 1877 on one and another with a calendar from 1888.
The images that are inside of the scrapbook were frequently found in Victorian trade cards, post cards, and advertisements.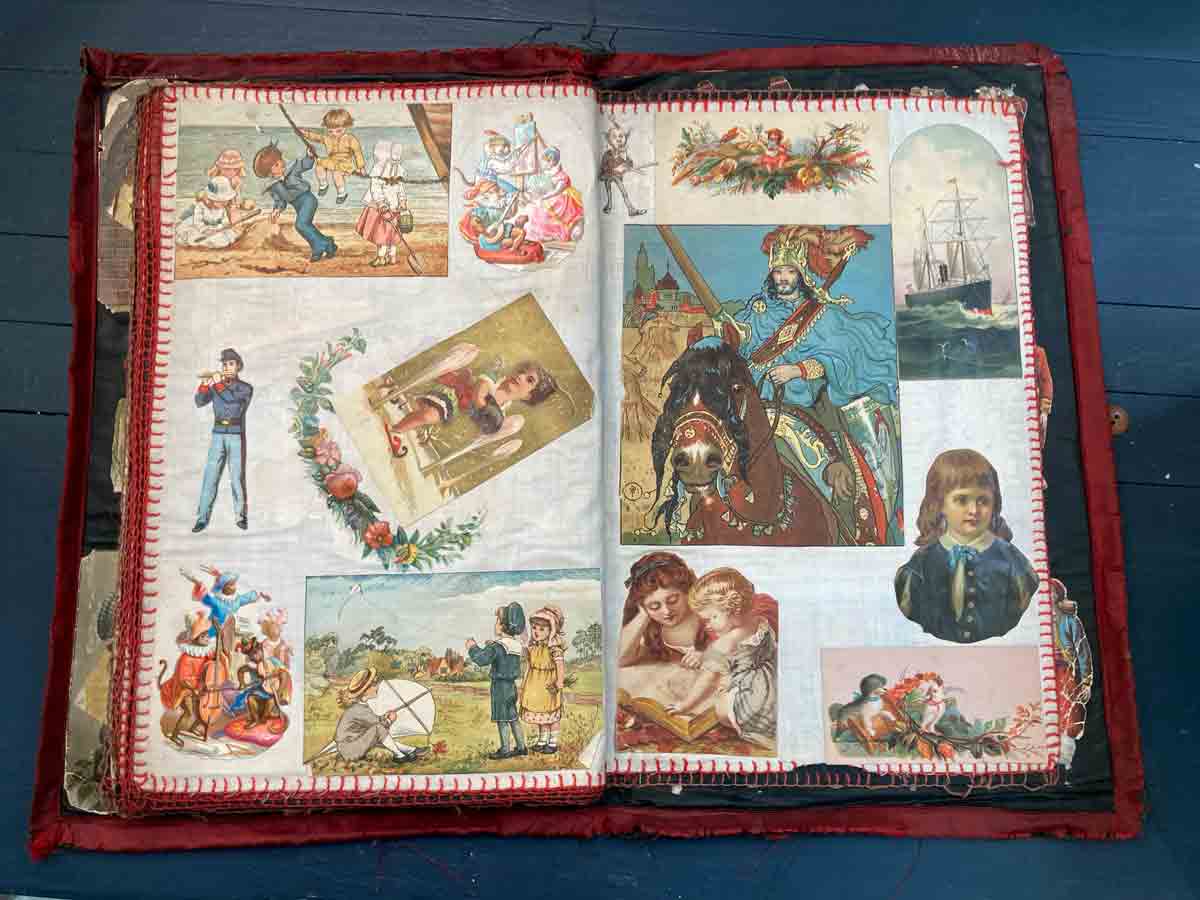 I suspect a few of the images were from books, magazines, and catalogs but of course I will need to do some more research on each of them individually to know their true source.
With over 500 images, that will take awhile for me to research!
All in all, this is an AWESOME book and of course the main reason I added it to my collection is because all of the images inside are now in the public domain.
The graphics would be great for making journals, cards, books, decoupage and other crafty art projects. Of course, we don't want to actually cut up this beautiful book, so I am scanning all of them to use in my art!
I've done the tricky part of carefully scanning the entire scrapbook already -and it WAS tricky – but perhaps more time consuming + challenging thing will be deciding how to crop and upload these to our graphics library so you can download and use them for your own projects!
I'd love to extract all of the images from the background, but that has to be done manually to be done well and that might take me 6 months to do 500 images lol…So I think what I will do instead is crop each individual image from the scans and then upload them with the backgrounds for now just to get them up and of course, later we can always create additional versions with the backgrounds removed. (Any volunteers want to help with this? Let me know!)
I will probably try to also make a video of the scrapbook in its entirety once I get caught up here with some other stuff around the house. Spring is such a busy time here between cleaning up outside, the kid's activities + everything else!