We may receive a commission when you make a purchase from one of our links to sites such as eBay and others. As an Amazon Associate we earn from qualifying purchases. Thank you for support!
I stumbled across this 1899 American Agriculturist Yearbook and Almanac on eBay for a great price and naturally couldn't resist. It's filled with all kinds of great illustrations, advertisements, and of course as to be expected with any kind of reference book like this – tons and tons of information.
The book's cover gives you a glimpse of what kind of information you'll find inside: A Treasury of Statistics for Farm or Home, Office or Factory; The Astronomy of 1899; A Handbook of Agriculture, Commerce, Public Affairs, Education, Household; and perhaps my favorite: Twentieth Century Problems.
Here's a view of the inside title page: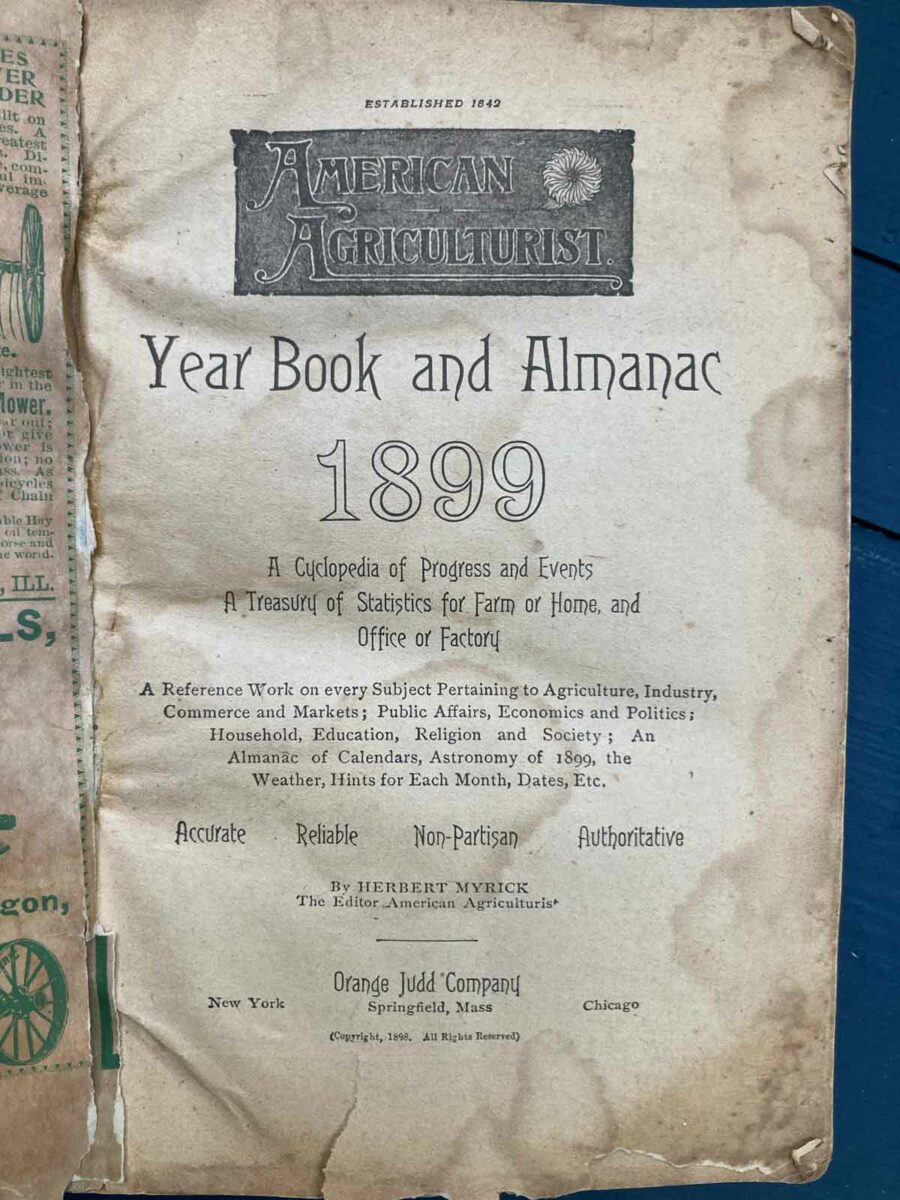 The American Agriculturist was a magazine established in 1842. It's quite common to find bound volumes of the magazines by year – and while you can expect to pay anywhere between $50-$150 for them, they are usually well worth investing in!
The title page tells us this is "A Cyclopedia of Progress and Events, A Treasury of Statistics for Farm or Home, and Office or Factory; A Reference Work on every Subject Pertaining to Agriculture, Industry, Commerce and Markets; Public Affairs, Economics and Politics; Household, Education, Religion and Society; An Almanac of Calendars, Astronomy of 1899, the Weather, Hints for Each Month, Dates, Etc.
The book is also touted to be "Accurate, Reliable, Non-Partisan, and Authoritative."
While I don't question that it is accurate or reliable, I am not quite sure if it really is non-partisan. Several parts of the book had quite the opinion, especially in the sections where they wrote about the "Twentieth Century Problems" the country faced. In many ways, it is very sad that not much about these problems has changed in the last 124 years – we still deal with them today.
The book was compiled by Herbert Myrick, who was the editor of American Agriculturist at the time. There's not much out there about Herbert Myrick, so he's another writer and publisher to add to our lost authors project.
1899 Stapled Binding
My copy of the book is quite beat up, but that is exactly why I bought it – I don't feel any guilt in dissecting it to digitize and preserve.
Being the bookbinder that I am, I found it interesting that the 512 pages of the book were actually held together with very long staples. The staples naturally were quite rusty, and so it was very easy to remove them to free the pages.
While the book was stapled together, the pages were organized in the usual fashion of being folded into signatures. It was a bit tricky to get everything apart – you can't very well slice through 124-year-old paper without chewing it up if you don't use a lot of care!
Features of the Almanac + The Many Cool Things Found Inside
Inside the book you'll find all kinds of interesting things. If you love data, there are hundreds of pages and pages of statistics and charts and graphs.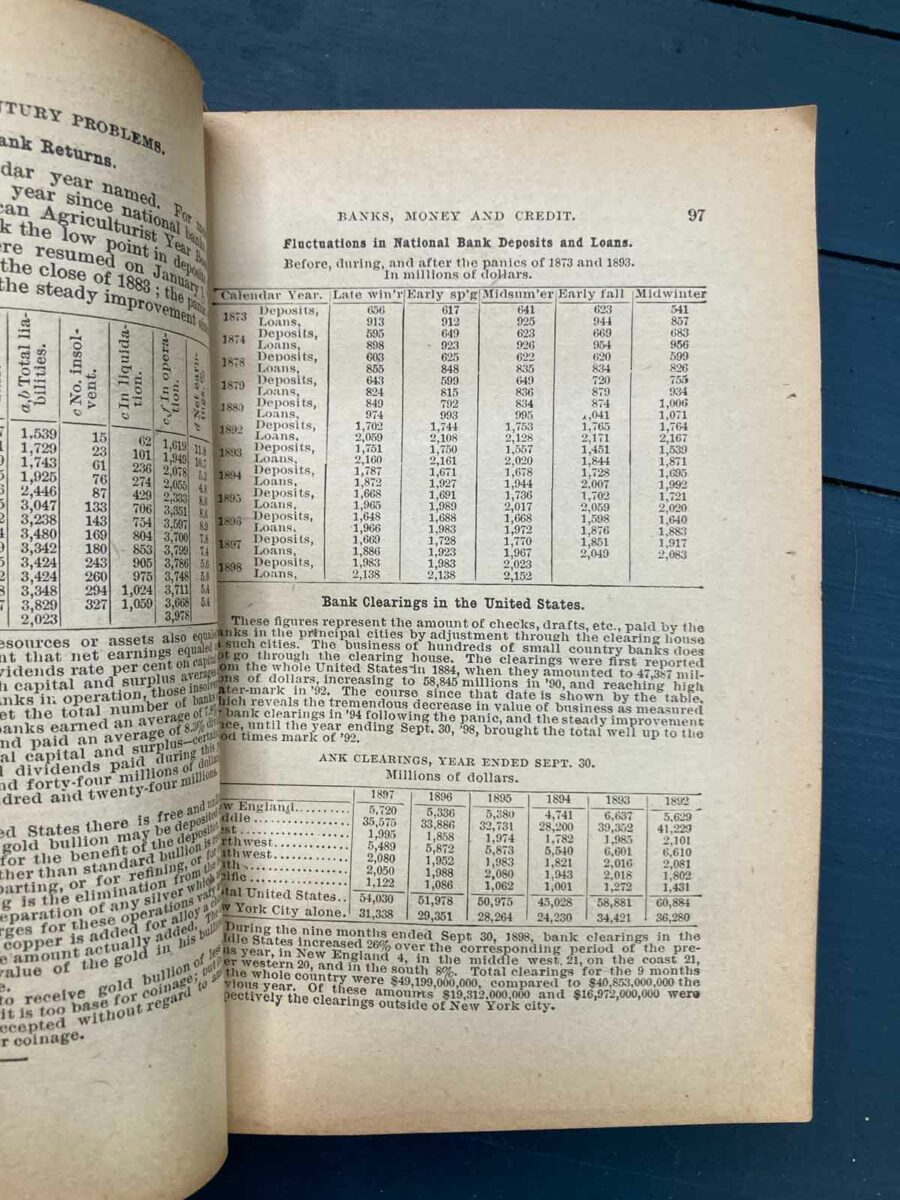 There's a good bit on financial summaries and market conditions and when they say "treasury of statistics" they are definitely not exagerrating!
The book has some advertisements, comics and of course lots of agricultural diagrams. Here's a rooster for you with all of the poultry terms. 🙂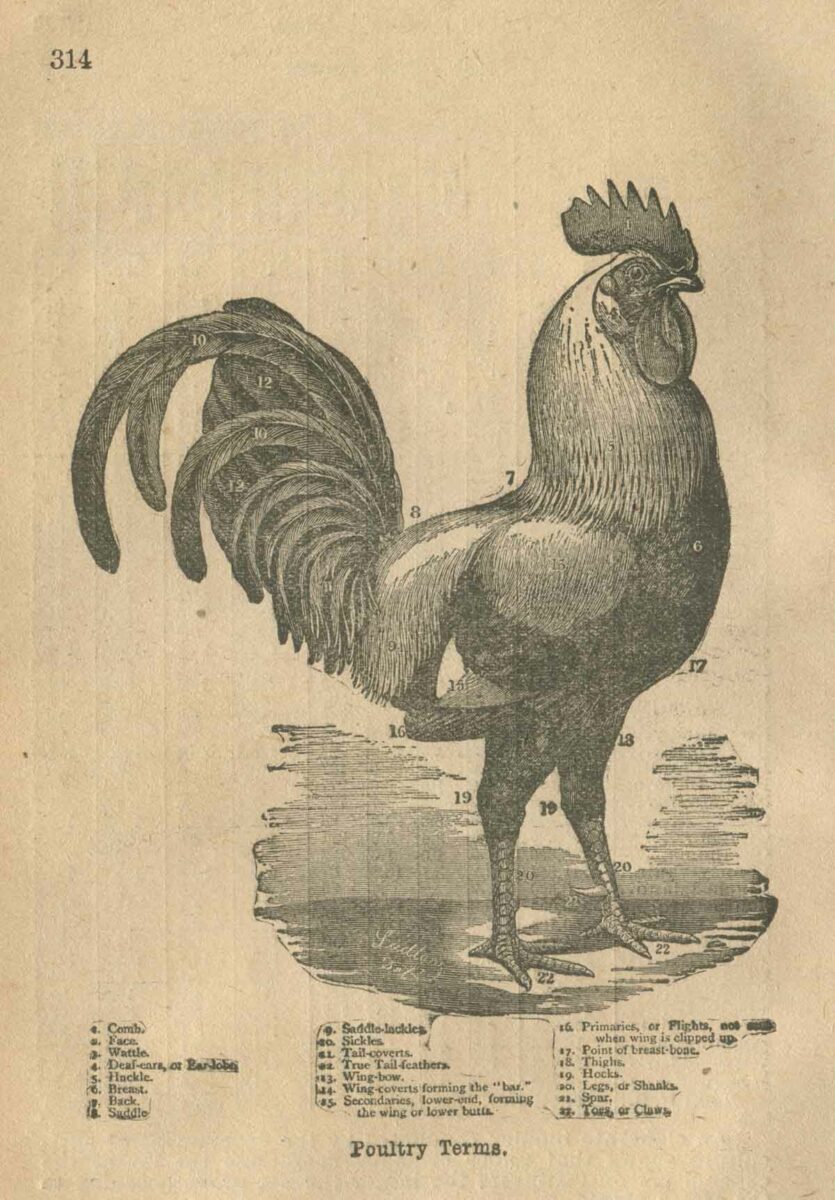 While there is a lot on the matter of agriculture, business, and finance, there is also a lot of interesting things that would have appealed to the ladies of the time, such as pages dedicated to household hints, menu planning, and even some crafts, such as this example for how to make point lace.
I can't wait to try making the point lace!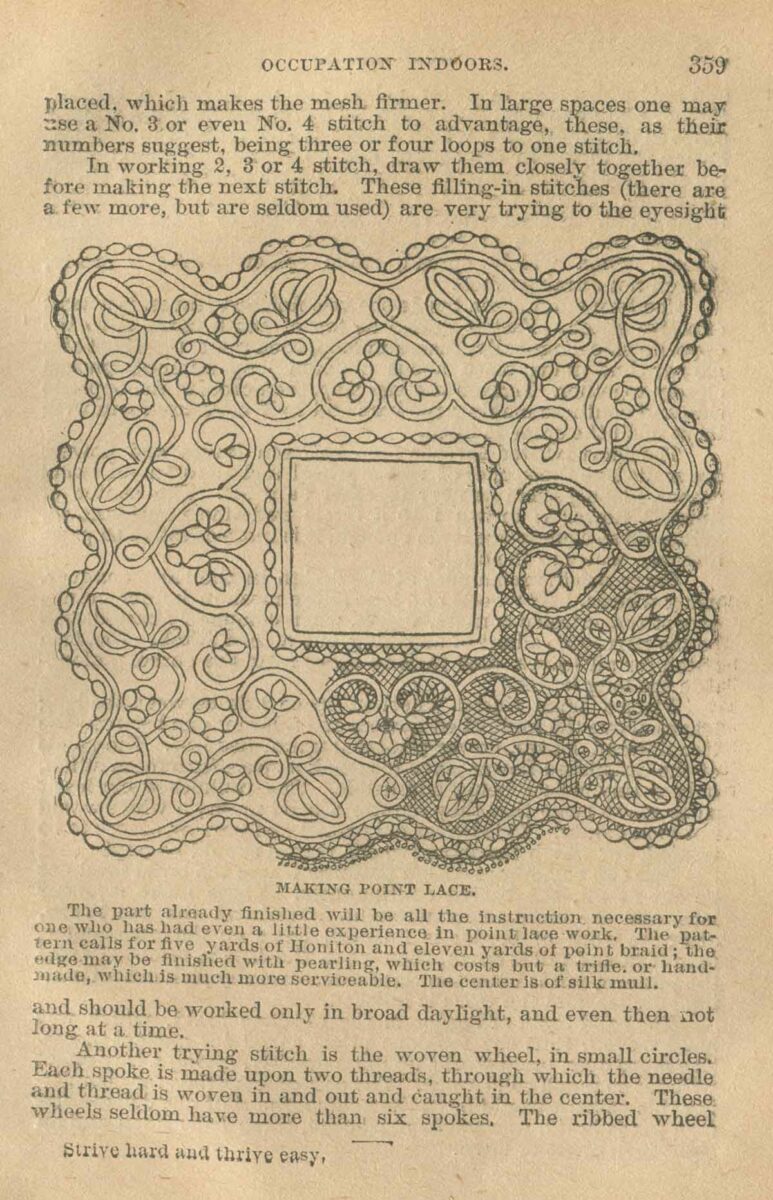 Many of the pages like the one above also have little quotes and sayings of wisdom printed at the bottom, such as "Strive Hard and Thrive Easy". I'm thinking these would be fabulous to compile all together in a collage sheet!
I will also of course be including the menu planning and other kitchen hints in the vintage cookery section of our site very soon. Here's a sneak preview of some of the kinds of things we'll be adding, such as a spring and summer menu plans!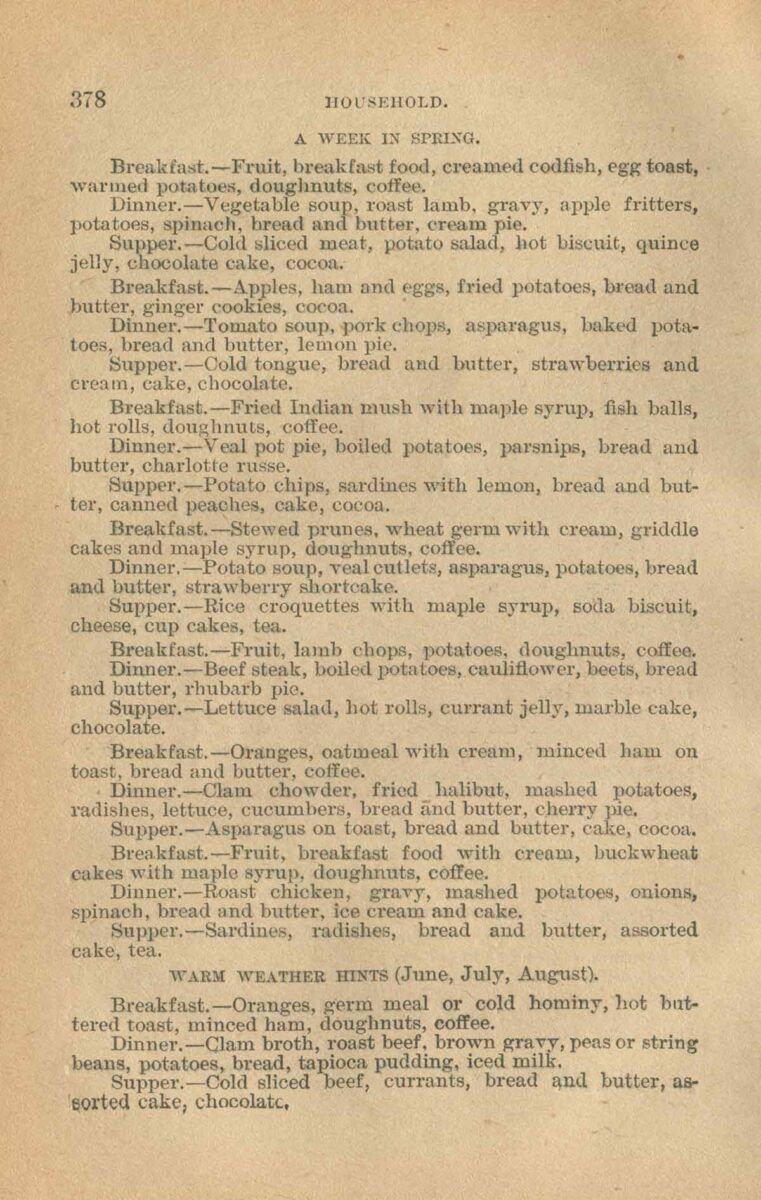 There are also many parts of the almanac that list various people and organizations in directory format – I will probably also be adding those to our site because they'd be great references for anyone who might be trying to research their family history and ancestry.
I'm so glad I bought this book on a whim and I was so excited by what was inside I already have all 512 pages of the book scanned.
It will likely take me several weeks, maybe even months, to really get it all up on our site (and don't forget I'm still digitizing an entire set of encyclopedias!) – but I know there is a lot in the book that is still relevant and very much useful today – not to mention some great graphics and ephemera to print and use for junk journals and crafts!
Have you ever read an entire almanac? Anything from this book you might be looking for in particular? I'd love to hear from you in the comments below!