We may receive a commission when you make a purchase from one of our links to sites such as eBay and others. As an Amazon Associate we earn from qualifying purchases. Thank you for support!
This is a 1950's vintage nut chopper made by Hazel Atlas Glass that we salvaged from being crushed in the scrap pile. It's not in the greatest of condition, and certainly not terribly valuable, but it definitely makes for a great vintage kitchen decoration.
If you were feeling ambitious enough, it could also be restored into being functional – maybe not for food as the zinc lid is quite rustly, but for chopping other things you might want to for crafty purposes – maybe old broken crayons or candle wax pieces!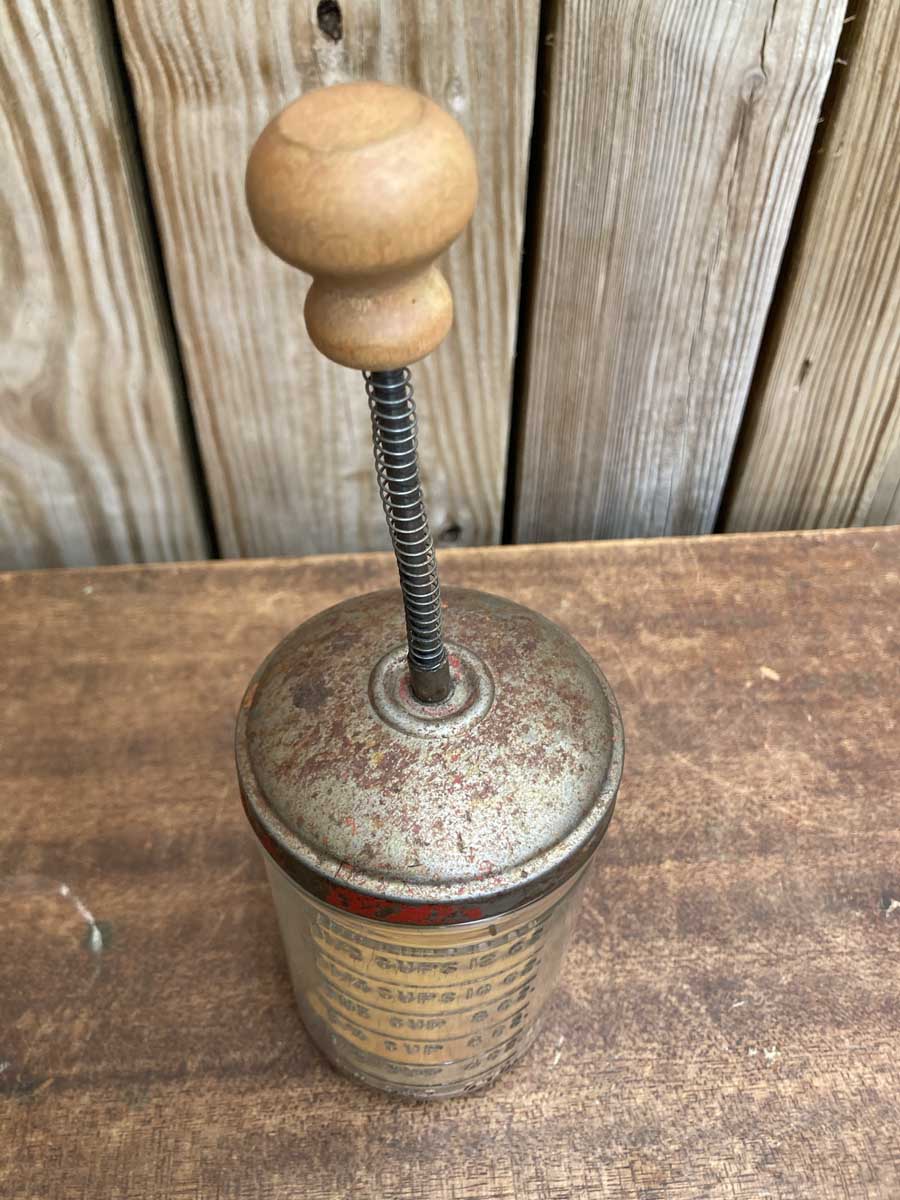 Our nut chopper looks like it had a painted red zinc lid at one point, but naturally over the years the metal rusts and the paint wears off the more and more the nut chopper is used and washed.
Similar 1950's nut choppers by Hazel Atlas Glass may have a red handle or even a natural handle that is similar but slightly different from the one we have here.
The glass jar also has some handy marks for measuring on it.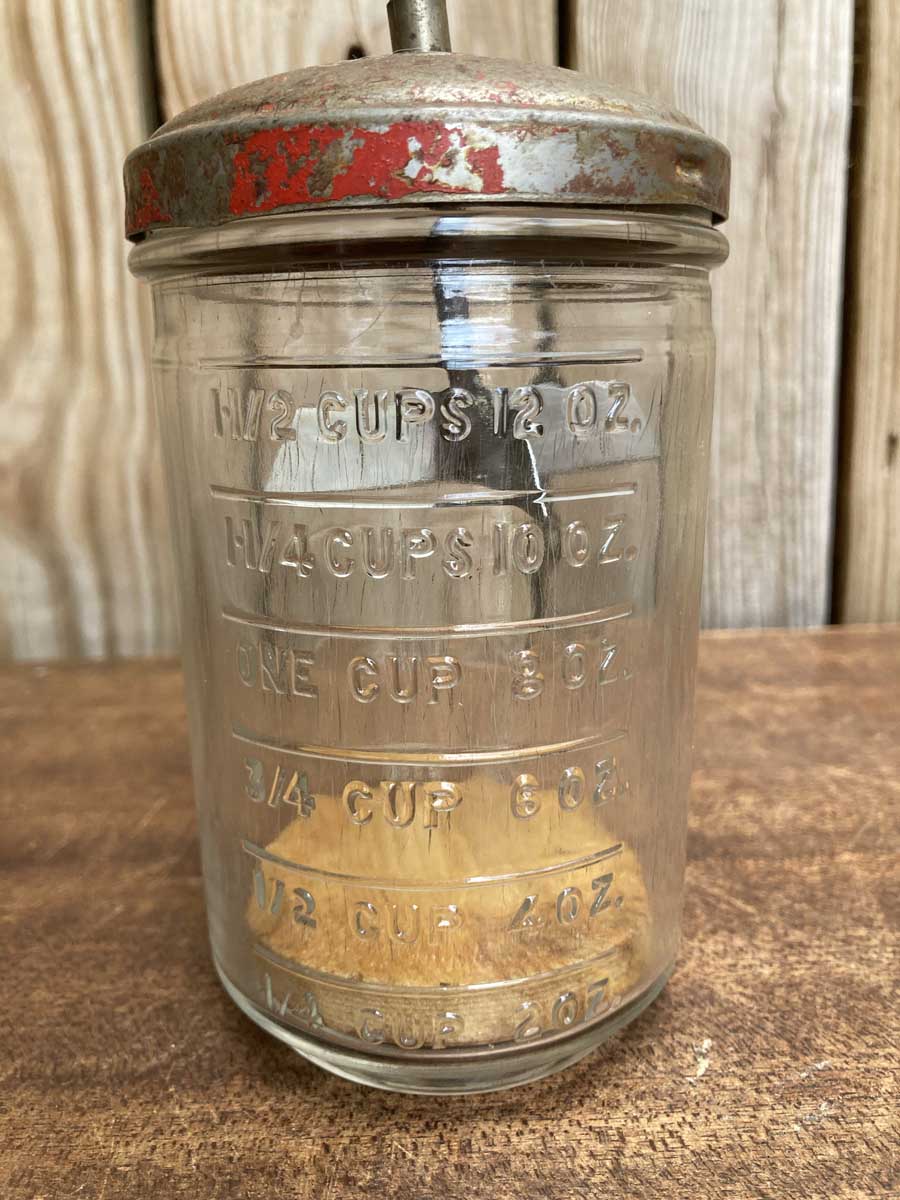 The bottom of the jar has a disk that is used to stop the chopper from going all the way down to the glass. It's easily removed to be cleaned or wiped off.
---
How We Identified This Nut Chopper
Identifying this nut chopper was quite easy to do because it is very clearly marked, and the manufacturer's marks are well-known.
Hazel Atlas glass has a distinct "H over A" mark that the company began using around 1923. The #5393 is the style of the jar, and the numbers below that tell us the glass mold number (13) and the plant (F).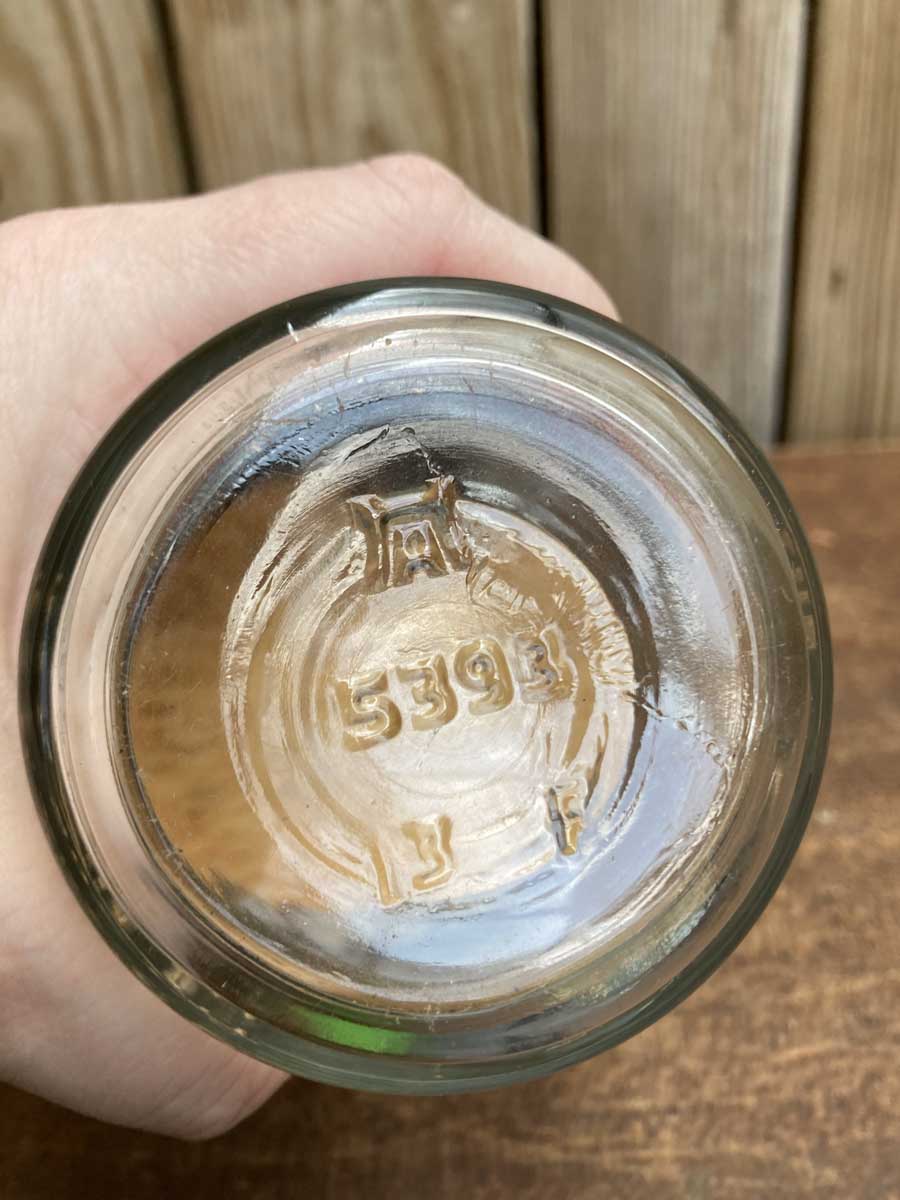 Hazel Atlas Glass is probably best known for its depression-era glassware and canning jars, but they manufactured quite a lot of different glass pieces.
The company was headquartered in West Virginia after Hazel Glass Company and Atlas Glass Company merged into one company in 1904. They had several plants across the country, with most of them being in the northeast and mid-west United States.
They made several different styles of nut-choppers over the decades, and we can learn a lot about this piece simply by turning over the bottom of the jar and reading the marks on the glass.
We believe our particular chopper is from the 1950's, but without researching further it would be difficult to say with 100% accuracy which year because in 1957 Hazel Atlas Glass was acquired by Continental Can Company. In 1964, Continental Can sold all of the Hazel Atlas Glass manufacturing plants.
Most of the plants were purchased by the Brockway Glass company, with the exception of the Plainfield Illinois plant, which was purchased by A.H. Kerr Glass company. This is where the usage of the Hazel Atlas mark on bottles starts to get confusing, as Continental Can used the Hazel Atlas mark up until 1964, and it could also be possible that Brockway and A.H. Kerr may have used some of the old glass molds when it took over the plants.
So, while we believe it's from the 1950's, we would really need to dig into all of our Hazel Atlas glass resources to say for sure. While we do hope to get all that kind of information here up on our site eventually because there are so few antique research databases that really cover the history of everything – for the purposes of identifying and writing about a rusty nut chopper, it is likely not worth rummaging through our large stack of antique glass books just yet!
---
Anyways, I love this little nut meat grinder by Hazel Atlas and as soon as I saw it in the trash pile knew that it could be rescued to either be repurposed into something very cool.
Here are some ideas I had for ways to repurpose this:
Use as a grinder/chopper for crafty projects – old crayons, bits of wax, soap pieces, etc.
Use as a storage container to display collections of small items, such as pebbles, marbles, matchbooks, etc.
Use as-is for decoration in the kitchen (which is what it is currently doing on the top of my kitchen cabinets!)
Altered Art Dolls/Figures – This would make for a fabulous base to turn into an altered art doll or other art piece!
---
What do you think? Do you have one of these? Have something to share about Hazel Glass? I'd love to hear from you in the comments section below!