We may receive a commission when you make a purchase from one of our links to sites such as eBay and others. As an Amazon Associate we earn from qualifying purchases. Thank you for support!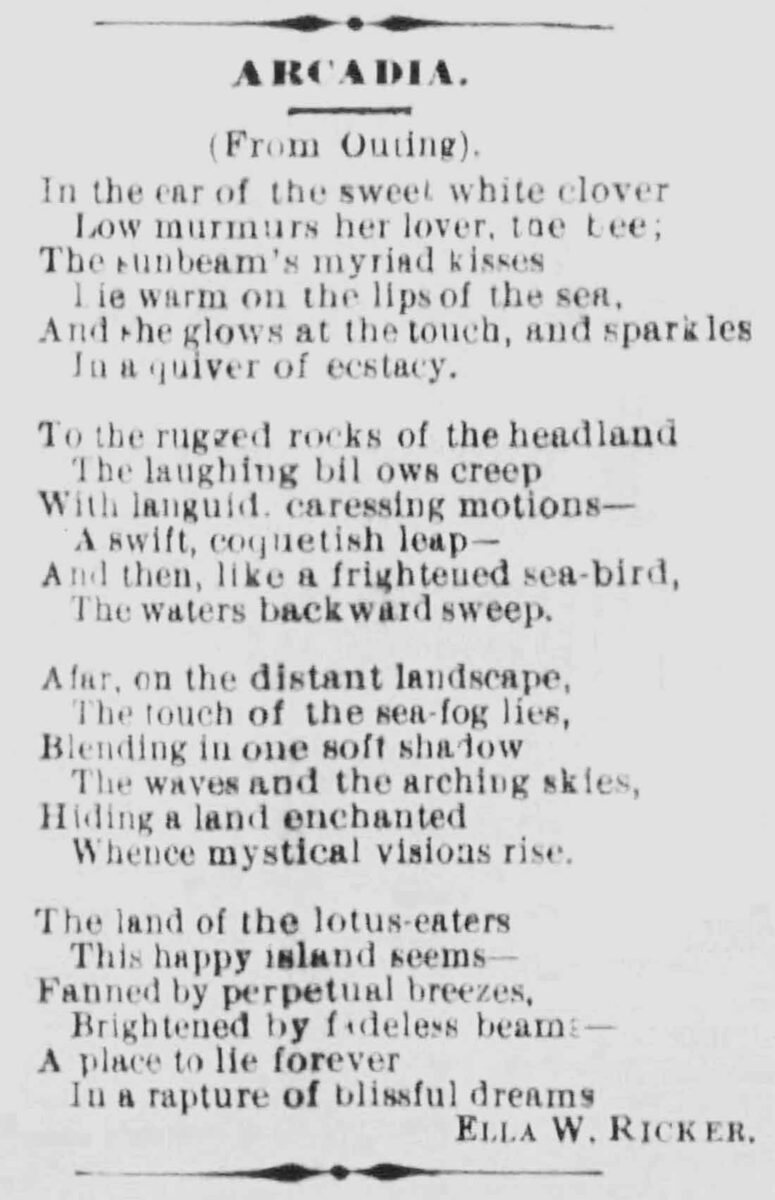 In my quest to learn more about Ella W. Ricker and hopefully give this unknown poet some recognition, I discovered this poem of hers in The Daily Memphis Avalanche newspaper from Sunday, April 19, 1885.
The poem notes in the newspaper it was originally published in Outing: An Illustrated Monthly Magazine of Recreation. I love these sort of "hints" for other great sources to check out!
Arcadia
In the ear of the sweet white clover
   Low murmurs her lover, the bee;
The sunbeam's myriad kisses
   Lie warm on the lips of the sea,
And the glows at the touch, and sparkles
   In a quiver of ecstasy.

To the rugged rocks of the headland
   The laughing billows creep
With languid, caressing motions–
   A swift, coquettish leap–
And then, like a frightened sea-bird,
   The waters backward sweep.

Afar, on the distant landscape,
   The touch of the sea-fog lies,
Blending in one soft shadow
   The waves and the arching skies,
Hiding a land enchanted
   Whence mystical visions rise.

The land of the lotus-eaters
   This happy island seems–
Fanned by perpetual breezes,
   Brightened by fadeless beam–
A place to lie forever
  In a rapture of blissful dreams
---