We may receive a commission when you make a purchase from one of our links to sites such as eBay and others. As an Amazon Associate we earn from qualifying purchases. Thank you for support!
While going through my collection of vintage Needlecraft magazines, I stumbled across this lovely article called "Casserole Cookery", written by Mrs. Sarah Moore, which shares 16 casserole ideas and recipes.
As is the case with most older cooking articles, please remember they were usually published a long time ago when refrigeration + cooking temps weren't really considered – if you decide to make any of these, be sure you give priority to the FDA's food handling safety guidelines over any directions written in 1923.
Here is the original text of the article, along with the casserole ideas and recipes:
Casserole Cookery
Mrs. Sarah Moore, January 1923 Needlecraft Magazine, page 26
CASSEROLE COOKERY is one of the most healthful and appetizing ways of serving meats and certain vegetables. Dishes thus prepared have a savoriness and delicious blending of flavors that are acquired by slow baking in a moderate oven.
The meat retains all its juices when done, and is surrounded by a well-flavored sauce. It is also a very economical method, as cheap cuts can be used or leftovers dished up in many new combinations. As the casserole goes directly from the oven to the table it saves washing an extra platter or vegetable-dish. And you do not really need to have a casserole for this kind of cooking, as any covered baking dish or even a bean-pot can be used instead, or you can get the same result in the fireless cooker.
1. Chicken en Casserole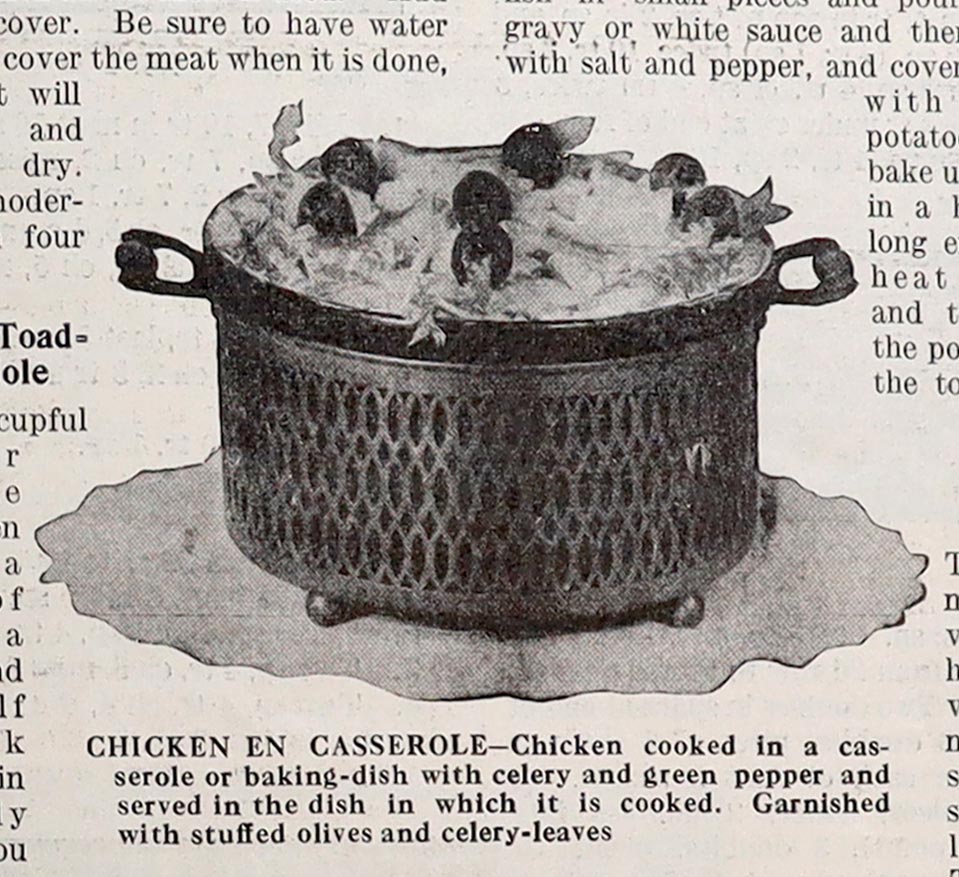 Heat three tablespoonfuls of butter or substitute (drippings will do and chicken-fat is ideal) and fry a thinly sliced onion in it until light brown. Cut a tender chicken weighing three or four pounds into pieces, roll in flour and fry in the fat until light-brown. Heat in the oven a casserole or baking dish that has a cover, place a layer of chicken on the bottom, cover with a layer of celery, cut in small pieces and mixed with chopped green pepper.
Fill the dish in this way and then pour over it a cupful and a half of hot water. Season with salt and pepper and bake covered for two hours or until chicken is very tender. It is very delicious if after the cover is removed, just before it is carried to the table, the top is garnished with stuffed olives (pimentos) and a few of the yellow leaves of the celery.
2. Cassolet of Lima Beans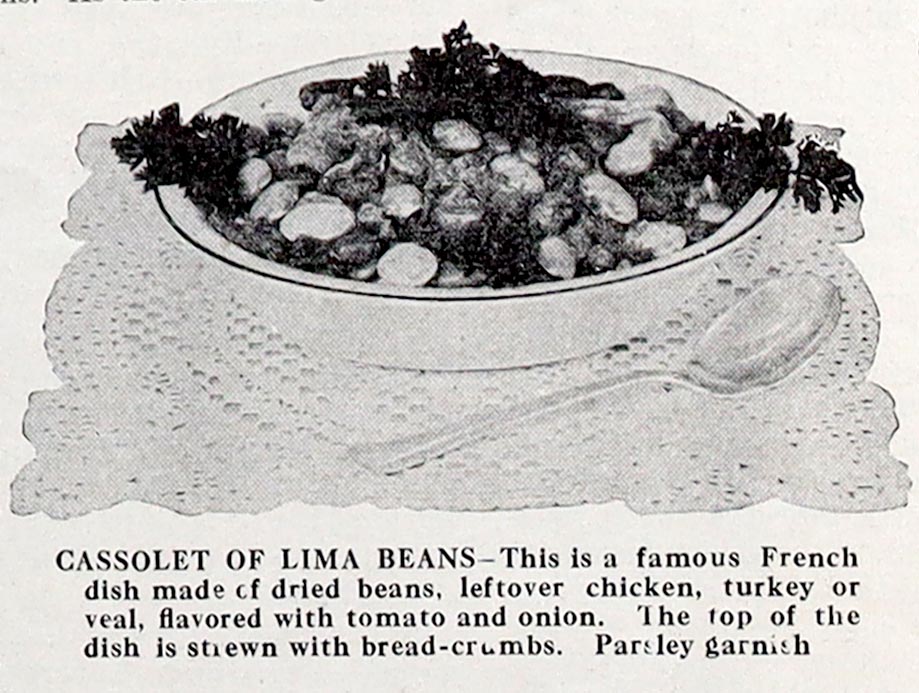 This is a famous old French dish that is so nourishing and such good eating it should be better known in this country.
Soak a quart of dried Lima beans overnight. Next morning place them in a saucepan, cover with the water in which they were done. Season with salt and soaked and let them cook until nearly a little pepper.
Put in a casserole two cupfuls of cold chicken, turkey, veal or fresh pork, add the beans (drained), a sliced onion, half a cupful of canned tomato, strained. Pour over the dish four cupfuls of hot water. Bake one hour covered (longer if pork is used), uncover the dish, cover the top with bread-crumbs and a little garnish with parsley and chopped parsley, let it brown slightly, serve.
3. Baked Celery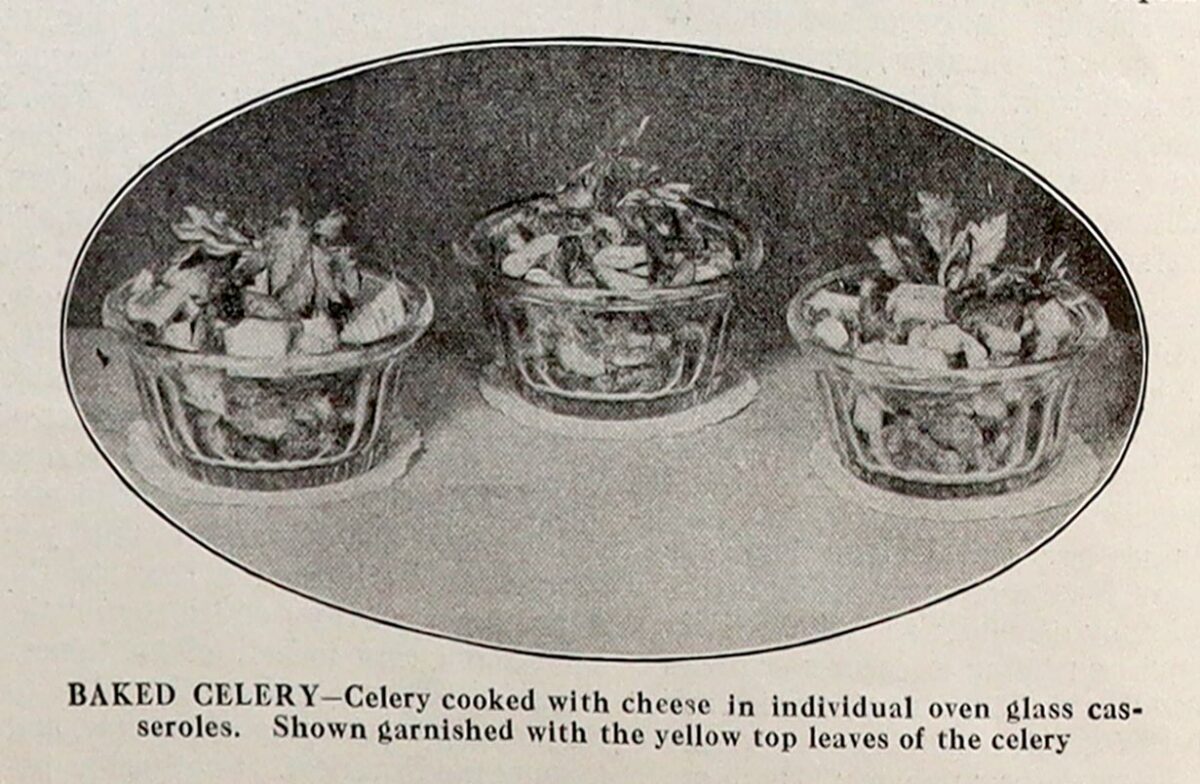 Cut celery in small pieces, season well with salt and put in layers in small individual glass or earthenware casseroles or ramekins, alternating each layer with thick white sauce (drawn butter). This should be lavishly sprinkled with grated cheese.
Sprinkle the top with crumbs mixed with the grated cheese and dotted with butter. Bake in a hot oven for twenty minutes. Garnish with celery-leaves.
This makes a novel and delicious entree, or may be served as an ordinary vegetable, or for a hot dish at supper or luncheon.
4. Finnan-Haddock en Casserole
Many people find the haddock somewhat indigestible if cooked in the ordinary way, but can eat it without discomfort if prepared as follows:
Lay it in a pan of water and place on the back of the range, or where it will just keep warm but not cook at all, for an hour. Then pick out the bones and put the meat in a casserole, cover with milk, and spread the top with crumbs, dotted with butter. Bake in a moderate oven half an hour, or until the fish is tender.
5. Ham Rechauffe
Chop fine cold boiled ham, until you have a cupful. Sprinkle the bottom of a casserole or baking-dish with rolled cracker-crumbs – you will need about a scant cupful. Cover this with a hardboiled egg, sliced rather thin, pour in some white sauce (drawn butter), and put in half of the ham, then add more crumbs, another hard-boiled egg, sliced, more sauce, and the remainder of the ham.
Bake for fifteen minutes, remove the cover and cover the top with crumbs, dotted with butter, and bake until crumbs are well browned.
6. Beef Escalloped Casserole
Cut leftover roast beef in small pieces, and remove most of the fat. Season with pepper and salt. Grease a casserole or baking-dish and put a thick layer of crumbs on the bottom, then a layer of the meat and next a layer of cold macaroni cut in small pieces. Pour over this a cupful of canned tomatoes, then a layer of meat and so on until the dish is full. Bake for twenty minutes covered, then remove cover, sprinkle a layer of crumbs on top, dot with butter and bake until crumbs are brown.
7. Corned Beef au Gratin
Chop fine one large stalk of celery and one white onion, place in a saucepan, pour over one cupful of milk, put in a double boiler and scald. Rub two tablespoonfuls of flour smooth in two tablespoonfuls of butter; add to milk, stir until flour is smooth and free from lumps.
When this sauce is thick, add two cupfuls of cold corned beef cut in dice, season with a dash of pepper and pour into individual casseroles or small ramekins, cover the tops with a layer of crumbs, dotted with butter and bake until crumbs are brown.
8. Baked Sweet Potatoes au Gratin
Cut cold boiled or baked sweet potatoes in thin slices and arrange in a layer on the bottom of a casserole. Sprinkle them with salt, a dash of pepper and a tablespoonful of brown sugar. Put in another layer of potatoes and seasoning, cover the top with crumbs, dot well with butter, and bake until the top is well browned.
These can be cooked for fifteen minutes covered, then crumbed and browned, or cooked for the whole period uncovered. To cover them for awhile makes the potatoes not quite so dry, but many people prefer them dry and brown.
9. Bean-Pot Roast
Buy a two-pound rump steak and cut it up in pieces about an inch square. Put a layer of this meat in the bottom of an earthen bean-pot, cover this with a thin layer of sliced white onions, sprinkle a little flour over them and season lightly with salt and pepper. Fill the pot in this way until all the meat is used. Add water to cover. Be sure to have water enough to cover the meat when it is done, so that it will be juicy and not taste dry. Bake in moderate oven four hours.
10. Scotch Toad in-a-Hole
Mix one cupful of flour with one well beaten egg, add a pinch of salt and a cupful and one-half of milk poured in gradually while you are beating the mixture smooth.
Peel, core and quarter three sour apples. Grease a baking-pan and then roll one half pound of sausage-meat into balls, put in pan, place apples between the sausage-balls and then pour the batter just made over the top and bake in a hot oven threequarters of an hour. Serve hot or cold.
11. Beef Roll
Trim a round steak neatly and cover with bread stuffing, seasoned like turkey-dressing. Then roll it up tightly and tie in several places with string, so the dressing cannot escape as it cooks, or you can fasten it with skewers. If liked, finely chopped onions can be mixed with the dressing. Place in a tightly covered dish with water enough to keep it moistened. Bake in a moderate oven from one and a half to two hours. If you use a piece of the flank for this instead of the steak, you will have to cook it longer until it is tender.
12. Liver a la Casserole
Have the butcher cut a pound of liver into thin slices. Put the liver in a little salt water for ten minutes, then pour on fresh water and drain. Cut two medium-sized carrots in thin slices and one small turnip into dice and with the kitchen-scissors cut up enough. washed parsley to make two tablespoonfuls.
Put a layer of vegetables in the bottom of the casserole, then a layer of liver, and then a thin slice of salt pork, then more vegetables, and so on until dish is full, then add one cupful of canned tomatoes –the thick part – and two cupfuls of water.
Cover the dish and cook for two hours, or until liver is very tender and vegetables are done. Thicken the gravy with one tablespoonful of flour rubbed with a tablespoonful of butter. Serve in casserole.
13. Beef a la Francais
Take four pounds of the shin of beef, have it boned, rolled and tied firmly.
Take the marrow from the bone and with this mix one teaspoonful each of ground cloves, allspice, cinnamon, black pepper. Make deep gashes in the meat with a sharp knife and fill them with the marrow and spices. Now put in saucepan one and one-half cupfuls of vinegar, two slices of onion, chopped fine, a tablespoonful of chopped parsley and a teaspoonful each of thyme and summer savory, then add one teaspoonful of salt and also two bay-leaves, but these latter may be omitted if desired.
Scald all these with the vinegar and then let it cool and pour over the meat and allow it to stand in this for two days, turning it night and morning. At the end of this time pour boiling water over it, place it in a deep casserole (an iron pot will do if you have no casserole big enough), and let cook in the oven in a casserole, or if a pot is used on top of the stove, until the meat is tender. Then thicken the gravy and serve with the meat.
14. Maryland Meat Pie
This is a good way to use up leftovers. Cover the bottom of a greased baking-dish with a layer of mashed potato, add a thick layer of cold cooked beef, lamb, pork or any leftover meat-even cold boiled or steamed fish can be used for this purpose, cut meat or fish in small pieces and pour over it gravy or white sauce and then season with salt and pepper, and cover the top with mashed potatoes, and bake uncovered in a hot oven long enough to heat through and to brown the potatoes on the top.
15. Marble Mold
This is made of veal and ham, and is very ornamental for slicing for supper or luncheon.
Take three cupfuls of cold veal, either roasted, boiled or fried. Chop this fine or put through the fine knife of the food-chopper. Season it with salt and pepper. and two teaspoonfuls of lemon juice. Then add three tablespoonfuls of rolled cracker crumbs and moisten with hot water.
Now chop enough cold boiled or fried ham to make one cupful. Season this with a little mustard, and shake over it a dash of Cayenne pepper and add to it one tablespoonful of cracker-crumbs and moisten with hot water as you did the veal.
Grease a mold well and line it with slices of hard-boiled egg and with a spoon put in the two mixtures, ham and veal, irregularly, so that when the mold is sliced each piece will have a marbled appearance. Press the meat in closely and steam three-quarters of an hour. When cold remove from the mold on to a platter. This should always be served cold.
16. Bavarian Pie
Chop in small pieces one pound of fresh pork, season with salt and pepper and pour over it one half cupful of cider or vinegar reduced one half with water, and let it stand in this for one hour, turning the pieces frequently so they will get well soaked through.
Line the bottom and sides of a deep pie dish with pie-crust, on the bottom of this put a thin layer of sausage-meat, then add half the pork and then another layer of sausage. Cover the top with crust. Pinch the edges together lightly and cut a two-inch hole in the center and fill with a roll of paper to keep it open for it is very important to have a proper vent-hole in a meatpie, otherwise the gases cannot escape and will make it most unwholesome, and in some cases positively dangerous to eat. Bake in moderate oven for three hours.
---
I hope you enjoy these casserole ideas from 1923 – and of course if you make any of them or adapt your own recipes from them, I absolutely would love to hear from you in the comments!