We may receive a commission when you make a purchase from one of our links to sites such as eBay and others. As an Amazon Associate we earn from qualifying purchases. Thank you for support!
Christmas isn't always an easy or happy time for many of us, and so I wanted to share this article that I stumbled across in the December 1909 issue of American Motherhood magazine last night.
Written by editor Della Thomspon Lutes, the message she shares for those who struggle with the merriness of the season in times of grief and misfortune is just as timely today as it was over 113 years ago.
My hope is that sharing this article with you might be helpful anytime you are struggling to find joy in the season when your heart is swaddled in sadness.
'Twixt You and Me
Written by Della Thompson Lutes, editor
THERE are doubtless many of us this year who are in no mood to give Christmas thoughts or hear the usual Christmas platitudes. Some of us are enshrouded in grief.
We have had illness, misfortune, death, since last Christmas. We have encountered poverty, deprivation.
We have met with misunderstanding, unkindness, lack of appreciation, ingratitude, enmity, loss of friendships, than which last can there be any greater misfortune!
The holly and mistletoe are no more to us than a mockery of happier days.
We have returned good for evil and seen evil returned to us again in payment.
We have loved our enemies and done good to them who have despitefully used us and received enmity twice double in return.
We say to ourselves that for this time, at least, we can not enter into the Christmas spirit. There is bitterness, disappointment and sorrow in our hearts ––Let us alone.
Go on with your merriment, your carols and your joy, but let us step aside for a day and turn our eyes from your gladness. There is none to miss us sorely––Let us alone.
We have rejoiced with you in your time of joy, but none wept with us in our grief or held out an encouraging hand in our time of trouble.
We can give no gifts, for a true gift must come from the heart–– and our heart is cold.
We can accept nothing, for the gifts we craved, love and sympathy and a kindly word, were withheld while we hungered and thirsted.
We have no Christmas spirit in our heart––Let us alone.
There Was Once One Whose Birthday We Celebrate
But, ––there was once One whose birthday we celebrate––
"And she brought forth her first born son and wrapped him in swaddling clothes, and laid him in a manger, because there was no room for him at the inn."

Aye, we have known poverty, but there has always been "room for us at the inn."
"And Simeon blessed them and said unto Mary, his mother, 'Yea, a sword shall pierce through thy own soul also, that the hearts of others might be revealed.' "
Aye, we have known sorrow, estrangement, grief, death. Our hearts have been "pierced through with a sword." But was ever grief like Mary's?
"And Jesus increased in stature and in favor with God and man."

"And there went out a fame of him through all the region round about. And he taught in their synagogues being glorified of all:

" 'I say unto you which hear, Love your enemies, do good to them which hate you. Bless them that curse you and pray for them which despitefully use you. And as ye would that men should do unto you, so do ye also unto them, likewise.

'Love your enemies and do good, and lend, hoping for nothing again; and your reward shall be great, and ye shall be the children of the Highest; for He is kind unto the unthankful and the evil.

'Be ye therefore merciful, as your Father also is merciful.' "
So this man taught, Jesus, son of Mary, and God's best beloved, and so he lived, doing good to them which–––
"And it came to pass afterward, that he went throughout every city and village, preaching and showing the glad tidings of the kingdom of God."
But they –– they whom he had healed of illness, comforted in grief and raised up in the time of death–– forgot.
"And the chief priests and scribes sought how they might kill him."
Aye, we have known traitorous friendship––
"Then entered Satan into Judas Iscariot, being of the number of the twelve."
––we have been betrayed by our friends and denied, but––
'"And Peter said, 'Man, I know not what thou sayest.' And immediately while he yet spake the cock crew. And the Lord turned and looked upon Peter. And Peter remembered the word of the Lord, how he said unto him, Before the cock crow thou shalt deny me three times.' "
Aye, we have known bitterness of spirit, anguish of soul, but, ––there was Gethsemane.
"And he was withdrawn about a stone's cast, and kneeled down and prayed, saying, 'Father if thou be willing, remove this cup from me: Nevertheless not my will, but thine be done.'

"And there appeared an angel to him from heaven strengthening him.
"And being in agony he prayed more earnestly; and his sweat was as if it were great drops of blood falling to the ground.

"Then took they him and led him into the high priest's house. And Peter followed afar off."
Aye, we have been neglected, forgotten in time of trouble,–– but–
"The whole multitude of them arose and led him unto Pilate." But Pilate said, "I find no fault in this man."
Then they took him to Herod.
"And Herod with his men of war set him at naught and mocked him and arrayed him in gorgeous robes and sent him back to Pilate.
And Pilate when he had examined him, said, "I have found no fault in this man touching those things whereof ye have accused him. No, nor yet Herod; for I sent you to him; and lo, nothing worthy of death is done unto him And he was willing to release him.
"But they cried unto him, 'Crucify him. Crucify him.' "
"And when they had plaited a crown of thorns they put it on his head, and they spit upon him and took a rod and smote him upon the head. Then they gave Then they gave him vinegar to drink mingled with gall.
"And when they were come to the place which is called Calvary there they crucified him and the malefactors, one on the right hand and the other on the left. Then said Jesus, 'Father, forgive them, for they know not what they do' and died."
There Appeared An Angel Unto Him From Heaven, Strengthening Him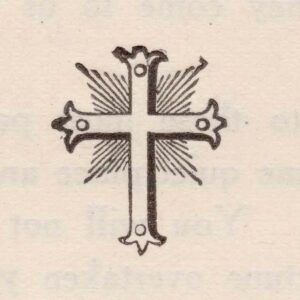 "And there appeared an angel unto him from Heaven, strengthening him."
For your comfort and because I love you, I am going to tell you this Christmas a bit of personal experience, something I have seldom spoken of even to my closest friends and never to strangers. I would not, even now, speak of it to strangers, but you are my friends, my family.
You all know that one of my two little boys, my eldest son, was called by God very suddenly some eight years ago. I can not tell you just how that was –– the pain is yet too sharp to speak much of it, but it was very sudden in the twinkling of an eye.
I saw him at play, and then I saw his sweet body lifeless and his dear eyes dim––and I never saw him again. I was very ill and friends took me away and cared for me. There are many of you that will understand.
But––, in that first keen, sharp, terrible agony before a stupor came to me, an angel from heaven came to strengthen me.
I want you to firmly understand that I am not a spiritualist, in the commonly accepted meaning of the term any more than was St. Luke who wrote the story from which I have quoted. I simply believe as he did, that God will send his angels of strength and mercy to aid his stricken children.
I saw no spirit, but I knew even then, while I was being tossed and torn with agony, while I walked wildly up and down a country road calling upon God to help me, even then I knew that some one was with me. I felt sustaining arms. Without them I could not have stood.
I was strengthened by some unseen power, heard them walking beside me with the ears of my spirit. They were sorry for me. I felt their grief. No spoken words were needed. It was spirit communing with spirit.
I never since felt so distinctly this presence, although for many long weary months I could never have borne the weight of anguish if I had not felt a personal strengthening that came from some Supreme Source.
Others have doubtless had some experience similar to this. Few dare speak of these things for fear of being accused of spiritualism or dealing with untruths.
I have no use whatever for the cheap trappings of spiritualism, but I know there is a deep truth at the bottom which scientists and not quacks are probing. And I believe that God and His angels are not so far away that they can not come to us quickly in our time of need.
To Christ in Gethsemane God sent "an angel from Heaven to strengthen him."
To our soldiers on the battle field God has sent His divine strength, supporting, inspiring, upholding.
To you and to me, to all who call He will send His angels of strength and hope and mercy.
Nay, more than that! They come to us uncalled, else how could we bear until we have learned to call?
My message this year is to those most particularly who have no Christmas spirit in the heart. Go you to some quiet place and ask God to send to you an angel from Heaven to strengthen you. You will not ask in vain.
Then, what though illness have befallen you, misfortune overtaken you, death robbed you, friends betrayed you, though a sword hath pierced through your heart, though you have been crucified between thieves, God and His angels are around you, comforting, strengthening, giving you new hope, new aims, new life.
The world is celebrating the birthday of one whose life was spent in teaching that world how to live; in teaching men to love their neighbor as themselves and to love God most of all; in trying to give man some conception of what the love and Fatherhood of God means.
That world, the world of his day misunderstood him and crucified him. Today we understand him better and we love him. It has taken us many centuries to realize his Gospel of Love but we are getting glimpses of it.
Now! What can we do for his birthday to best show that we, at least, will no longer crucify him in the spirit by misunderstanding or unheeding his life and his lessons?
Let Jesus of Nazareth, himself, speak!
"I say unto you which hear, Love your enemies; do good to them which hate you. Bless them that curse you and pray for them which despitefully use you.

"And as ye would that men should do unto you, so do ye likewise unto them.

"Love your enemies and do good; and lend, hoping for nothing again; and your reward shall be great, and ye shall be children of the Highest; for he is kind unto the unthankful and the evil.

"Be ye therefore merciful, as your Father also is merciful.

"And the King shall answer and say unto them, 'Verily, I say unto you, inasmuch as ye have done it unto one of the least of these, my brethren, ye have done it unto me."
–––– Della Thompson Lutes, editor, American Motherhood Magazine, December 1909 issue.
---