We may receive a commission when you make a purchase from one of our links to sites such as eBay and others. As an Amazon Associate we earn from qualifying purchases. Thank you for support!
Collecting coins is a lot of fun, but not knowing what coins you have or where they are can be frustrating! Enter this record-keeping sheet for organizing and listing all of the coins you find!
Today I have a free printable coin tracker for you so you can keep track of what coins you have. This printable coin collecting checklist will help you easily identify what coins you have in your collection!
Prefer a digital version? No problem, I made you a free coin collecting spreadsheet too!
---
Spreadsheet + Paper = The Perfect Digital Hybrid Way to Stay Organized
I made this coin collecting sheet because I needed something I could quickly and easily print out and keep in my coin collecting notes binder.
I was searching today for a free printable coin record log for writing down coins for coin collectors, but I couldn't find one.
The only results I could find were all about budgeting and finance. And sure, budgeting and finance is important, but it's not really the same thing as coin collecting.
I couldn't believe no one else made one of these yet. I thought for sure there would be some things out there online I could easily print out and put into it, but I couldn't find anything.
Those of you who know me well know I LOVE everything notebooks, journals, and planners – it only makes sense that I create a notebook dedicated to everything for collecting coins!
So…I decided to spend a few minutes on my computer and made a simple spreadsheet to print out.
I am the kind of person who loves all things pen and paper, so the hard copy printable form is nice to have. BUT… I also really love being able to quickly and easily analyze data!
A few months back I also invested in a cheap little microscope camera (I got this one on Amazon} and so it's great to be able to look at coins up close and keep track of everything right on my laptop.
There are even apps out there now that can convert handwriting to type, so using a hybrid system of both paper AND digital is nice.
---
Free Coin Collecting Record Sheet
Here's a quick preview of the coin collecting template I made: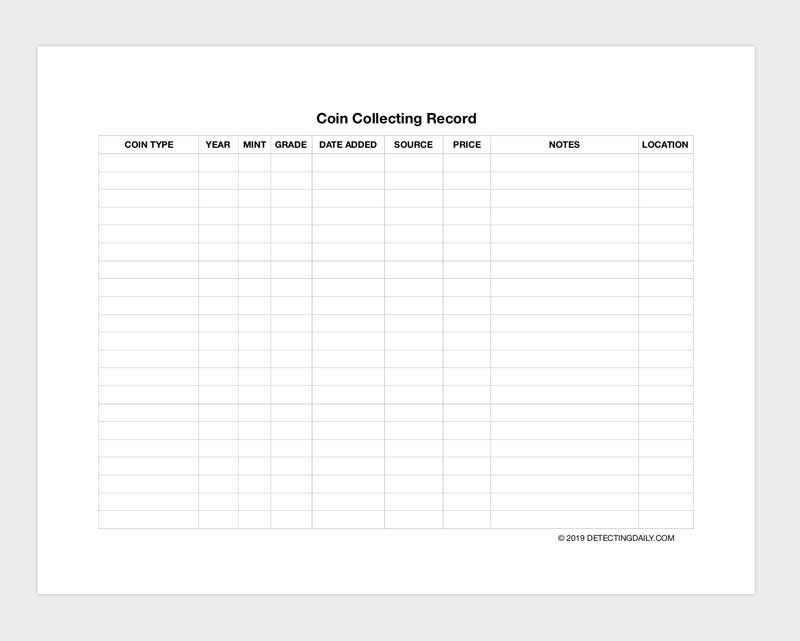 It's simple, but I like it that way!
It's got all of the important things. When there is too much to fill out, I tend to lose interest.
I know that just like when I created my metal detecting log sheet free printable I do a lot better when things are simple!
---
How to Use the Coin Collection Sheet and What I Want to Track
Here's an overview of what we can keep track of using this coin log sheet. Each item listed below is a column on the spreadsheet and free printable.
1. Coin Type: Do You Have a Lincoln Wheat Penny? A Delaware State Quarter? Whatever it is, write that down in the first section.
2. Year: The year column is for the year of the coin. So, if your Delaware state quarter is from the year 1999, write that down in this column.
3. Mint Mark: This is where you can write P, D, or S, depending on what it says on your coin. Also, some U.S. coins don't have any mint mark.
In those cases where there is no mint mark, they were *usually* made at the Philadelphia mint. But, as I recently learned, there are also some coins that have no mint mark and were minted at West Point.
I'm sharing that because it took me about two years to learn there was even such a thing as West Point mint. I think that is what I like about this hobby of coin collecting – it feeds my never-ending curiosity for research and history!
While we're sharing our deepest darkest coin collecting secrets, I cannot for the life of me pronounce or say the word numismatics. I tried. I think I might need more practice. I can spell it though!
4. Grade: This is where you can write what condition the coin is in. If you had the coin professionally graded, you could note that here with initials for where you had it graded.
5. Date Added: This is a place to write when you got the coin. Maybe you bought it, traded for it, or got really lucky and received it as your change at the post office while you were mailing a letter. This can also help you spot trends for what days are good to go coin roll hunting.
6. Source: This is where or how you got the coin. Did you buy it from a certain seller on eBay? Did you get it from a coin show? Coin roll hunting? Or my personal favorite of course – while metal detecting!
7. Price: If you bought or traded for the coin, you can write an estimated price or cost here. Note that I didn't write value here, because value will change over time. Even if a coin is considered valuable, if you try to sell it, you are still at the mercy of the current market conditions. I don't buy coins, but if you do buy coins, knowing the price you paid is a good way to keep track of your expenses.
8. Notes: This is where you can write any notes or special characteristics of the coin. For example, if you have an unusual coin with a mint error, you could write what the error might be.
9. Location: This is the most important part! Keep track of where the coin might be! Is it in an album? A labeled coin roll? A safe deposit box? Wherever it is, you definitely want to know where it is.
Sometimes after awhile it can get to be hard to track what you have and where it is. Even if I don't have all the information on each coin I write on my list, at least I can try to locate it later!
---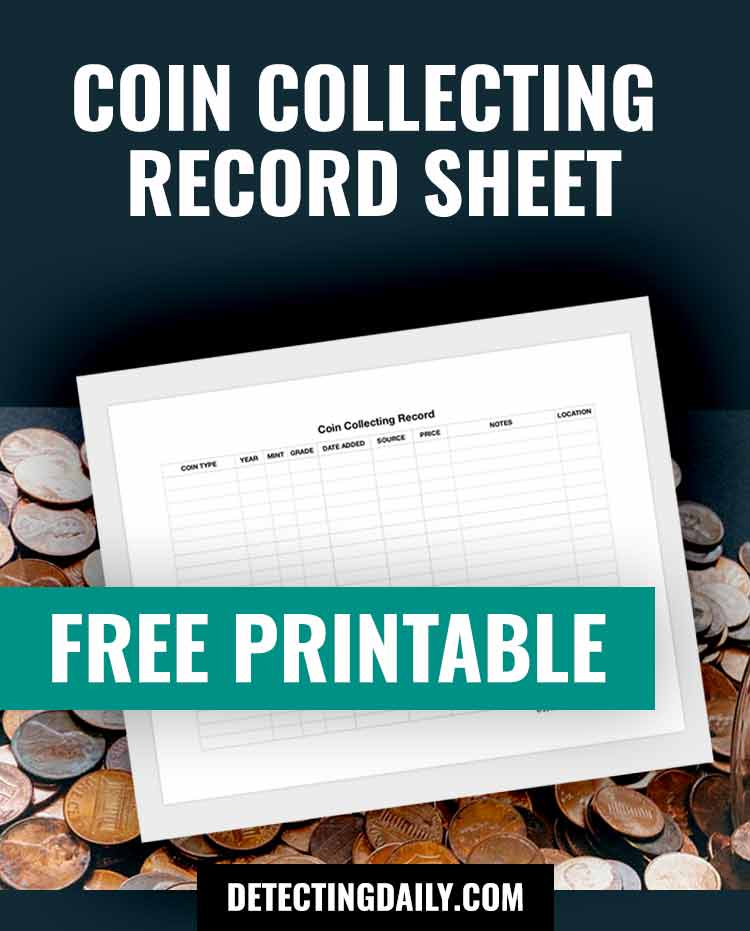 Download Your Free Printable and Coin Collecting Spreadsheet for Windows or MacOS
Opening and downloading these files should be pretty easy. All you need to do is alt-click on the link and choose where to save it when printed. The printable is a free PDF file, so you should be able to save it and open it on almost any type of computer.
The spreadsheet is available in two different formats. The first format is a MacOS based .numbers file. If you use numbers on a Mac, iPad, or iPhone, that is the file for you to choose!
The second file type for the spreadsheet is an open document file. If you are on a Windows based computer and use software such as Microsoft Excel or Libre Office, this is the spreadsheet document to use!
---
Click Here to Download The Printable Coin Collecting PDF
Click Here to Download Windows Spreadsheet File
Click Here to Download MacOS Spreadsheet File
I really hope that you enjoy this free printable coin tracking log and it helps you start keeping track of the different coins in your collection.
Whether you have all of your pennies thrown in a jar or you have them neatly organized in albums, sometimes just taking notes and keeping a record can help give you a nice way to remember everything.
I've been in what I call the "organize-my-entire-life" mode all week long. I've already made plans to make a plan for everything else I my life, so I figured it would be fun to make a some printables to go into a binder to keep track of all my collectible coins.
And, if something helps me, my hope is it will help other people, too!
I'm always happy to make these kinds of things and share them with everybody. It can really be helpful for staying organized and on top of everything!
And if a spreadsheet or paper coin tracker isn't your cup of tea, don't forget to also check out my list of my favorite coin collecting apps. There are so many ways to get your coin collection sorted and organized!
---
I really hope you enjoy this free download – let me know in the comments below what other print ready templates for coin collecting or metal detecting you might like to see!