We may receive a commission when you make a purchase from one of our links to sites such as eBay and others. As an Amazon Associate we earn from qualifying purchases. Thank you for support!
Last weekend I went to visit my mom and made her pull out all of her old cookbooks. This cookbook, Cookie Cookery by John J. Zenker and Hazel G. Zenker, is one that used to belong to my grandma.
This vintage cookbook was published in 1969 by M Evans & Co.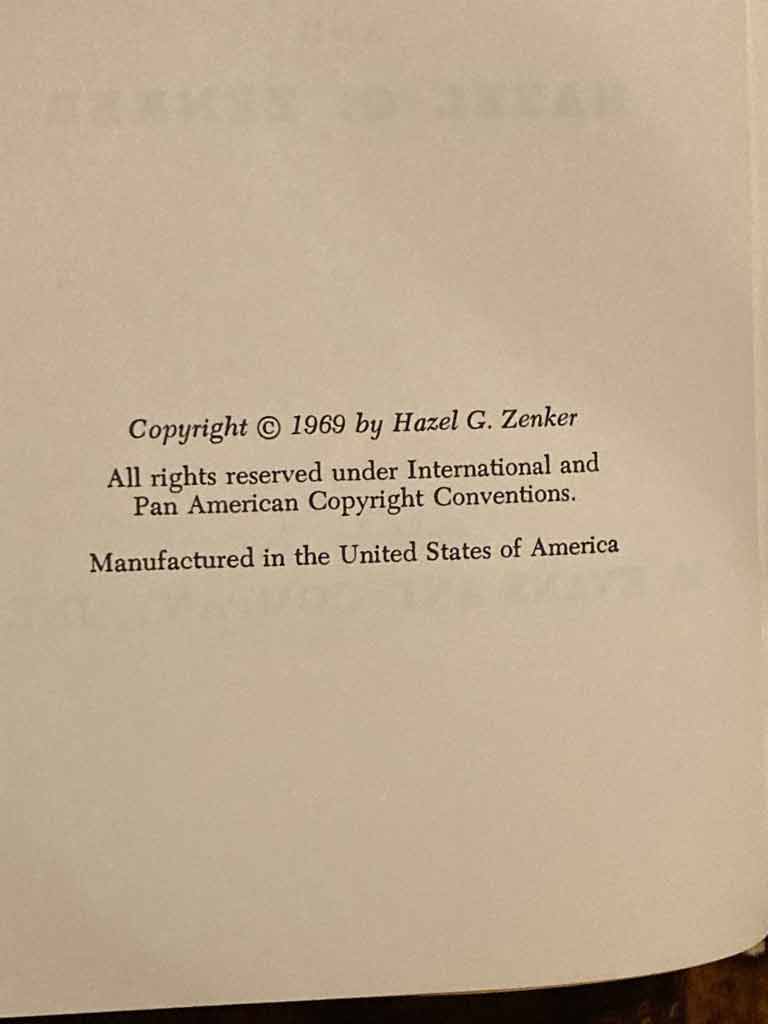 I couldn't find a whole lot of publicly available information on the authors, John and Hazel, nor do I know where my grandma might have even bought this cookbook.
Fortunately, I was able to find a few articles about the cookbook using archived newspaper records. In an article by Maxine Keown, posted on page 36 of the Daily Independent Journal in San Rafael, California on Sep 1st, 1973, I was able to find out the following information:
Hazel published two cookbooks: Cookie Cookery with her husband John, and later published Cake Bakery after her husband John died.
Hazel and John worked as pastry chefs and taught in a cake decorating school in Chicago prior to publishing the books.
After the death of her husband, she ran a pastry business in Salem-Winston, North Carolina with her daughter.
The back of the dust jacket shows the table of contents of what is included in this book.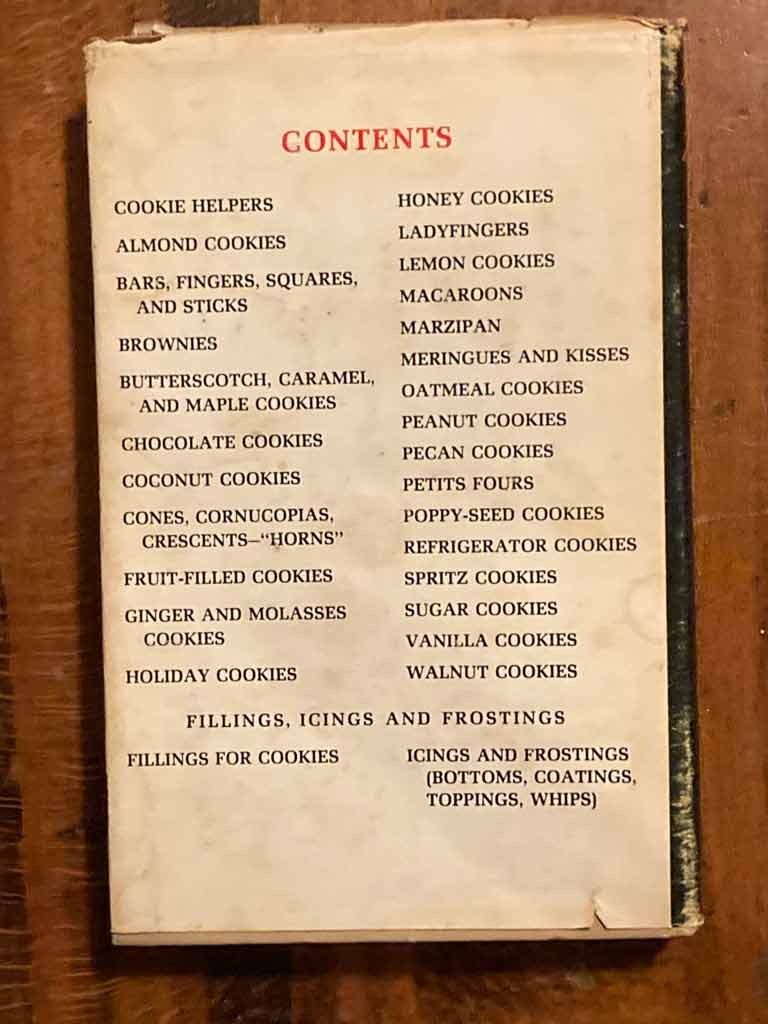 "Cookie Helpers" – the first section of the book, covers a lot of basic information and tips and tricks for baking the perfect cookie.
While flipping through the pages, one thing that I noticed right away about this cookbook was that it was in a really nice easy-to-read format.
Here is a quick preview of what the inside pages look like: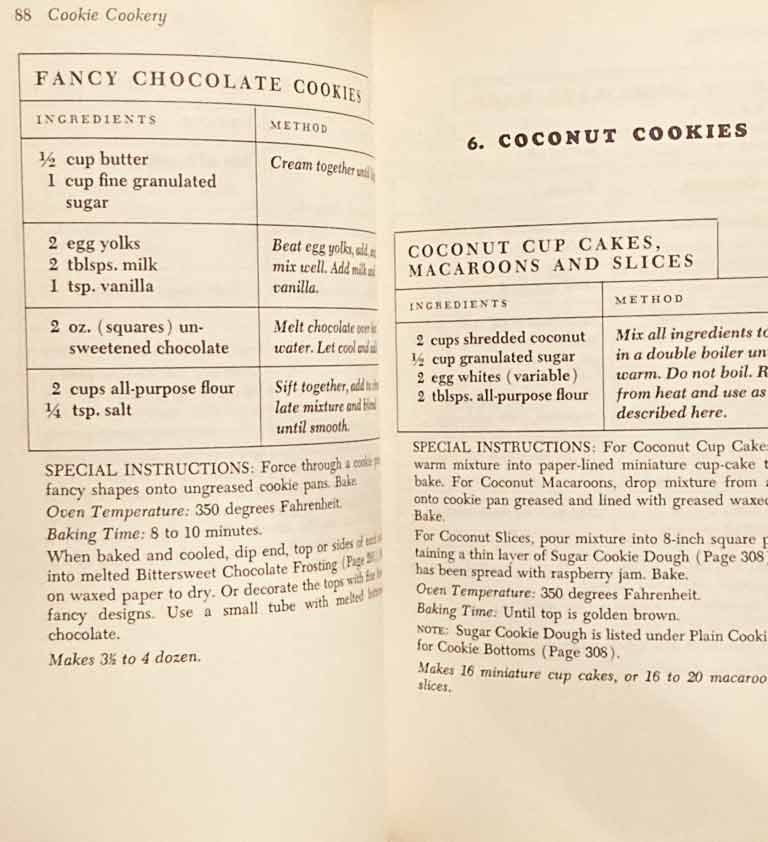 You can see the cookie ingredients and directions are listed very neatly in a table, with special instructions and notes listed below the recipe table.
Some of the recipes include a black and white photo, like this recipe for caramel cookies below.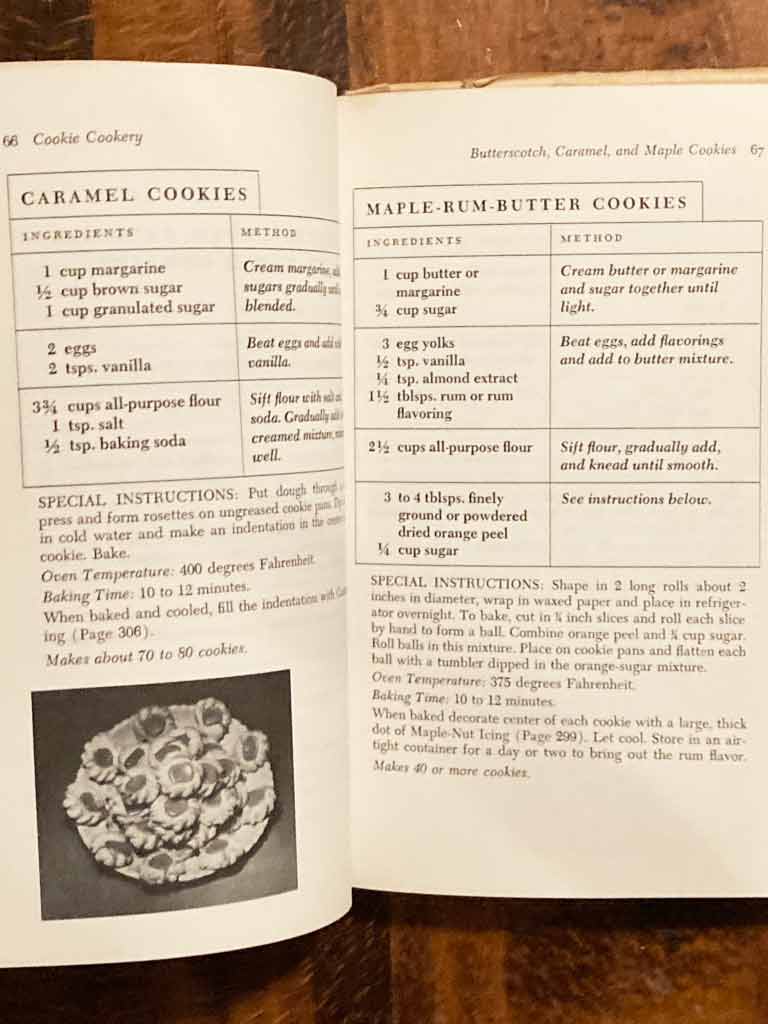 The maple rum cookies recipe on the opposite side sounds especially delicious!
The major downfall to this book however is the way it is bound – it is a hardbound book that doesn't lay flat. That makes it really hard if you were to actually want to follow the recipe in the book and try to bake the cookies at the same time!
As far as we know, my grandmother never actually made anything out of this cookbook and neither has my mother.
Still, it's a lovely cookbook to have and most of the cookies sound pretty straightforward to make. More pictures and illustrations would have made it a little easier to visualize what each cookie looks like, but there are definitely some good recipes in here!
While the book is out of print, used copies of the book are relatively inexpensive to get and can be found on Amazon, eBay, and other vintage booksellers. It's also available in a paperback version that was published in the 1970's.
---
Do you have this cookbook? What are some of your favorite recipes in it? Share your thoughts in the comments section below!