We may receive a commission when you make a purchase from one of our links to sites such as eBay and others. As an Amazon Associate we earn from qualifying purchases. Thank you for support!
I'm so excited to bring you these 3 free antique knitting and crochet patterns to make a hood, slip-on sweater, and hat for babies. These were salvaged from my copy of the 1923 February issue of Needlework magazine.
These three patterns were written by Mrs. C. F. Joslyn and were featured in an article titled, Cunning and Comfy Things for the Littlest Ones.
At the bottom of the page is the knitting pattern for the baby mittens – you can find the baby mittens knitting pattern here.
These three patterns suggest using Saxony yarn, which in today's terms would translate to be 3-ply worsted weight yarn for the hood and the sweater, and 4-ply worsted yarn for the Tam-o-Shanter hat style.
---
A Warm Little Hood, Easy to Knit.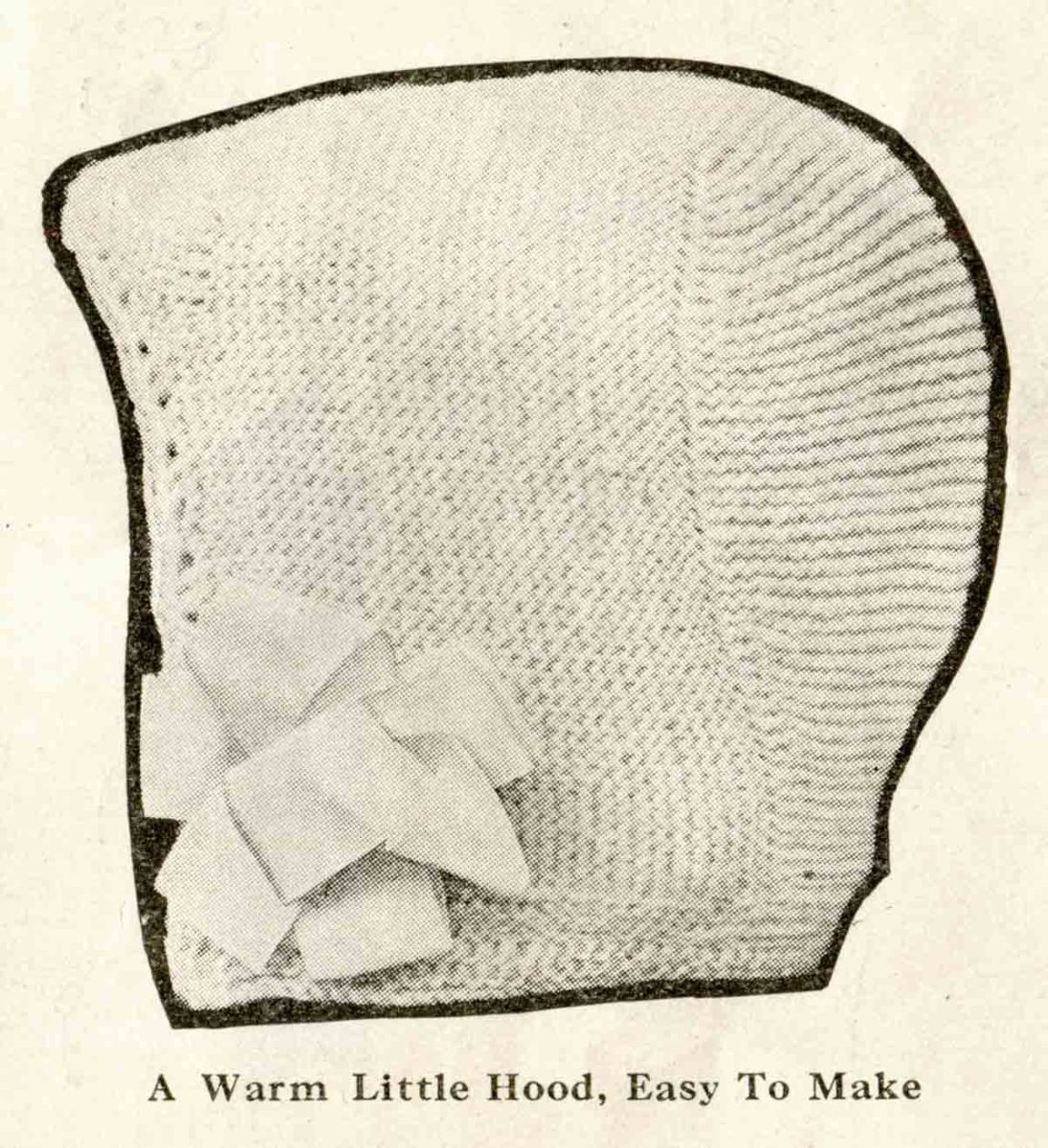 Vintage Knitting Patterns such as these often use the term "narrow", which means knit two together (k2tog), also commonly seen as a decrease in a pattern.
"Twist a Stitch" means to knit through the back loop.
Twistnarrow means to knit two together (decrease) through the back loop.
* The Asterisk Symbol (*) Indicates a stitch sequence.
A warm little hood, easy to knit, requires a skein of threefold saxony, with just a bit of another color for the border, and steel knitting needles No. 13.
Pink was used for the hood illustrated, and white for the border.
With pink, cast on 18 stitches for the lower part of back.
Knit back and forth for 18 rows, or 9 ridges.
Beginning next row, knit 2, and in next stitch knit in front and back, thus making 2 stitches of 1, or pick up and knit a stitch between 2d and 3d stitches; knit to within 3 stitches of the end, make 2 of next stitch, knit 2.
Knit back plain.
Repeat these 2 rows until you have 36 stitches on the needle, or 18 ridges in all, then knit 18 ridges without increasing.
Now decrease in the same way the increasing was done until you have again 18 stitches on the needle, completing the crown.
Leave the 18 stitches on needle and with spare needles pick up and knit 45 stitches on each side of crown, giving you 108 stitches for the front piece.
On these, knit 28 ridges.
To shape the hood at the top in front, slip the 32 middle stitches on a needle, leaving 38 stitches on each side needle.
Knit back and forth on the middle needle, taking off 1 stitch from side needle at end of every row, until you have 48 stitches on middle needle; then knit 3 ridges all the way across and bind off.
Pick up the stitches around the neck and knit 3 ridges with pink, 3 ridges of white and 1 row of pink, and bind off.
For the little border across front, fasten in at corner with white;
chain 3, a treble in same stitch, chain 2, miss space of 2 stitches, 1 double, chain 2, miss 2, 2 trebles; repeat across.
Using pink, make a double in each stitch.
Fasten rosettes of white ribbon on each corner.
Sew one end of a four-inch strap of ribbon under one rosette, under the other a snap-fastening, and sew the other part of the fastening to the end of the ribbon strap.
The rosettes are easily taken off when the hood requires laundering, and the strap is simpler, more comfortable and more secure than ties.
---
Little Slip-on Sweater to Match: Knitting Pattern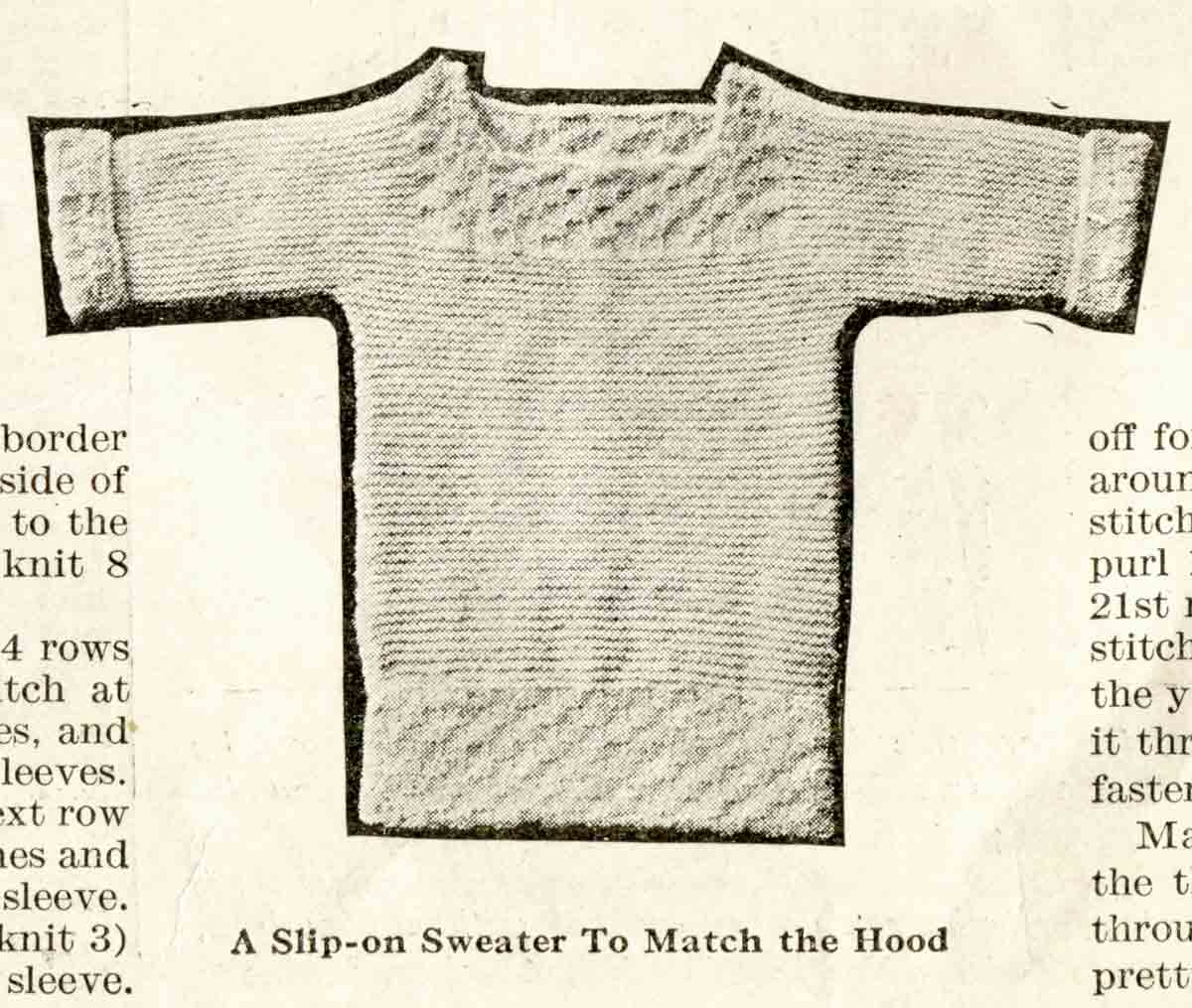 For a little slip-on sweater to match the hood two skeins or balls of the threefold saxony will be needed.
Baby Sweater Knitting Pattern:
Cast on 60 stitches.
For the border of basketstitch, knit 3 and purl 3, for 3 rows, back and forth; then reverse, knitting the stitches previously purled and purling the knitted ones, working 3 rows in this way.
Repeat these 6 rows, alternately, seven times, making 16 rows of blocks in all, if you wish to make the border double, turning the 1st row up inside of sweater, when finished, and felling to the last row. For a single border, knit 8 rows of the blocks.
Knit back and forth plain for 74 rows or 37 ridges; then increase a stitch at or each end of every other row 3 times, and cast 27 stitches each side for sleeves. On this length knit 9 ridges.
In next row knit 41, then (purl 3, knit 3) 14 times and knit remainder plain, to end of sleeve.
Returning, knit 37, then (purl 3, knit 3) 14 times, purl 3, and knit to end of sleeve.
Do next row like 1st, completing the 1st row of blocks of the yoke; reverse, as in the border, knitting the purled stitches and purling the knitted ones of the basket-work, knitting plain the stitches each side of yoke and to end of sleeves, until you have 6 rows of blocks.
In next row knit 41, purl 3, knit 3, bind off 27 stitches, knit 3, purl 3, knit to end of row. On these stitches continue as before until you have 6 rows of blocks over the shoulder.
Work the other shoulder or front to correspond. Cast on 27 stitches for front of yoke, and knit the length, working 5 rows of blocks for front of yoke.
Knit 8 ridges plain, then bind off 27 stitches for sleeves, decrease 1 stitch at end of every other row 3 times, and knit the front the length of the back, border inclusive. In knitting the border begin and end 1st row with purl 3, to match the knit 3 of the border of back. Bind off.
Pick up the stitches around edge of sleeve and knit 6 rows of blocks; bind off. Sew up the underarm seam to end of sleeve, and turn back half the cuff.
---
A Cunning Little Tam-O'-Shanter Crochet Baby Hat Pattern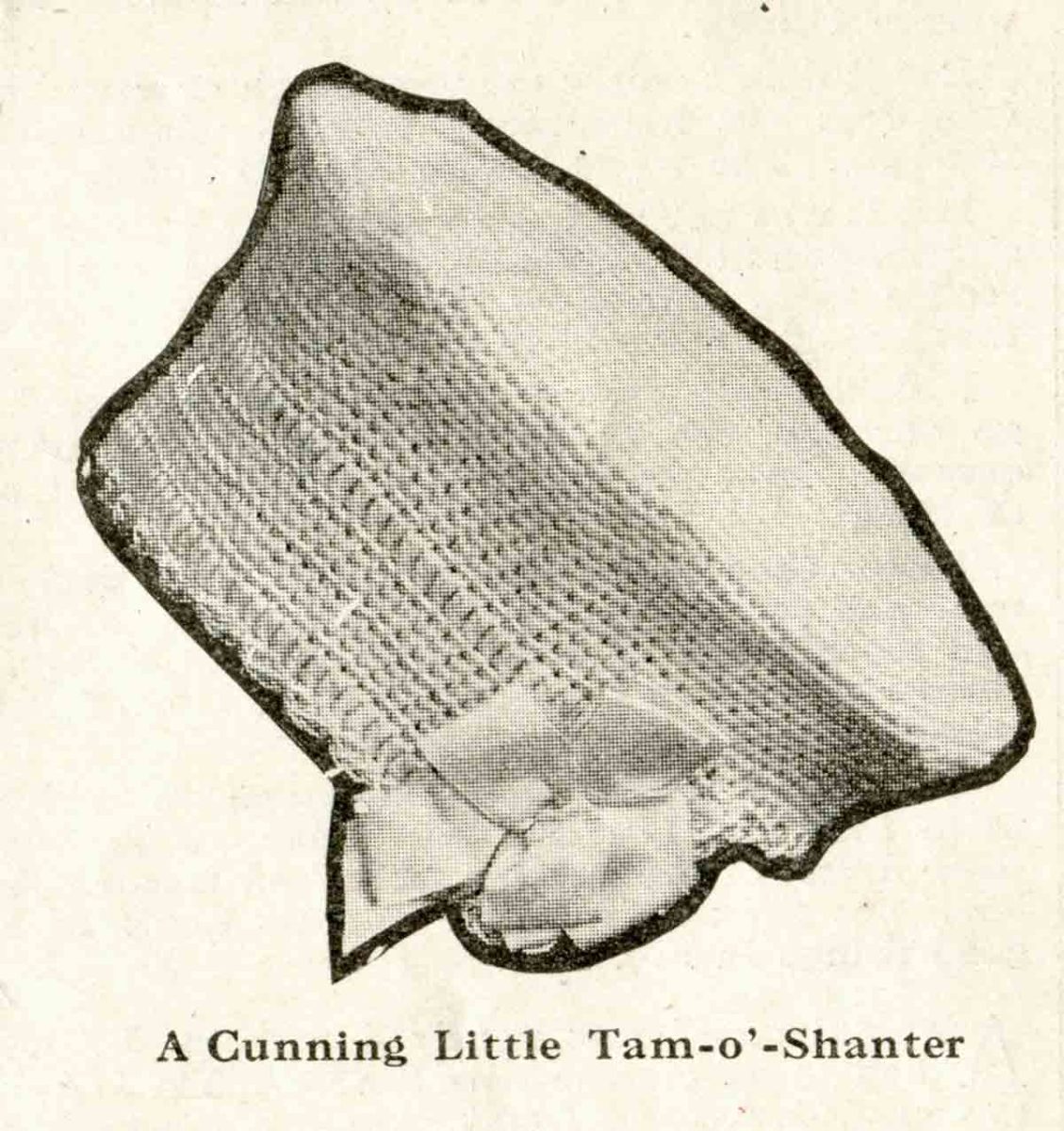 A cunning little tam-o'-shanter requires a ball of fourfold saxony or knitting worsted; with a crochet-hook that will carry the yarn smoothly; cream-white was used for the model, but any color may be substituted.
Commence at center of crown with a chain of 4 stitches, join. 1.
Eight double crochets (dc) in ring. 2. Two dc in each dc, taking both veins or loops of stitch (st).
Ad cin d c, 2 in next; repeat.
Ad c in each of 2 d c, 2 in next; repeat.
Continue like 4th row, having 1 more double between widenings each row, until there are 18 doubles in each section or gore, between the widenings.
Work 3 times around plain; then decrease as you increased.
Make 18 doubles in 18 doubles, narrow by taking next 2 stitches together; repeat.
In next row have 17 doubles between narrowings, and repeat until you have 12 doubles between; then work 4 times around plain.
Using white crochet-silk or rope-silk, make a double in each double around seven sections, leaving the eighth section with 2 doubles each side.
With the yarn make a treble (chain 3 for 1st) in each double; with silk, a double in each treble; 2 rows of doubles with yarn; a row of doubles with silk; repeat last 3 rows, then work a row of trebles with the yarn, and fasten off.
Finish the edge, all around, with a little scallop of the silk, as follows: Fasten in a stitch, * chain 3, a treble in same stitch, miss 2, a double in next, and repeat from *.
Attach a pretty bow of ribbon, matching the color of yarn and silk used at each side of the opening and sew one end of a strap of ribbon, three to four inches long, or as required, underneath the bow on one side; to the other end of strap sew a snap-fastening, the other half of the fastening underneath the other bow.
This cap, as well as the hood and sweater, may be easily increased in size, following the general directions given.
---
As all my babies are now grown-ups, I will probably not be making these, but I thought these patterns were great – not only easy to follow directions but also gives you a peek into what fashion for kids was like in 1923.
Does anyone want to make an adaptation of the Tam-O'Shanter hat for adults? I'd be so on board to try that crochet! And of course, if you make anything with these antique baby knitting + crochet patterns I'd love to see what you create! I love hearing from you in the comments below! 🙂