We may receive a commission when you make a purchase from one of our links to sites such as eBay and others. As an Amazon Associate we earn from qualifying purchases. Thank you for support!
Not too long ago at a used book sale near me (which I always go to!) – I found a library copy for sale of one of my absolute favorite recipe books as a kid: Encyclopedia Brown Takes the Cake.
Written by Donald J. Sobol and Glenn Andrews and illustrated by Ib Ohlsson, the book was originally published in 1982. Scholastic also published a paperback version of this book in 1991.
Since my hardcover copy is a library copy, and actually even missing some pages, and this was a mass market paperback later in its lifetime, it's not particularly valuable, although original hardcovers in great condition are always worth considerably more if you happen to have one! Collector's editions are often worth anywhere between $20-$50 easily and of course if you have the complete set of them can fetch a pretty nice return.
Looking for this book for your own collection? View the latest eBay Auctions for Encyclopedia Brown Takes the Cake or snag a used copy from Amazon.
Even so, and even it's beat up condition, this book is one that I had to add to my collection because as a kid I absolutely ADORED the Encyclopedia Brown series of books. I read every single one!
I was never very good at figuring out the mysteries, but I still liked reading about them and trying to figure out just how Encyclopedia would piece them all together!
About the Book
This book features some mysteries, as well as just some fun get-togethers between Encyclopedia and his friends that are all food and cooking related.
Here's a preview of the table of contents: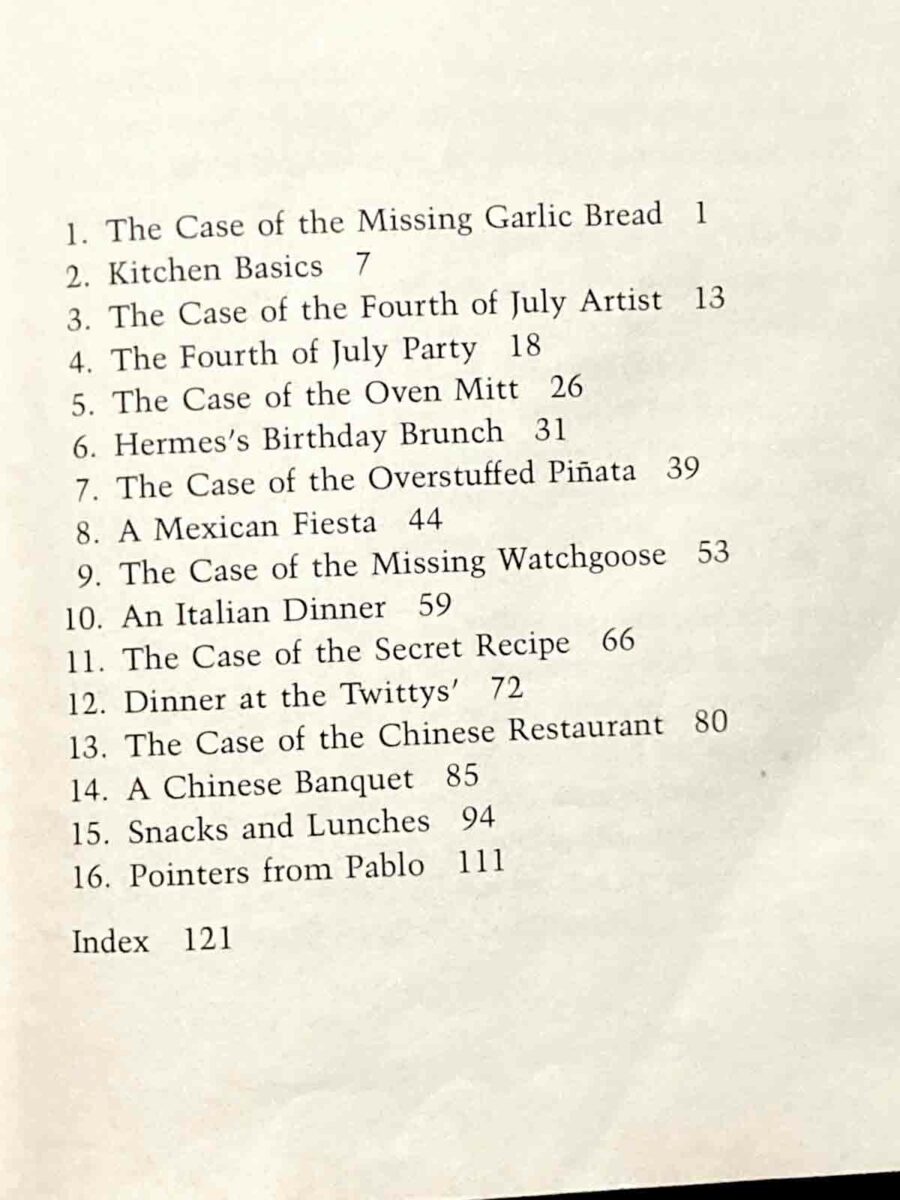 Each of these chapters features some sort of food theme, with some of them giving you entire menus for a whole event! Some of them are actual mysteries, but others are just the Encyclopedia gang having fun together.
For example, in Chapter 4, we get a whole menu for a 4th of July party that serves 6 people: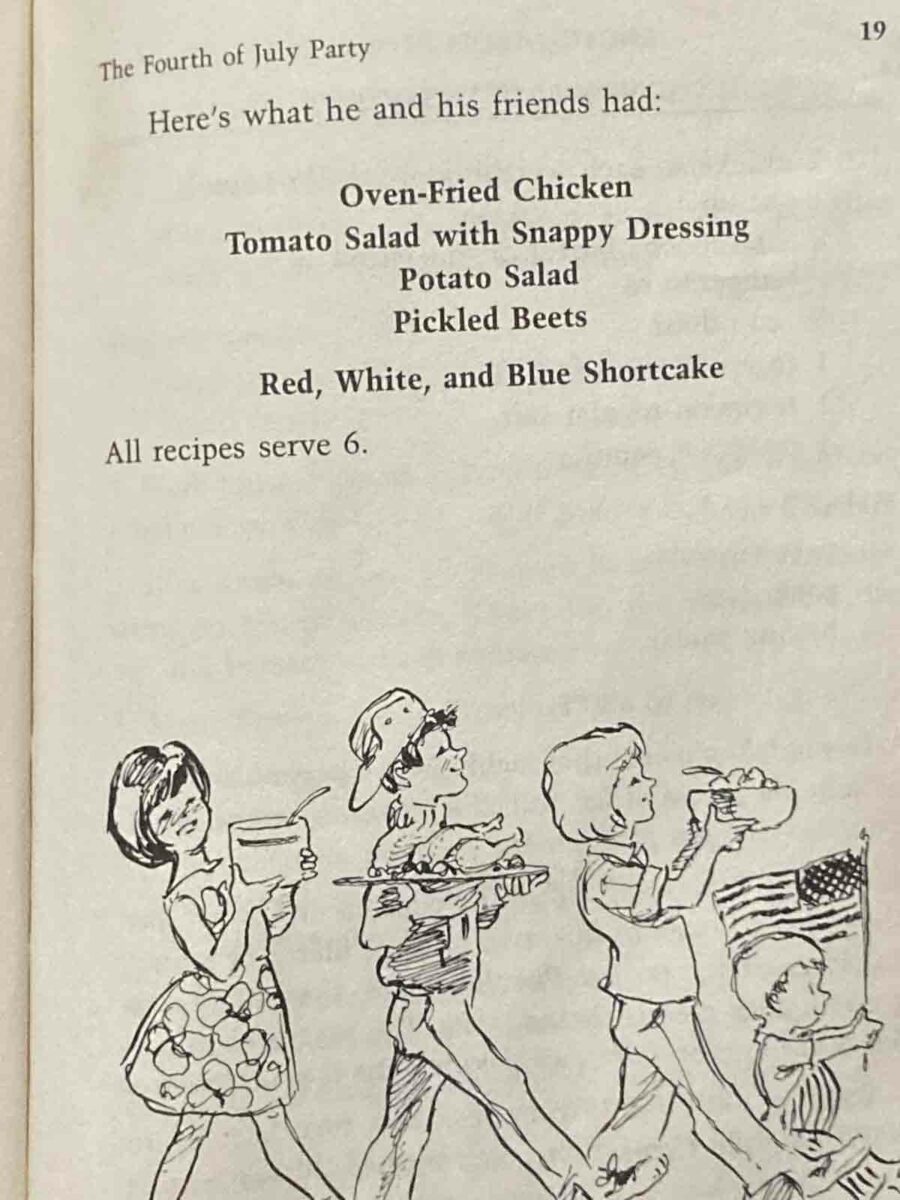 And those illustrations, aren't they adorable?
---
About The Authors + Illustrators
Donald J. Sobol lived from October 4, 1924 – July 11, 2012 and was born in New York. After working in copy-editing for a few years, he moved to Florida to write full-time.
In 1959, he started writing a syndicated column called Two Minute Mysteries for nearly 10 years and led to the spin-off and perhaps what he is most famous for, which is the Encyloopedia Brown series of books.
Sobol has written and published over 65 books of both fiction and non-fiction and also regularly contributed to magazines, sometimes using a pen name.
While there is TONS of info out there about Donald J. Sobol, finding information about the life and work of co-author Glenn Andrews is a little trickier online.
While Donald J. Sobol wrote the mysteries and invented the character of Donald J. Sobol, Glenn Andrews was the writer and cook that pertains to all of the recipes in this cookbook.
The irony is not lost on me that I had to do a little detective work to figure out more information about the co-author!
After a little digging however, we were able to find that Glenn Andrews actually has several other published books.
Some of her other cookbooks
She also published numerous books under the series of Storey's Country Wisdom Bulletin.
Here are some more of the books in the series of Storey's Country Wisdom Bulletin by Glenn Andrews:
While I will need to do way more research to learn more about her life and other works, I did manage to successfully find an old article in the North Adams Transcript that was published on the 20th of April in 1996, where Andrews visited the 4th grade class at Clarksburg School in Massachusettes and even baked the chocolate chip cookies with the recipe from the book!
And of course…finding information about the Illustration Ib Ohlsson is even tricker, although there are a LOT of books they've illustrated on Amazon. If you are like me and love the illustrations in this cookbook, Ib Ohlsson has illustrated tons of great looking books that are worth checking out!
Sounds like we might have a case for the Lost Authors Project here!
At any rate, this is one of my favorite cookbooks I read as a kid, so of course it has to be in my collection. 🙂