We may receive a commission when you make a purchase from one of our links to sites such as eBay and others. As an Amazon Associate we earn from qualifying purchases. Thank you for support!
This sweet and tangy french dressing recipe is easy to make and is paired well with either our Tuna Salad With French Dressing recipe or our Chef's Salad Bowl Recipe.
All three of these recipes came from a Vintage Ohio Art Flower recipe box from the 1980's.
Using paprika is what gives the salad dressing its distinct orange-reddish color.
Despite it being called "French Dressing" – it's actually an American recipe, dating back to sometime in the 19th century, with the first commercially bottled versions being produced in the 1920's.
Here is the French Dressing Recipe card: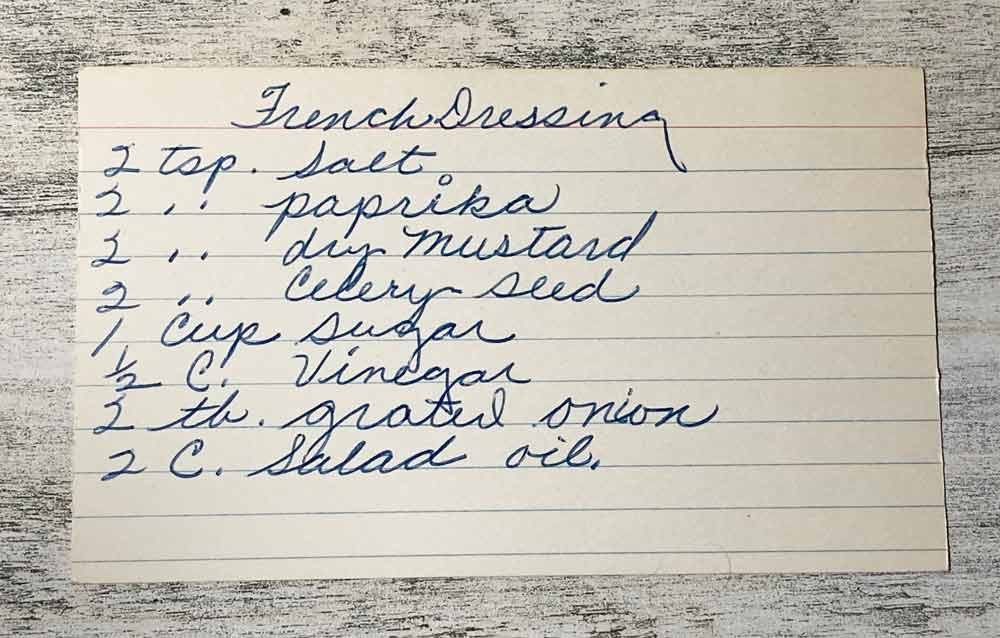 And here is the back of the card which contains the directions. The recipe is handwritten on a 3×5 plain index card in cursive with blue ball point pen ink.
It is always kind of neat going through these old recipe boxes and it always makes me wonder – why did they copy the recipe down? When did they make the recipe? Was it something they made regularly for dinner or was it something reserved for special occasions?
That is the biggest downfall to sourcing my recipe boxes from estate sales and auctions – you really miss out on a lot of the personal story and meaning behind a recipe.
Still, it's nice to know that even if this person's recipes may not have been saved by family members – we at least are doing our best to preserve them on the Vintage Recipe Archive!
Is This French Dressing Recipe Compliant With Regulations?
Asking a question like "is this recipe compliant with regulations" probably seems pretty odd.
But it's true: in my research on Wikipedia about French dressing, I learned that French Dressing is regulated by Federal standards in America.
Yeesh, I hope that only pertains to companies manufacturing it, as some of it is quite technical. I think we are safe though, this recipe uses a ratio of 1/2 cup vinegar to 2 cups salad oil, which is 1:4.
This makes my understanding that this recipe would be 25% vinegar, and 75% salad oil, making it meet the required minimum of 35% salad oil in the dressing.
I hope so anyways, my math is not always that good! Who would have thought this recipe might be something we would have to worry about being compliant with?
Anyways, this dressing should be used immediately when made, but if there are any leftovers, you can store them for up to a week refrigerated.
If you're looking for other homemade salad dressings, we also have this recipe for Lemon Dressing you might like to try, from the same recipe box!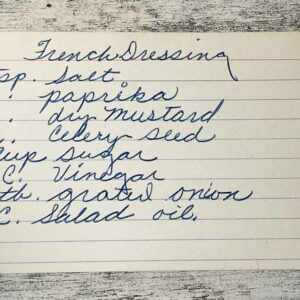 French Dressing Recipe
This sweet and tangy homemade french dressing recipe is a perfect compliment to a wide variety of salads.
Ingredients
2

teaspoon

salt

2

teaspoon

paprika

2

teaspoon

dry mustard

2

teaspoon

celery seed

1

cup

sugar

½

cup

vinegar

2

tablespoons

grated onion

2

cups

lukewarm salad oil
Instructions
Mix all ingredients except for onions and oil.

Gradually add in warm oil, beating constantly.

When thickened, fold in grated onions.
Notes
Dressing should be served immediately or can be refrigerated up to 1 week in a tightly sealed jar.
Nutrition
Serving:
1
g
Calories:
780
kcal
Carbohydrates:
35
g
Fat:
73
g
Saturated Fat:
10
g
Polyunsaturated Fat:
61
g
Sodium:
709
mg
Fiber:
1
g
Sugar:
34
g
I hope you enjoy this French dressing recipe and of course if you have any thoughts or questions, I'm always happy to hear from you in the comments section below!