We may receive a commission when you make a purchase from one of our links to sites such as eBay and others. As an Amazon Associate we earn from qualifying purchases. Thank you for support!
This vintage fundraising cookbook was compiled by the Garden City Chapter Associates of Michigan Christian college of 1982-1983. I really love this cookbook for a couple of reasons. It has a beautiful cover of pretty flowers and is a nice, thick, well-organized cookbook full of great recipes!
This cookbook is around 2 inches thick and has nicely organized tabs to help you navigate – here's a picture of the side view.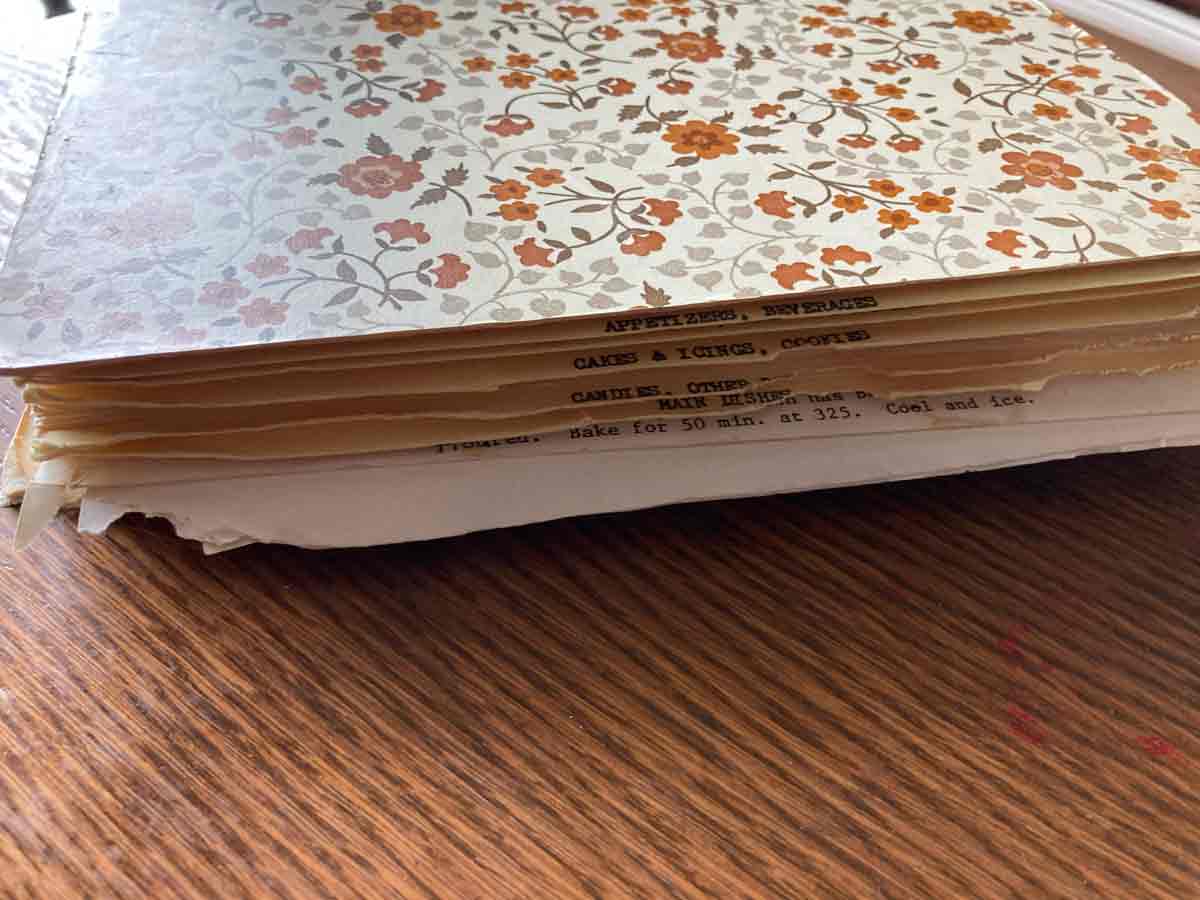 This cookbook came from one of my bargain bulk lot purchases of vintage fundraising cookbooks on eBay, and came in along with a bunch of other great fundraiser cookbooks from Michigan.
This cookbook, like all fundraiser cookbooks, was created so that all profits from the sale of the cookbook were donated to their organization. This cookbook was created for Michigan Christian College in Rochester, Michigan, which is now better known as Rochester University.
One thing about this cookbook that is interesting is it has a landscape layout as opposed to a portrait layout. So you actually read the book sideways but all of the sections are nicely divided by these great dividers and each divider has this lovely little picture on it that is just too cute.
The cookbook has a very nice and easy-to-read index in the front of the book with yellow pages to indicate it is the index.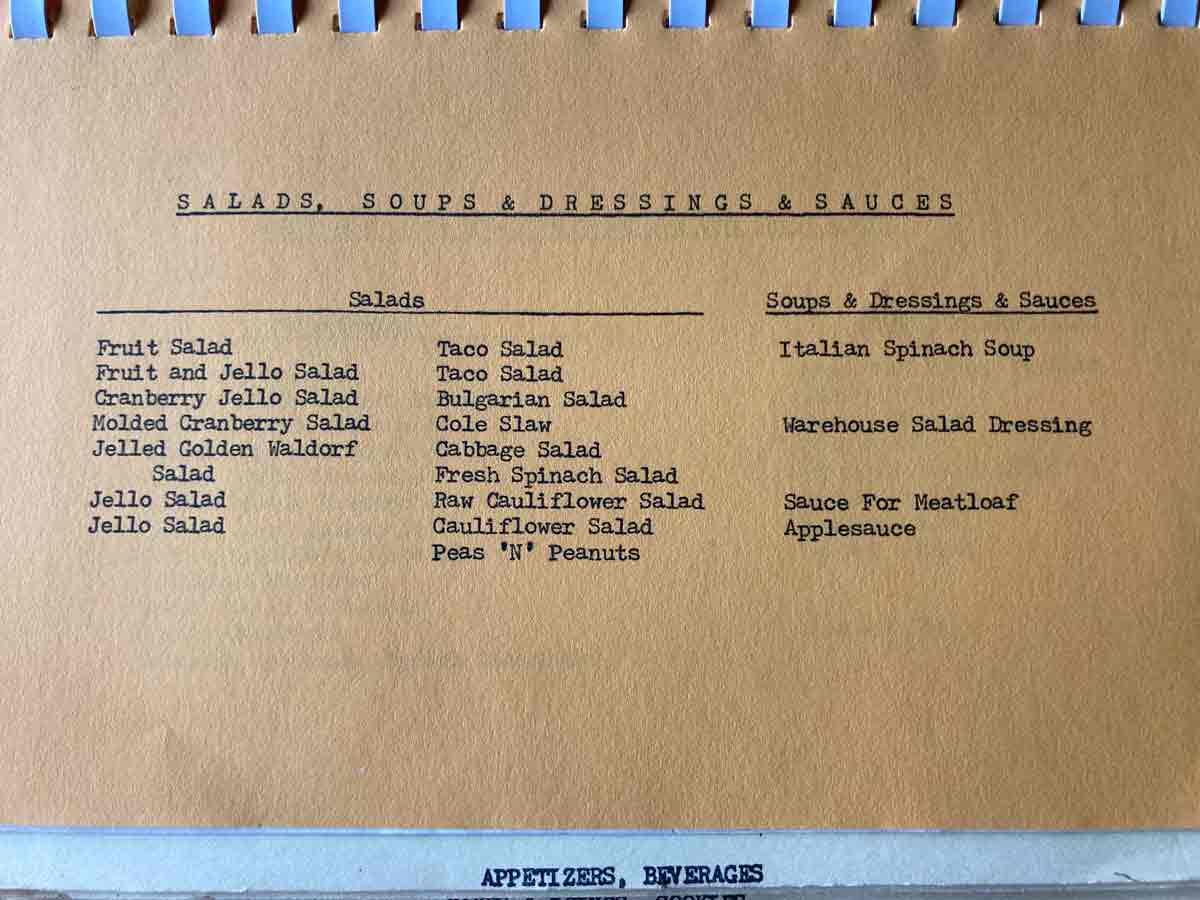 Like all great fundraiser cookbooks that are well-loved, this one actually does have a bunch of notes and recipes of what cooked recipes they liked in the cookbook written on the front page.
I love that about collecting vintage cookbooks – it gives you an idea of who may have owned the book before and of course is a great tip to find the best recipes to try out yourself!
One of the recipes in this cookbook that I thought was really interesting, and was actually a deciding factor in me wanting to get this particular lot of cookbooks, was the recipe for Bible cake.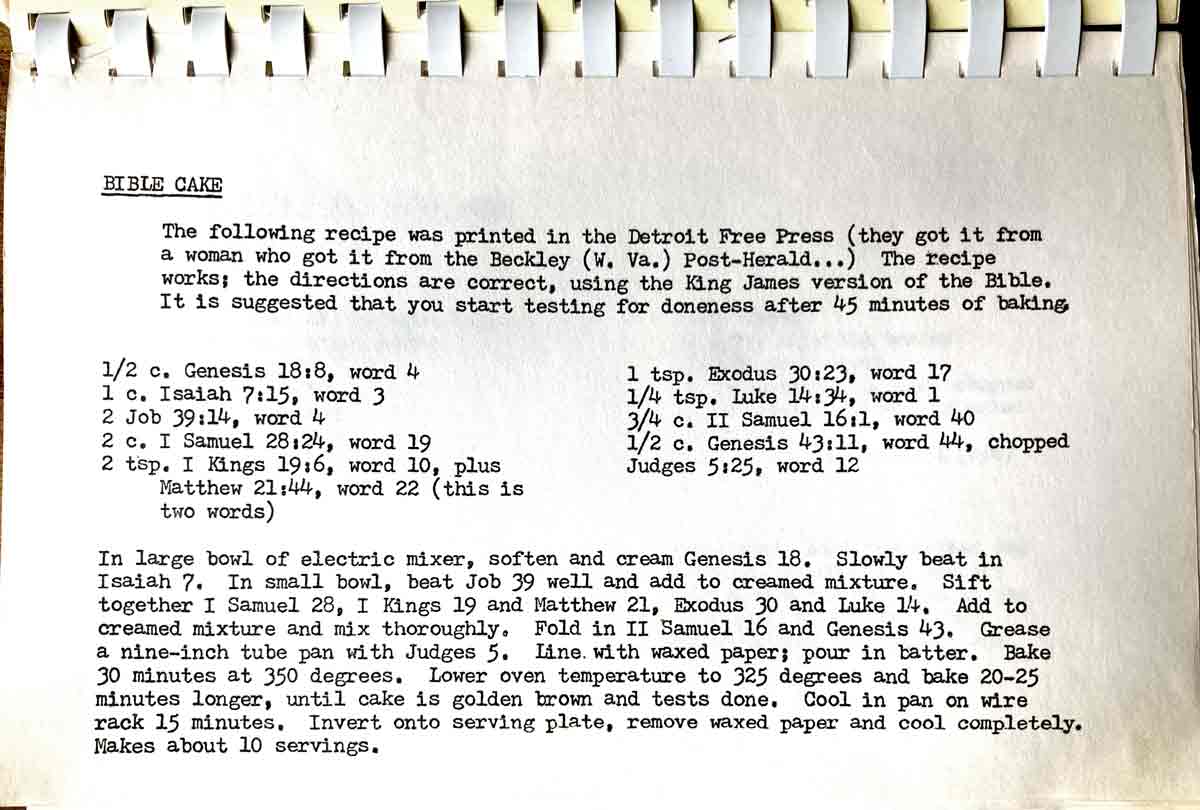 According to this cookbook, the Bible cake recipe was printed first in the Detroit Free Press, which got it from a woman, who got it from the Beckley West Virginia Post Herald….We will probably have to do some research on finding the original source of the recipe.
Still, it's really a neat recipe because to get the recipe, you have to do the puzzle that sends you kind of on a scavenger hunt through the Bible to find out what ingredients you need. I love puzzles so that's right up my alley!
Forgotten Bookmarks Found in This Cookbook
One of the things I love about collecting vintage books is the "forgotten bookmarks" that I often find in them. Forgotten bookmarks are the things that were found and left between the pages of old books.
I can't take credit for calling them forgotten bookmarks – that was a term coined by Michael Popek and is documented in his book Forgotten Bookmarks. But I love the idea and might just need to start my own little collection of forgotten bookmarks myself. 🙂
Anyways, here is a snapshot of some of the things I also found in the book: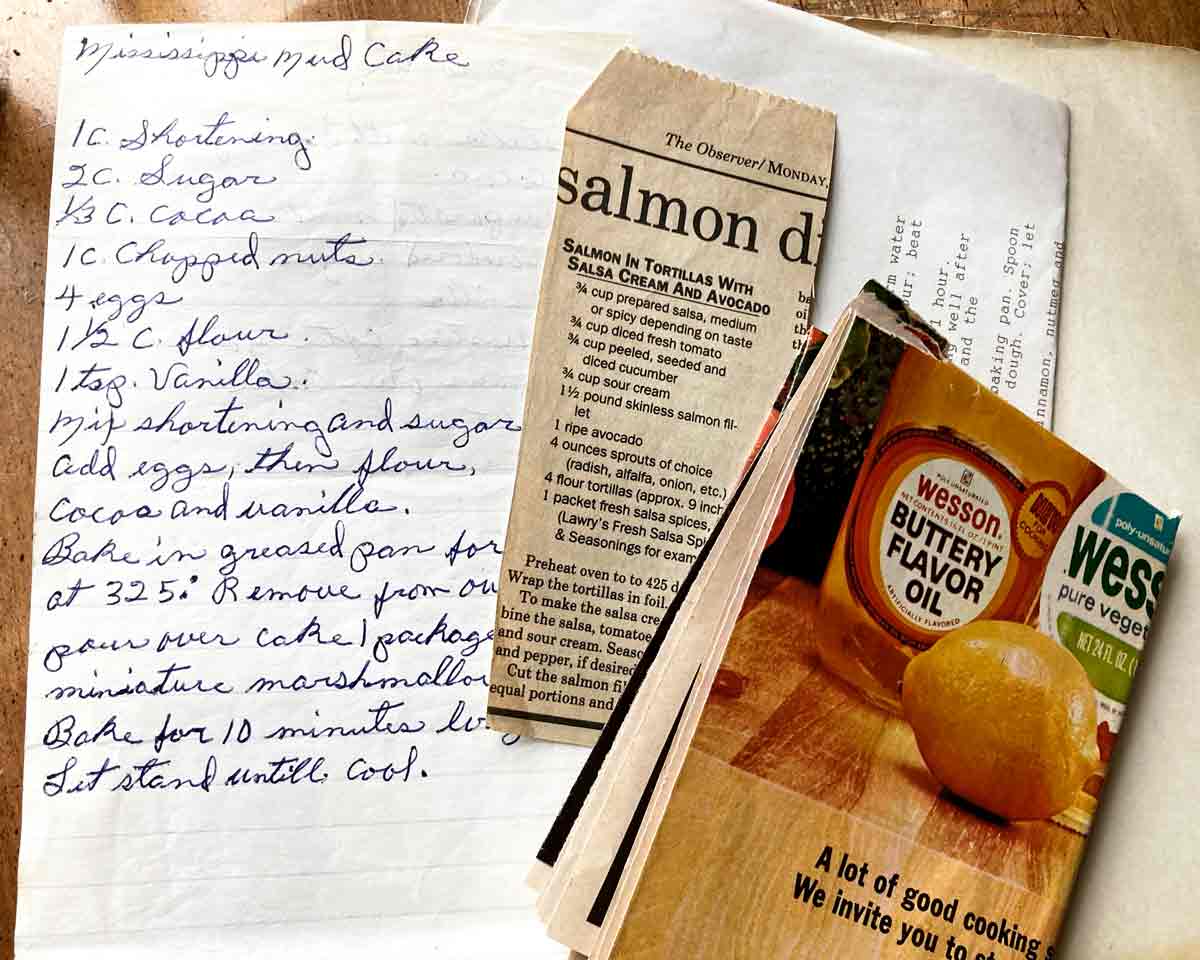 These are great because we have a newspaper clipping, a handwritten recipe for Mississippi Mud Cake, and a couple of advertisement recipe booklets by Wesson Oil, Campbell's Soup, Crisco and more!
---
This was a great fundraising cookbook find to add into my collection and I will try to get some of the recipes + things added soon. 🙂
And as always, if you know anything about this cookbook or the people who created it, or if you are looking for anything specific from this cookbook for Genealogy and Ancestry research, just let me know in the comments – I'd love to hear from you!