While working on my project to digitize my entire collection of 1926 Book of Knowledge Encyclopedias, I stumbled across the illustrations of Hector Thomas Maybank Webb and decided to learn a little bit more about him and his works as an artist.
Hector Thomas Maybank Webb (1869-March 27, 1929) was a British Illustrator and artist who frequently signed his work simply as "Thomas Maybank".
There's not a lot of information out there about him, especially if you simply type in "Thomas Maybank", which is what you'll likely see on many of his illustrations.
His work, whether paintings or drawings, often depicted fairies and fantasy scenes. They were characterized as being full of personality, story and movement.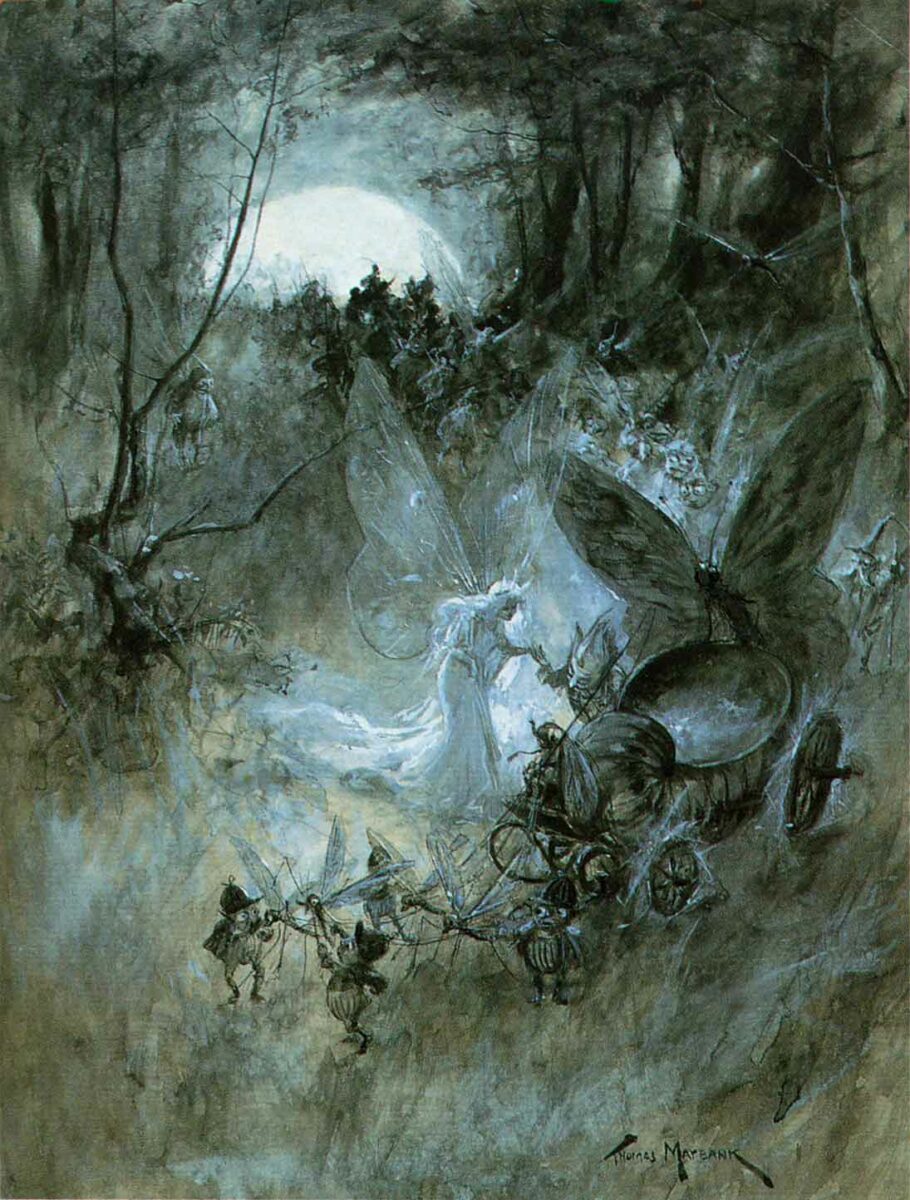 Early Life
He was born in the town of Beckenham, Kent. His father William Webb was a school inspector and his mother Annie was a dealer in china and glass. In 1877, at the age of 8, Hector Thomas Maybank Webb was thrown from a horse which resulted in a 2-year stay at St. Thomas Hospital to recover.
Prior to becoming a full-time artist in 1902, Maybank worked as a surveyor for the Borough of Croydon and dabbled in music.
Notable Works
The drawings of Thomas Mayburn were frequently published in the British publications Punch Magazine, The Daily Sketch, London Daily Newspaper, and Pick-Me-Up.
Alice in Wonderland
In 1907, copyright restrictions expired for Lewis Carroll's Alice in Wonderland story, and not surprisingly many publishers jumped on the bandwagon to publish the books featuring their own illustrations. There were over 20 different artists who illustrated the book during this time for various different publishing companies.
Thomas Maybank's Alice in Wonderland illustrations can be found in editions of Alice in Wonderland that were originally published by Routledge between 1907–1908, as well as in any reprints of that edition created since then.
Oojah Comic Strip
In 1921, he was well known as being the artist for the Oojah comic strip, written by Flo Lancaster, until his death in 1929. The comic strip was published in The Daily Sketch, a British tabloid newspaper.
End of Life and Legacy
Maybank died at the age of 60 at Kester, Ember-lane in Surrey, England of natural causes related to heart failure.
In 1937, a collection of his works were published in a book titled Mirth by Maybank by Ward and Locke Co., LTD of London.
---
References, Resources + Further Information
Dictionary of British Comic Artists, Writers and Editors, Alan Clark, 1998, p. 90
"Passing of Children's Artist", The Surrey Advertiser, County Times. Guildford, Surrey, England, 06 Apr 1929, Sat, Page 7
"Thomas Maybank (Fl. 1898-1925)." Accessed May 1, 2022. https://victorianweb.org/art/illustration/maybank/index.html
"Oojah." In Wikipedia, June 30, 2021. https://en.wikipedia.org/w/index.php?title=Oojah&oldid=1031228364
"Illustrators of Alice's Adventures in Wonderland." In Wikipedia, March 7, 2022. https://en.wikipedia.org/w/index.php?title=Illustrators_of_Alice%27s_Adventures_in_Wonderland&oldid=1075779496
Mirth By Maybank, Thomas Maybank, 1937, Ward and Locke Co., LTD, London.