We may receive a commission when you make a purchase from one of our links to sites such as eBay and others. As an Amazon Associate we earn from qualifying purchases. Thank you for support!
Today I wanted to share some tips on how you can buy items at an online estate auction. This is a little bit different from buying things on eBay, and is actually where a lot of vintage resellers find some pretty amazing stuff for a price they can sell for a profit online or in a flea market style type booth.
Online estate auctions are generally held by auctioneers who also perform live auctions. There are benefits of going this route for someone who needs to settle an estate. The online auction setting gives you a wide audience, and holding it online gives buyers a chance to see the items who may not have been able to attend the live auction otherwise. This then means more potential bidders, and of course a higher selling price. Since online auctions are relatively short, this gives the person an easy and relatively painless way to deal with the estate.
Reasons I Like Online Estate Auctions
I personally enjoy online estate sales for a number of reasons as a buyer. First of all, you don't have to wait for hours for the items you want to be offered for auction and worry about having numbers or dealing with the frustrations of a live auction.
Second of all, you can typically pay for your items using a credit card – which means there is no need for having a lot of cash. While some live auctions accept credit card as a form of payment, it still generally is done in cash or check only for many.
Also, you can get a LOT of items quickly. Auctions are designed to move things fast – not necessarily for the best price. So, I happened to win this bid of "mystery items" for $2  – turns out it ended up being worth about $450 in resale value, so well worth bidding on!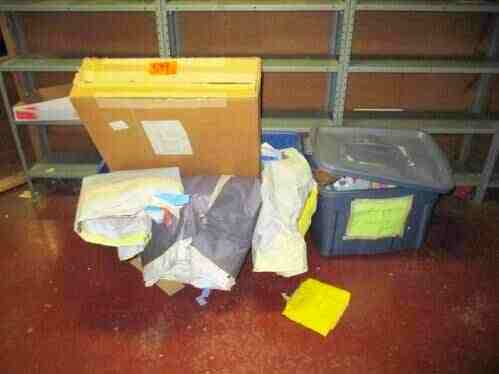 Sometimes this can be just good intuition, but other times you can occasionally find yourself getting stuck with stuff you don't really want.
I know during my first online estate auction I made some HUGE mistakes, so I wanted to share these tips to help you get the best deals AND not be swearing at yourself later when you go to pick up the items.
Here's 6 Things to Know Before Buying at an Online Estate Auction
Read ALL the Auction Rules: Most online auctions have rules for when you can pick items up. Be sure you are available for that date! Also, learn their bidding policies, as this will help you be prepared to set bids that will increase your odds of winning.
Scope Out the Auction During Open House if Possible: Most online auctions have an open house where potential buyers may come to preview items. This will help you be prepared for any items that might be heavy/large/difficult to move up and down stairs. This can also help you inspect items for damage. For example, I bid on a small bookshelf for $2 at one online auction unseen, only to find out the item had severe water damage and the beginnings of mold. While I only paid $2, I was not very happy that I had to now dispose of the item.
Take Into Consideration Location & Moving Items: Most auctions are done in the place of businesses and homes who are liquidating their items. In the case of businesses, this might mean having to go up flights of stairs or being unable to access the elevators or parking areas. At homes, you may be competing with other bidders for parking space and moving through different areas of the house safely. It can be tricky to get access to your items. You'll also want to take into consideration whether you need someone to help you move items.
Bid on Items That Make it Worth the Trip: At one of the first auctions I ever placed bids on, there were a couple of "big ticket" items I really wanted, but was outbid on. However, there were also several small things I bid on and I happened to win those auctions for $1-$2. The problem? I drove about 45 minutes to get these things I figured would be okay to get while I was there for the big ticket items I wanted – but when they were the only thing I had won, the time to drive and pick the items up made it a bit less worth it! I've learned now to set a maximum bid, because it's silly to lose auctions over a few dollars, especially if I'll be driving there anyways for the smaller lots.
Bring Bags, Boxes, Blankets, and Tools: You definitely should make sure you have all the necessary materials and supplies you need to safely move and transport items. You may not have time to carefully wrap fragile items, so if this is the case I've found that carefully layering them between plastic bags in a box can be done for temporary transportation. It is also a very good idea to bring tools with you, especially if purchasing furniture or other items, because you may need to take something apart to get it through tight doorways or corners in the house.
Have a Place Ready for Processing and Storage: This might seem obvious, but you definitely need a place to sort through any auction items you might win. This is especially true if buying a mixed lot of items or what I call "mystery shelves and boxes". This can be your garage, an outdoor building or a spare room of your house – but it definitely helps to have a dedicated space to organize & go through everything.
I really enjoy the process of an online estate auction, and while I've definitely made some mistakes my first 2-3 times, now that I know better I do pretty well with them! As long as you are prepared, it can be a lot of fun and a great way to discover some new treasures!
Have any tips for buying from online estate auctions you would like to share? I'd love to hear your thoughts in the comments below!