We may receive a commission when you make a purchase from one of our links to sites such as eBay and others. As an Amazon Associate we earn from qualifying purchases. Thank you for support!
If you have an antique cuckoo clock, you are probably wondering what the safest way is to clean it. In this post we'll share everything you need to know about how to clean a cuckoo clock.
When cleaning your clock, it is very important that you use care so you don't accidentally damage the clock. Cleaning it incorrectly can cause the mechanisms of the clock to move or break. We don't want that to happen!
If you are not confident that you are going to be able to clean it without damaging anything that is part of the clock, you will probably want to take it to a professional clockmaker.
If you don't have a local clockmaker, you may have some success with jewelers who are also experienced with taking good care of things like watches.
Before You Clean Your Clock, Understand How it Works
Before setting off to clean your cuckoo clock, it's important that you understand how it works.
Cuckoo clocks are generally made up of two different parts. The first part is the outer case – this is the enclosure that houses everything. The second part of the clock is all of the mechanisms that work to tell time and of course, make your clock go Cuckoo!
It's important to note that all of the cuckoo parts and mechanisms are separate pieces, but they still work together as one unit.
Generally speaking, the cuckoo clock's main mechanism is placed inside the wooden base that houses the cuckoo bird.
The pendulum is attached to a long bar that usually runs through one side of the clock and then swings back and forth in front of you. The movement of the pendulum can be seen on a metal bar attached to your wall.
The inside of a cuckoo clock doesn't usually need to be cleaned unless it's not enclosed or you have reason to suspect that might be why your clock isn't working properly. That's the most delicate part of the clock to clean, so it's important to use care.
Now that we understand the parts of the clock, we're ready to start cleaning!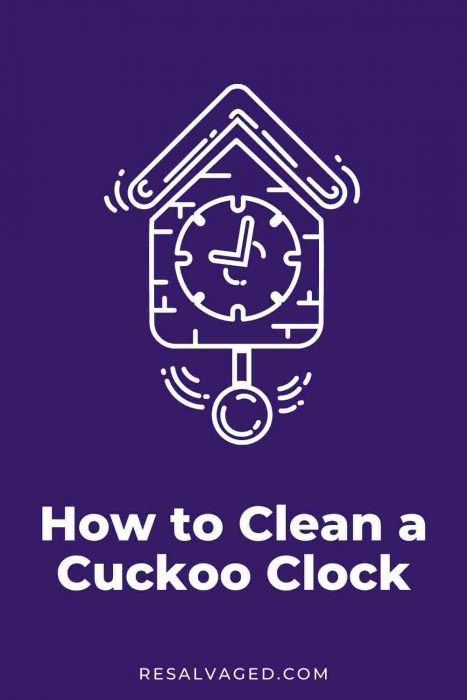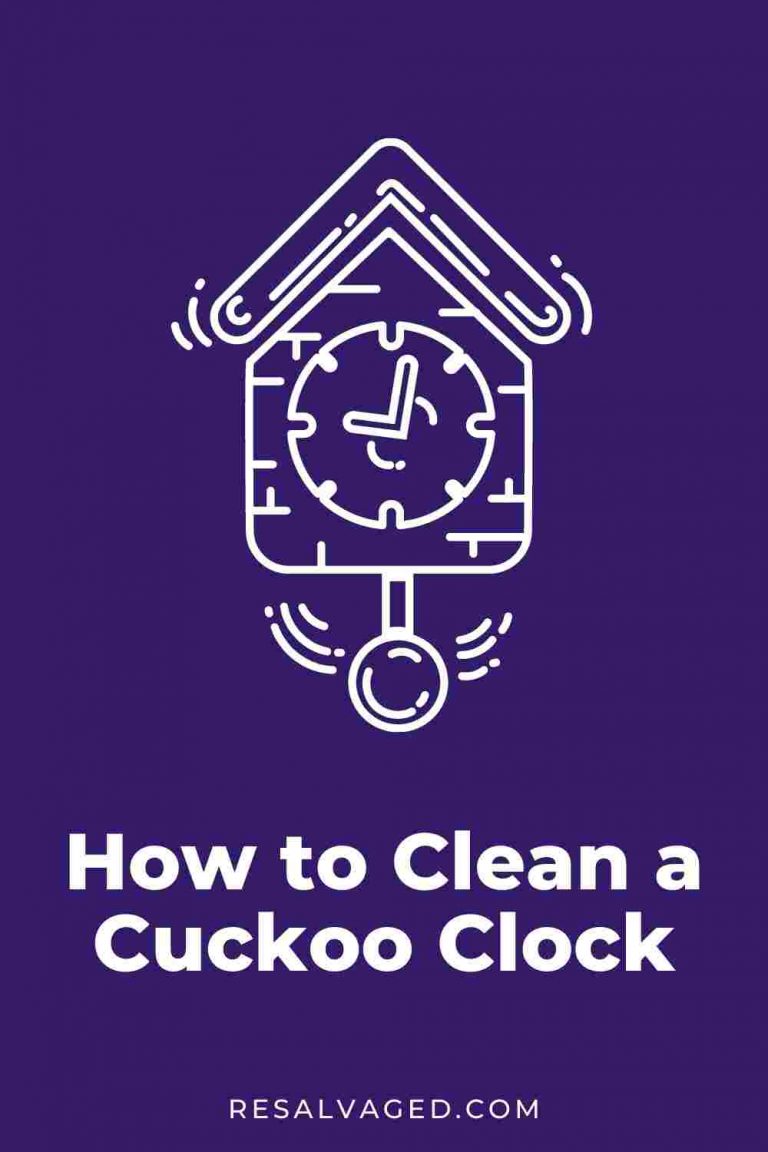 How to Clean the Outside of a Cuckoo Clock
Most cuckoo clocks are made from wood. It can be made from pine, oak, maple, cherry, walnut, and even mahogany.
Your clock may be painted – and in that case, it is very important you don't use any harsh chemicals that may cause the paint to come off or become discolored.
What most people do not know is that you can simply use a cloth to get rid of dust and dirt from the painted surface. You can also use a vacuum cleaner to remove all dust and dirt from inside of your clocks, such as between the pendulum's swing and the side faces.
You can use a soft cloth that is slightly dampened with water to clean your cuckoo clock about once a month. Make sure the cloth is not too wet – this can cause damage. You don't want that clock to rot or attract mildew and mold!
If you see any areas of concern that have some slight discoloration – like some little pinholes in your wood, they would be better off just being left alone.
For general cleaning of your cuckoo clock, try to make sure you don't use furniture polishes or wax. Doing so can only complicate matters.
If you do decide to polish it, make sure you do so with a very light touch. They can be polished with the same cloth that is used on the wood. The cloth should be slightly dampened with water and then very lightly cleaned over the wood of your clock.
To clean your cuckoo clock, just follow these steps:
Clean gently – don't press hard on any of the wood parts. Try not to rub too much, you don't want to scratch the finish.
Run it once or twice across the outer enclosure
Use a Q-tip to reach any hard-to-clean areas, such as the nooks and crannies of medallions and ornate areas.
Another option to consider is dry dusting or vacuuming the clock. Some wood products can benefit from wood conditioners made with natural oils like lemon oil or orange oil – this can help prevent the wood from drying out and cracking.
How to Clean the Inside of a Cuckoo Clock
Cleaning the inside of a cuckoo clock takes a lot more care than the outer case of the clock. Here is where you want to be very cautious because the inner workings are often very small and intricate.
While dirt built up over time can affect how a clock works, it doesn't usually need to be cleaned. Unless your clock is not working at all, it's usually best to just leave these parts alone.
To clean these tiny clock parts, you will want to use something like a Q-tip along with some rubbing alcohol. Be sure you don't soak any of the pieces in water or rubbing alcohol – you only want the Q-tip to be damp enough that it attracts any dust and grime to come to it.
You will want to use a very delicate touch – don't scrub anything or press too hard!
Preserving Your Cuckoo Clock for Years to Come
Cuckoo clocks are beautiful and ornate. They are crafted by hand – this is the reason they're so expensive. It's important to note that cuckoo clocks are very delicate, and they can be easily damaged if you don't know how to take care of them properly.
You should never expose your cuckoo clock to direct sunlight for extended periods of time. Also, don't keep your clock in a place that may be damp or subject to moisture such as a basement or attic. Doing this can cause your clock to become mildewy and moldy, which not only affects the value but can be a health hazard as well.
Making sure you have it properly cleaned and then taking the necessary steps to keep it from getting damaged in the first place will help ensure that you have the best chance of keeping your clock running smoothly for many years to come.
---
Do you have any tips for cleaning a cuckoo clock? Share your thoughts in the comments below!