We may receive a commission when you make a purchase from one of our links to sites such as eBay and others. As an Amazon Associate we earn from qualifying purchases. Thank you for support!
Today I'm going to share a super fun + easy way to make your own yarn cozies to keep your balls of yarn from tangling – and you can do it for free without buying anything! You probably already have all the materials you need!
So…What's a Yarn Cozy?
A yarn cozy is a word for something that wraps around your ball of yarn so that your yarn doesn't come undone. You can use it for keeping yarn from tangling in storage or you can even use it while you crochet or knit or weave to keep your skeins from unwinding too quickly or haphazardly.
I didn't really know they were called yarn cozies until googling some weird random string of words together like "what do you call something that wraps around yarn to keep it from untangling?"
Sure enough, a bunch of cute little things called yarn cozies popped up that you could buy. I'll share some examples of the kind they sell online, like this set of Buffy Ann Designs Yarn Cozies.
Buffy Ann Designs Yarn Cozy Three Pack
as of September 23, 2023 6:11 am
Cute, right?
Well, looking at them a little more closely, I realized you could easily make the same exact thing by cutting up a pair of socks!
Here's what my nicely wrapped up balls of yarn look like: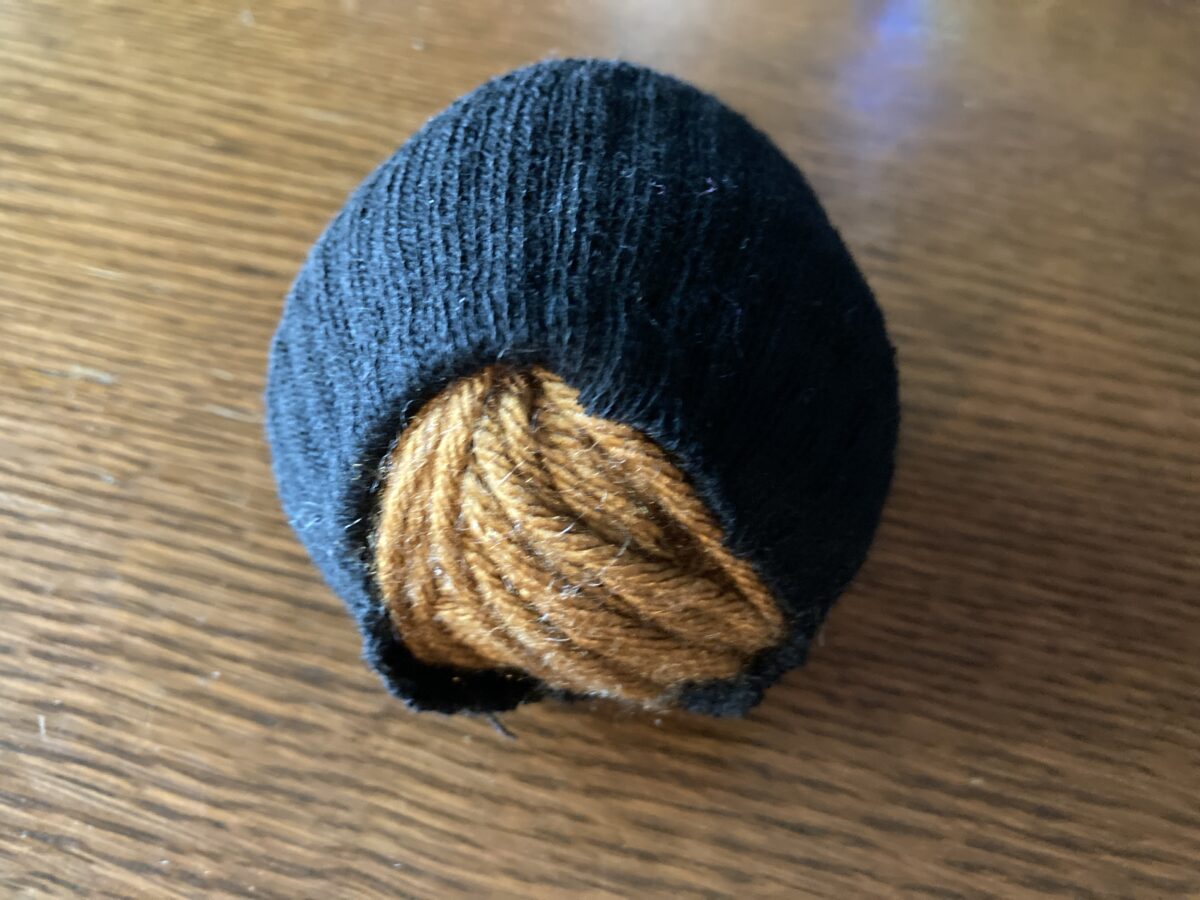 Now, my photo might not be the prettiest – but it IS super functional! Function is always more important than fashionable in my book. And, you could make them pretty, if you wanted. You could even crochet some of your own if you like to crochet in the round or have a small knitting loom. (Hmmm…might just have to try that + create a pattern for some of those now that my yarn is all untangled!)
But, Seriously, if you have scissors + any kind of stretchy fabric (we use socks!) – you can totally make these, it's that easy! No sewing or special skills required – you just need scissors!
First though, I'd like to tell you about how I got into this mess of making these yarn cozies… so if you're one of those impatient types who hate reading the saga of why I am writing about a yarn cozy in the first place, you can just scroll to the bottom for the directions. It's okay, no hard feelings. I know I write too much sometimes and ads are annoying! But…
Did you know people have been complaining about advertisements for over 100+ years? See this article published in 1923 about two women and their perspectives on advertising! You might just change your mind about all these annoying ads!
Why We Needed a Solution to Stop Yarn From Tangling
It's no secret we love all things yarn here at our house – from crocheting all sorts of things to spinning my own yarn, we are always looking for easy + cheap + fuss free ways to keep it all from becoming a big knotted tangled mess!
Recently I had scored a fantastic deal on all new yarn after buying some leftovers from someone who runs her own crochet business. She was grateful to give it a new home + since most of the projects I like to crochet use scrap yarn anyways it was perfect for us both! I think I paid less than 30 cents a skein for high-quality, brand new yarn! That's a crazy good deal!
I know what you're thinking: Why would she sell this yarn to me so cheap?
Well, a lot of store-bought yarns have a specific dye lot or yarn manufacturers often only produce a type of yarn for so long, so when you run out of a color or are using a yarn that is discontinued for various projects you make + sell, you'll sometimes wind up with a lot of balls of yarn you really can't use, especially if you're doing this as a business and need consistency!
When she shipped us a marvelous 30 lb box of yarn, all of it was nearly perfectly wrapped and round and untangled. The majority of it was still in its original packaging!
Unfortunately, my dearest daughters, who do love all things crochet, quickly tangled it all into a nightmare of a mess as they rooted through the box to find whatever colors or type of yarn they wanted. It ended up quite scary looking. You'll see what I mean. Prepare yourself though before you look at these images. It's scary.
Are you sure you want to see how bad it really was for us? Okay, I will show you.
Really, I mean it though – The following photos of my kids' tangled yarn might make you cry!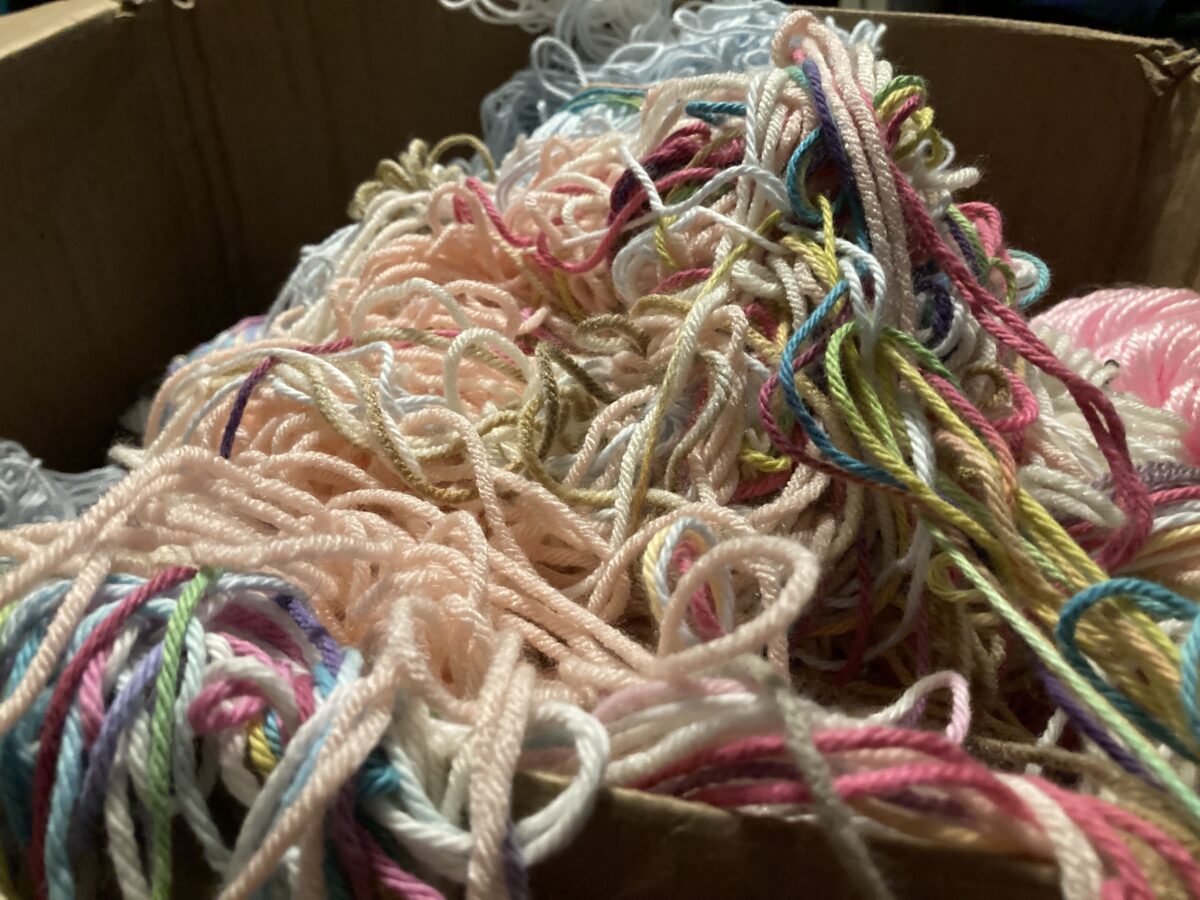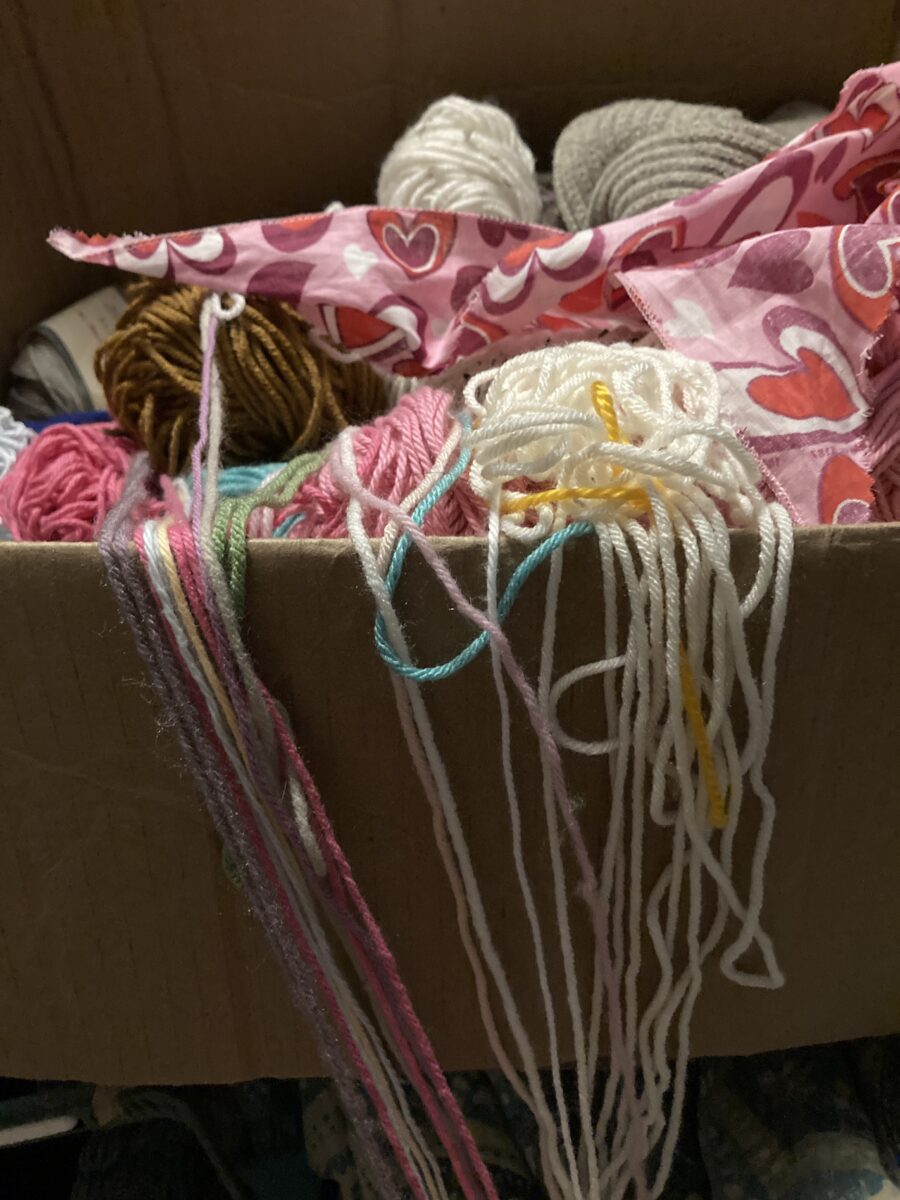 Yikes! Yeah, it was really, really, REALLY bad! I mean, not that bad in the grand scheme of life – but in keeping yarn, definitely very bad!
While untangling it all was a VERY long process (that requires much patience! And some help from my Dad!) – we did manage to get it all nicely wrapped up again the way it should be.
Once it was all properly organized, I knew I needed a good solution to keep the strands of yarn from tangling again – if I didn't do something we would have been right back to the scary rats nest.
Fortunately, I found a very awesome solution for making your own yarn cozies that just requires scratchy too-small tight socks you hate wearing and a pair of scissors! Yes, it really is that easy!
Fortunately, we were not only able to get all this monster yarn wrapped up + untangled – it's not going to get tangled again! I can't wait to show you how easy this is!
How To Make Your Own Yarn Keepers for Free
Making these is easy. I usually don't say things are easy, cause you know, how do we know what actually is easy for anyone at any given time – but, if you are able to use scissors, you've got this!
You also don't need a lot of materials, tools or supplies. You really just need clean, stretchy socks you don't want anymore! And a pair of scissors.
This is also PERFECT use for socks that are too scratchy to wear, don't fit right, or perhaps have been orphaned and don't have a mate.
Step 1: Roll Your Yarn Into a Skein or Ball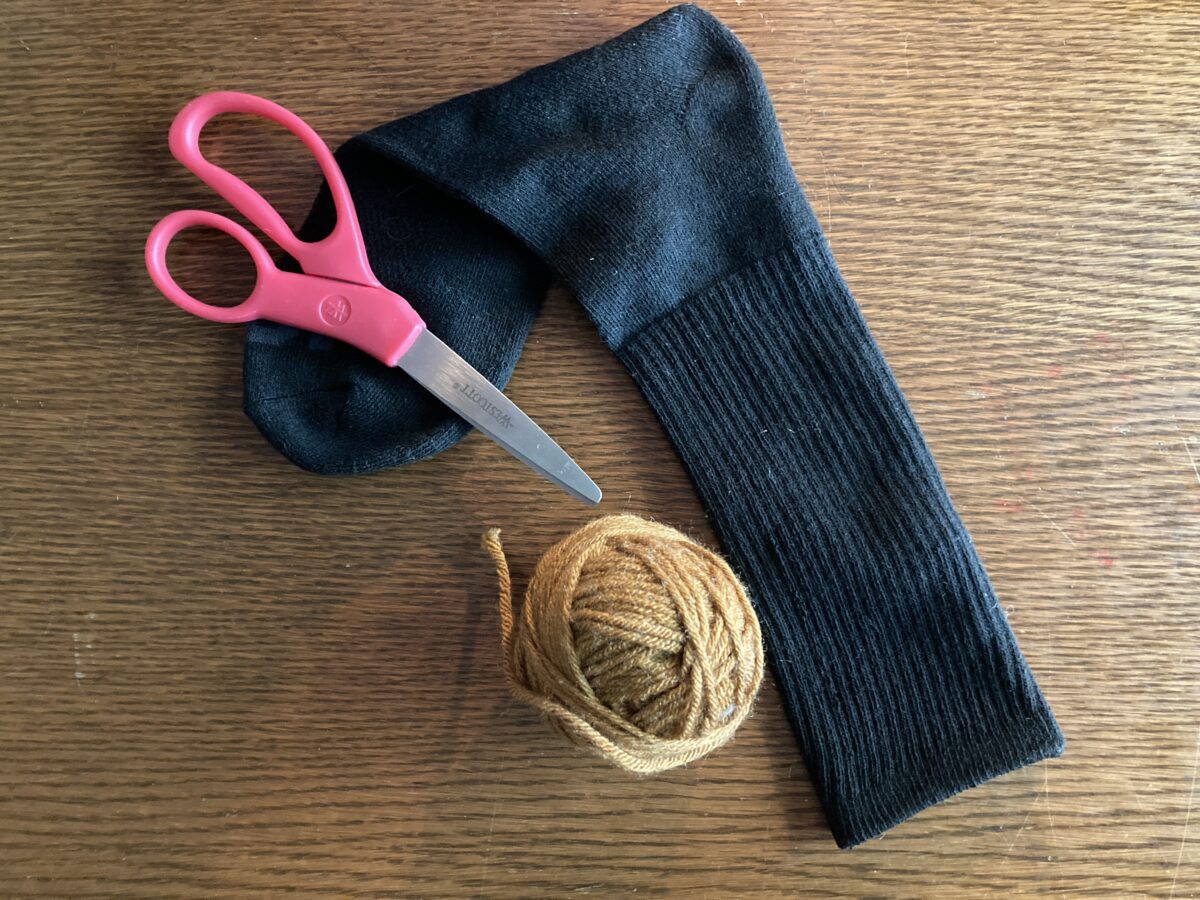 You don't have to roll your yarn into a ball, but it does make it easier later when you want to knit, crochet or weave with it!
You can also optionally, if your yarn is still new in the package and you have no immediate project for the yarn, simply keep the yarn skein as-is until ready to unwind + use later.
Step 2: Cut off a section of sock big enough to cover your ball/skein
For very small balls of yarn + skeins, you'll probably only need a 2-3″ section of sock.
For larger skeins, you may even just want to use the whole sock, which is what I do for newer skeins of bulky yarn (Why yes, Caron One Pound Yarn, I am talking about you!)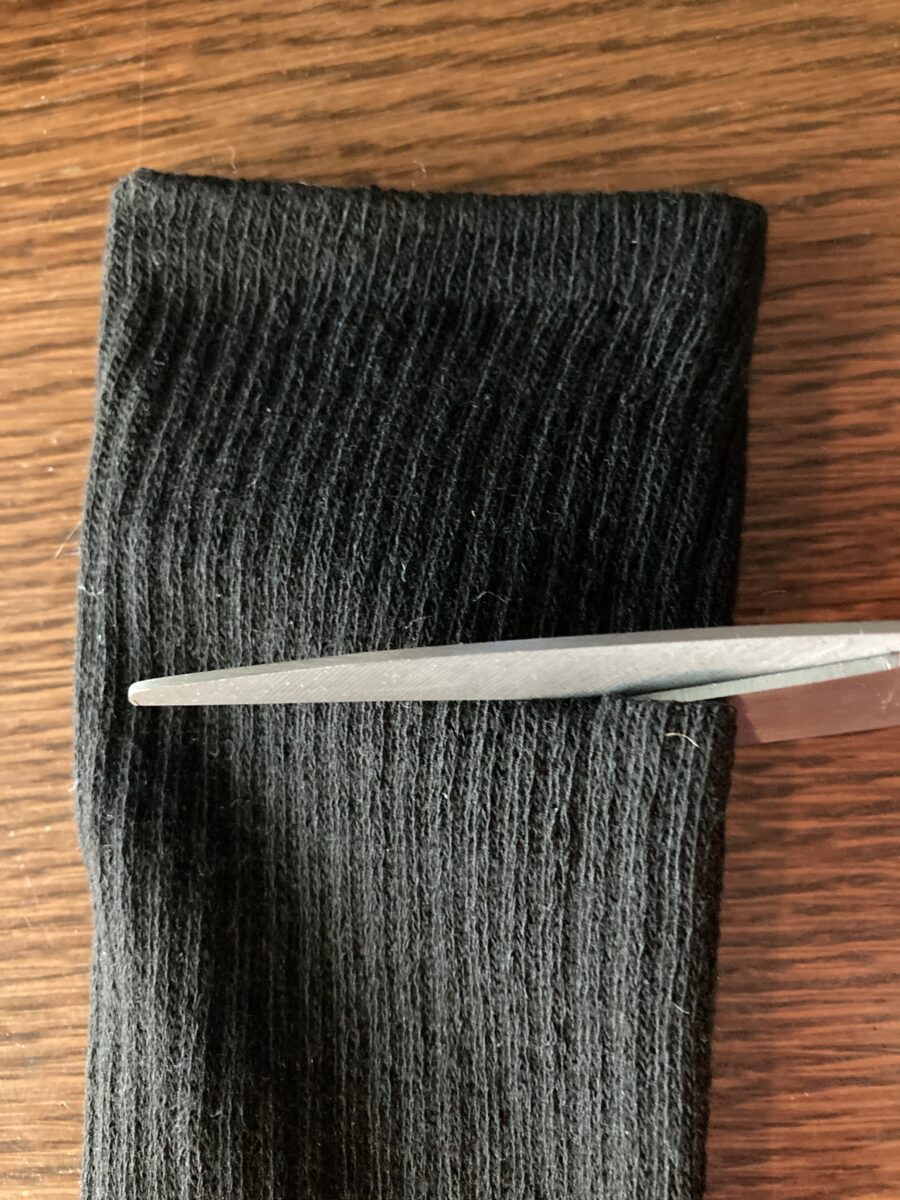 Step 3: Marvel Your Yarn is No Longer Getting Tangled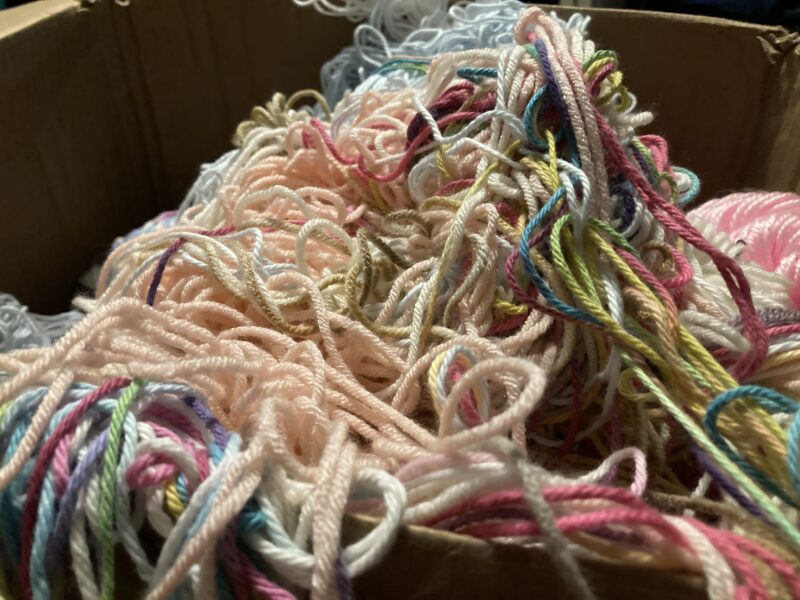 I hope you find this useful + if you have any other tips or questions or anything just let me know in the comments below!