James Lane Allen, (December 21, 1849 – February 18, 1925) was born in Lexington Kentucky on December 21, 1849 before the outbreak of the Civil War.
James Lane Allen often infused Kentucky culture and dialect in his writing and is often considered one of the first novelists of significance from Kentucky.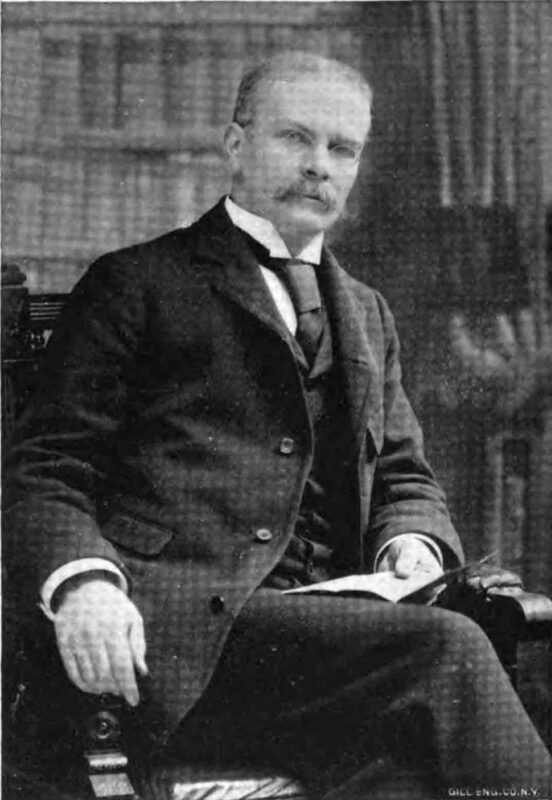 ---
Family Life
He was the youngest of 7 children, with 4 sisters and 2 brothers. He had no known spouses, partners, or children.
---
Education
He graduated from the University of Kentucky, Lexington in 1872.
---
Early Career
After graduating, Allen became a professor in the subjects of Latin and English and spent approximately 12 years teaching in Kentucky, Missouri, and West Virginia.
---
Writing Career of James Lane Allen
The majority of his published works appeared after 1891, and Allen moved to New York City In 1893, where he regularly contributed essays, articles and poems to several magazines:
New York Evening Post
Harper's
The Atlantic
Lippincott's
Critic or the Forum
From an article published in The Writer: Monthly Magazine for Literary Workers, Volume 5 Issue 7 by John W. Fox, Jr. about James Lane Allen:
He wrote all the way up until his death on February 18, 1925, with "insomnia" being listed as the cause of death.
---
Notable Works By James Lane Allen
Flute and Violin (1891) (compilation of previously published stories)
The Blue-Grass Region of Kentucky (1892) (second compilation)
John Gray (1893)
A Kentucky Cardinal (1894)
Aftermath (1895) (sequel to A Kentucky Cardinal)
Summer in Arcady (1896)
The Choir Invisible (1897)
Two Gentlemen of Kentucky (1899)
The Increasing Purpose (1900)
The Reign of Law (1900)
The Mettle of the Pasture (1903)
The Bride of the Mistletoe (1909)
The Doctor's Christmas Eve (1910)
The Heroine in Bronze (1912)
The Last Christmas Tree (1914)
The Sword of Youth (1915)
A Cathedral Singer (1916)
The Kentucky Warbler (1918)
The Emblems of Fidelity (1919)
The Alabaster Box (1923)
The Landmark (1925)
---
Literary Criticisms and Reviews
L. W. Payne Jr. wrote the following about James Lane Allen, published in the Sewanee Review, Vol. 8, No. 1 in January 1900:
There are two noticeable characteristics of Mr. Allen's stories: they either tend toward sadness, or toward immorality, or even vulgarity. The former, though unpleasant when pressed to excess, is not so much to be condemned; but there is no excuse for the latter, even behind what may be termed the author's art.

Mr. Allen is not, in my judgment, a great writer. He is a disciple of Thomas Hardy, without the genius of the Englishman.

But, after all, he is a modern novelist whose office is to please or to while away a vacant hour, and there are many who find genuine pleasure in his books, for they are light, and breezy with nature, and restful.

He deserves credit, too, in that he has led the way into the pioneer history and customs and life of Kentucky. He has added his State to the meager list of States which find themselves represented by a literature peculiar to themselves.

He has put Kentucky alongside of Hawthorne's Massachusetts, Irving's New York, Page's Virginia, Cable's Louisiana, Craddock's Tennessee, and Harris's Georgia, though as to his relative rank in this list of authors I should place him last.

– L. W. Payne Jr., "Stories of James Allen", Sewanee Review, Vol. 8, No. 1 (Jan., 1900), pp. 45-55:
---
Bibliography, References + More Info
Wikipedia: https://en.wikipedia.org/wiki/James_Lane_Allen
Wikitree: https://www.wikitree.com/wiki/Allen-38993
FindaGrave.com: https://www.findagrave.com/memorial/8892264/james-lane-allen
L. W. Payne Jr., "Stories of James Allen", Sewanee Review, Vol. 8, No. 1 (Jan., 1900), pp. 45-55: