We may receive a commission when you make a purchase from one of our links to sites such as eBay and others. As an Amazon Associate we earn from qualifying purchases. Thank you for support!
Metal Detecting with kids can be a lot of fun. While it may seem like a challenge, there are a lot of ways to get younger children interested in treasure hunting. This post will share some helpful tips and ideas so kids and adults alike can enjoy metal detecting as a family.
How to Enjoy Metal Detecting With Kids
While these tips may seem a little obvious or even kind of silly, as a mom with three kids I am speaking from experience here. Hopefully, these will be helpful ideas for ways you can enjoy treasure hunting together.
1. Bring snacks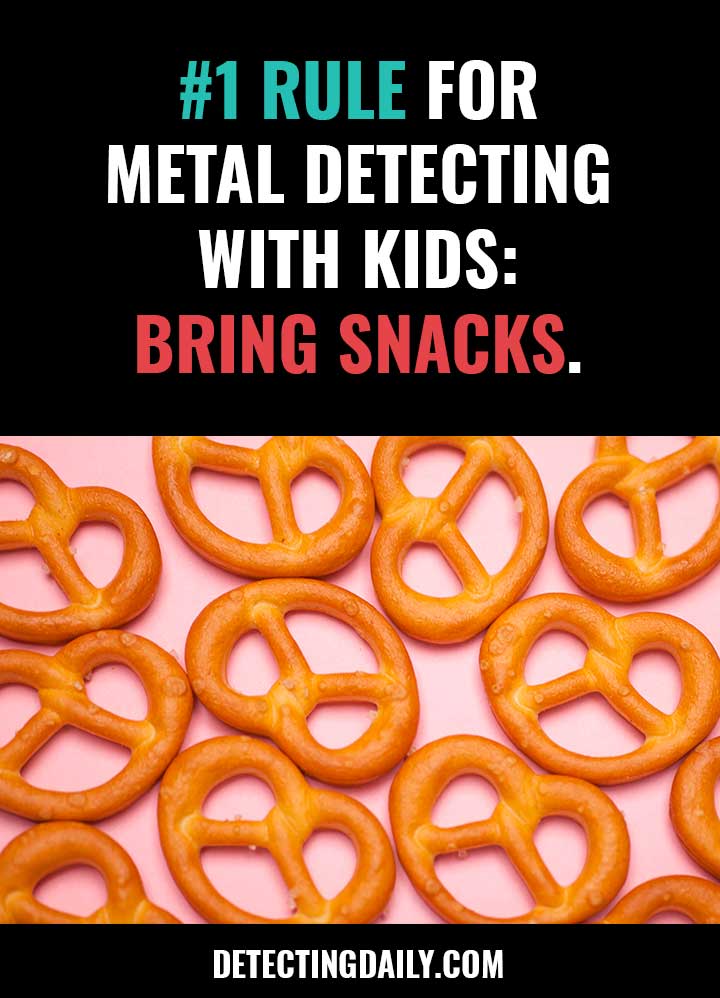 While this probably seems like it has nothing to do with metal detecting, when you are out with kids it can be a lifesaver. Kids get hungry. They get thirsty. When kids get hungry and thirsty, they get cranky. Pack some granola bars and juice boxes and water bottles. Crackers are also a good snack to have on hand.
When you have snacks when you are with the kids metal detecting, you won't have to worry about having to stop 20 seconds after you started because they are starving. It's also a good idea to make sure they are well-rested and fed before you start detecting.
Now that we have this main #1 thing to remember when you take the kids metal detecting, let's get onto the rest of the things you can do to make the experience much more fun and enjoyable.
---
2. Establish Ground Rules
Kids like structure and rules, even though they may disagree with that statement. When you have clear rules it can help kids better understand concepts like the metal detecting code of ethics. It's a good idea to make sure you review the rules every single time you go out at first.
You will also want to make sure you review some basic metal detecting safety rules. It's also always a good idea to have a basic first aid kit when you have kids around – I know I carry one with us even when we're not metal detecting!
Sometimes kids will need to be reminded of the rules more than once. Remember they are learning, so it might take a few times before they are able to fully follow them. Some kids will also try to test these rules.
3. Bring your patience
You will definitely need some patience while metal detecting with kids. If you are prepared to be patient ahead of time this can help you avoid getting worn out or frustrated during the time you are out. Accept you won't be very productive or successful with kids in tow.
When you have patience while teaching them how to metal detect, you will be able to have a much better and more enjoyable experience.
5. Pick a safe and familiar location.
While there are lots of places to metal detect, with kids you will want to stick with familiar territory. Your own backyard is probably the best bet.
Sandboxes make for fun and easy digging with kids. Be sure to use only smooth flat objects like coins that wouldn't be a hidden hazard in case you would miss any targets.
6. Consider seeding the lawn.
When kids are new to metal detecting, it can be helpful to throw a few coins into the grass to give them some things to find. This is called a seeded hunt, where you know there are targets. This helps you learn how to understand your detector and recognize different signals for different types of things.
Even adults enjoy seeded hunts. Tossing a few everyday coins into the yard can give kids the thrill of the hunt. Coin collecting can be a great hobby to practice along with metal detecting.
You can also consider planting a coin garden. Kids will have fun practicing their skills in a dedicated place, especially when they can compare things like different types of metals and depths.
When you first get started, you should always give kids a visible target. Start with coins in the grass they can see. This helps them learn the machine makes noise or numbers will appear on the screen when they go over it.
7. Get a kid-sized metal detector
There are a lot of great metal detectors made with kids in mind. While these may not necessarily be as powerful as say a gold prospecting metal detector, there are many made by reputable metal detecting brands that you can trust.
Metal detectors for kids are especially good because they are lighter to carry and in most cases are much shorter in length. This will help ensure the metal detector is comfortable for them to carry and use.
Best of all, they are relatively inexpensive. While it may not have all the bells and whistles, this is a great way to let kids use a detector without worrying about them potentially damaging your more expensive metal detecting gear. See Best Metal Detectors for Kids for some of our favorite choices that are kid-friendly and budget friendly..
8. Keep it short
Most kids will lose attention after 15-20 minutes. When you first get started, anticipate that your first few times will be very short. With many kids, it's better to do 2 or 3 practices in the yard in 20 minute intervals than 60 minutes at all at once.
You should definitely attempt to avoid long trips when first starting or if you are metal detecting with very young children. While some kids might enjoy traveling to new locations eventually, younger kids may be tired out by long trips.
Even if your kiddos are great at traveling, after sitting still in the car for more than 20 minutes might make them too excited to really pay attention once you arrive at your destination.
When we go metal detecting at the beach as a family, usually my kids will metal detect with me for 20-30 minutes, and then they go play in the water and the sand with my husband.
9. Bring Another Adult
When I venture out metal detecting with my kids beyond just the backyard, I always make sure my husband or another adult family member or friend comes along.
This way, if one of the kids is tired but the other kids want to keep going we can make sure everybody is being taken care of without everyone losing their minds.
Some kids will take to the hobby immediately, others may not have an interest. If you are detecting as a family and have more than one kid, be sure you have another adult for backup activities so it doesn't spoil the fun for everyone.
Another thing that can help avoid boredom is to give the kids different jobs – one searches for 3 minutes while one digs and then let them switch. Giving everybody different jobs and responsibilities can help them make sure they don't lose interest, especially when you take turns.
Remember: Metal detecting isn't for everybody! If your kids hate it, don't stress it or try to force them to do it. None of my kids like metal detecting, but they all did give it a fair shot – and who knows? Maybe they will want to pick up the hobby when they get older!
10. Did I mention snacks?
Yes I know I said snacks already, but seriously, kids get hungry quick. This is why it's my first and last tip for metal detecting with children – because it's an important one!
Make sure kids are well-rested, fed, and hydrated first. Kids get cranky when they are tired, hungry and thirsty. A lot of kids aren't able to yet recognize these cues so they instead just get cranky. Don't forget the drinks. Kids get dehydrated fast!
---
It can be a lot of fun to metal detect with your kids or grandkids. With a lot of patience and a little bit of consideration for what keeps kids engaged, the whole family can enjoy treasure hunting together! It truly is a passion and skill that can last a lifetime.
And of course, once they gain some practice under their belts, you can of course start moving on to more advanced metal detecting tips they are sure to want to learn the more experience they gain.
Do you have any additional tips for metal detecting with kids? Share your thoughts and experiences in the comments below!