We may receive a commission when you make a purchase from one of our links to sites such as eBay and others. As an Amazon Associate we earn from qualifying purchases. Thank you for support!
Looking for the perfect outdoor canopy tent as a vendor? My family and I have set up at hundreds of shows over the years and something we've quickly learned is not all pop-up canopy tents are equal!
In this post, I'm going to share the best canopy tents we love to use for events like craft shows, flea markets and fall festivals. If you've been researching and are on the fence hopefully this post will help you!
(If you are impatient + don't feel like reading everything I've written + why it's my top choice, just go order this Euromax canopy – you won't be disappointed!)
I Have Personally Tested Over 18 Different Brands Over 35 Years
I started selling at outdoor flea markets in 1998. In 2005 my Dad started selling his handmade wooden buckets and demonstrating the art of coopering at multiple festivals throughout Pennsylvania and Ohio. We've also been a family of lifelong campers – my first camping trip was when I was only 6 months old!
If you want to know the best outdoor tent canopies, I can safely say we've put them ALL to the test since 1981, truly. You will NOT find a better guide than this one!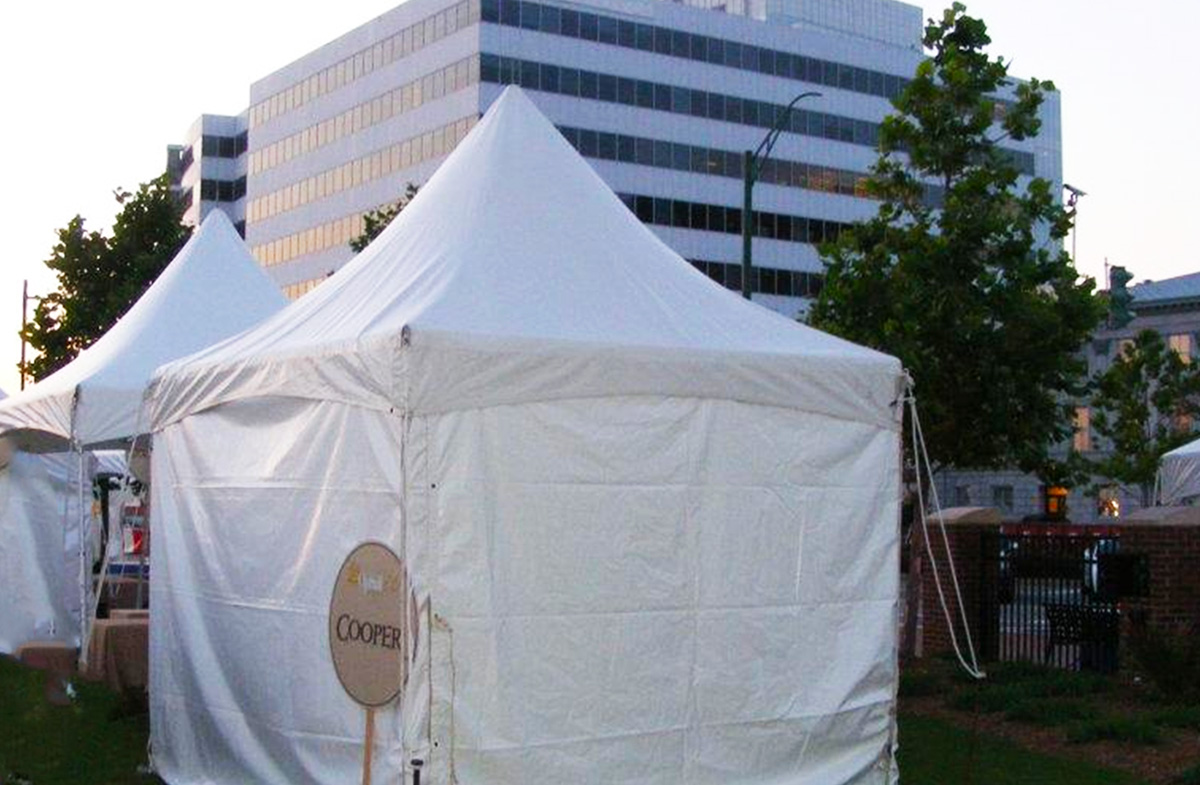 As I get older and wiser, ease of set up has become even more important, so you can be confident that the canopies I recommend here are the same ones I have personally used and would buy again!
Buying a new canopy tent is actually the reason I'm writing this post today – it was time for us to invest once again in an outdoor vendor canopy tent – ours from several years ago was starting to look pretty beat up after years of weather + shows. They can't last forever sadly!
Another reason you can trust me on just buying the Euromax: We live in Southwest PA. What that means is we get ALL the bad weather you can imagine. 98 degree days in sweltering heat and humidity? Check. 40 degree days with snow flurries? Yup. 40 mph gale force winds? We camped through a tornado a few times. Torrential downpours of rain and flooding? Been there too! Sometimes you might even get all the weather in one day!
Obviously, canopy tents are NOT meant to hold up to all that kind of crazy weather – and sometimes they don't – but we've seen a LOT over the past few decades.
We've also vended at all kinds of shows – Flea Markets in fields, gravel parking lots, concrete parking lots, Colonial Festivals, Craft Shows – we've had lovely corner spots, crappy spots where you're jammed and packed in tight with other vendors, we've even had spots in complete mud.
Even if my personal favorite isn't the one for you, my hope is this guide will help you choose the ideal vendor canopy tent for your small business without getting frustrated or wasting money! (And also, hopefully I haven't scared you away from being a vendor if you are new to this by mentioning weather and mud and everything else lol – it's totally fun and worth it!)
While we've tried multiple brands, there are literally only two that I actively recommend – these ones that checked all of my boxes for everything you need. The first one is your standard 10×10 size, and the second is a 10×20′ canopy tent in case you do large shows and want to cover two spots at once.
1. Eurmax USA 10 x 10 Pop up Canopy Commercial Pop Up Canopy Tent With Awning
This Eurmax Professional 10×10 canopy with awning is my #1 pick for all professional quality pop-up canopy tents and it honestly doesn't get any better than this!
I bought an older version of this one a few years ago that did not have the awning (This one here) and loved it. The awning on this newer version is an AWESOME addition!
Here are the reasons why you should get this canopy:
Comes With 4 Removable Zippered Sidewalls
This is so important if you're leaving your displays up overnight somewhere for two day shows! The 4 walls also make it much easier to deal with crazy weather and you can choose to just have one or two sides up at a time – they roll up super easy.
4 Canopy Leg Sand Bags:
Even a mild gust of wind can set your canopy flying like a sailboat (I've seen it happen to other vendors sadly!) and so sand bags are the best way to avoid that!
Certified Materials, Meets Most Show Requirements:
A lot of safety ordinance codes require vendors to have a CPAI-84 Fire Retardant Certified tent. This one fits that requirement for most craft shows, flea markets and festivals if you are in an area that requires it!
Waterproof + Serious Protection Against the Elements:
This canopy tent is 100% waterproof and has sealed seams to help prevent water from leaking through. It also blocks 95% of UVA and UVB rays and a UPF Rating of 50+. A lot of other brands are "Water-Resistant" – Water Proof is the only way to go in my opinion!
Ease of Set Up:
The Euromax canopy is kind of on the bulky side to carry because of the zippered walls and awning and sand bags – but honestly it's not hard to set up.
It's easier + faster with two people of course, but I have had no problems putting it up with just one person. It goes up super quickly once you get some practice!
This Eurmax Canopy also comes with a nice roller bag that makes it easy to transport, store and move your canopy from one show to the next!
While the cost of this canopy is a little bit more than the others out there – it's worth it in my opinion, especially when you consider the accessories like the zippered sidewalls and sand bags.
AND – it's waterproof and super heavy duty! We had this one (without the awning) for years that is still going strong but eventually decided to upgrade + replace after years of abuse!
Honestly – if you are in the market for a 10×10 outdoor craft show canopy, stop reading reviews + the rest of this post and just get this canopy – you will not be disappointed!
2. Eurmax USA 10'x20′ Ez Pop Up Canopy Tent Commercial Instant Canopies
10×20′ canopies are a lot harder to set up and usually require at least 2 people (and even easier if you have three people!) but if you do large shows or have a lot of inventory, it's a solid investment + will save some time and labor in the long run!
Again, in this instance I turn back to Euromax's 10×20 tent – they've been manufacturing canopies for 15+ years and specialize in commercial grade products. While you might be able to find cheaper knock-off ones from other countries that will bite you later if this is something you do often!
This 10′ x 20′ tent features nearly all of the same features as its younger 10×10 sister, so if you've read this far I hate to bore you with the same details! But yes, it has all the features you want + need as a vendor!
This tent has the CPAI-84 fire retardant certification which is very important at a lot of shows depending where you live and also comes with all the extras of the sidewalls, the weights and carrying case. It also comes with a 1 year warranty!
Assembly is also fairly easy when you consider just how big this thing is – it's the same great design where you extend the frame, add on the canopy and up you go!
While it may be possible to do with one person it's definitely a lot easier with some help but still goes up relatively easy – it's literally a snap to open up, adjust your height + have it up in no time at all!
Needless to say, I'm a huge Euromax fan – they have never let me down and the only reason I've replaced our canopies manufactured over the years is because we really put them to the test when it comes to weather + regular use!
Types of Canopies to Avoid
Of course, I understand if Euromax might not be in your budget – especially in a tight economy! (I think we are all practicing thrift these days!) If you decide to get a different kind of canopy, here's some stuff to look out for and avoid!
Angled Legs: Just No
There's a lot of very cheap canopies they sell like this one that has angled legs. While it's tempting because they are cheap – and yes, some shade would be better than no shade, the angled legs are going to drive you nuts because the while the legs take up a lot of space, you end up losing a lot of areas that aren't covered.
These cheapie ones also really don't stand up to the elements very well. We've had a few while camping – it's fine maybe for a small event that lasts only a few hours or if the weather is absolutely perfect – but if you get hit with thunderstorms or high winds, you are really going to be left scrambling to get it all packed up fast enough.
Pole + Tarp Setups
My Dad for a few events decided to go with a canopy that has poles you set up and then attach your canvas/tarp – he did a lot of Colonial festivals where it's important to be period correct so this enabled him to get the more rustic look you'd expect.
However, let me tell you – they are a PITA to set up! You will need at least 2-3 people to get it up and down and it takes so long. Do they look nice? Absolutely. However, you will be questioning why you even vend at events in one!
The other factor with those systems is because they don't have as strong of a truss system you'll be a bit nervous anytime someone gets too close to those poles, not to mention be worrying about tripping hazards if you have to stake it down. If it's muddy or the ground is especially hard/rocky it's even more frustrating.
Cheap EZ-Up Knock-Offs
Again, if you are on a budget – I totally understand that! But sometimes as the saying goes you really do get what you pay for.
If you're vending full-time or frequently it's just not going to be able to hold up after multiple set-ups and tear downs – you might find plastic pieces completely snapping off or even the legs and trusses getting bent.
The other HUGE issue with these knock-offs is they usually aren't CPAI-84 fire retardant certified and they rarely are waterproof. Water-resistant perhaps – but unless you live somewhere that it never rains, you will be nervous every single show date on whether or not you'll be getting wet!
I totally get it if the Euromax isn't in your budget, and no judgement whatsoever if you get a different brand (and maybe some of the newer brands are better than what I've experinced in the past!) – but truly, you can't go wrong with Euromax. They've been doing this a VERY long time and they have designed a great product they stand behind!
---
I hope this is helpful for you in choosing the right canopy for you as we kick off the flea market, craft show + festivals season – and of course if you have any questions about other brands of canopies or even just setting them up in general, just ask in the comments below – I'm always happy to help!