We may receive a commission when you make a purchase from one of our links to sites such as eBay and others. As an Amazon Associate we earn from qualifying purchases. Thank you for support!
Want to make a beautiful rock collection display with all of your rocks, minerals and gemstones?
Today I wanted to share a ton of resources and ideas to help you show off those beautiful rocks, gemstones and minerals in your collection!
How to Choose the Right Rock Collection Storage Solution for You
There is definitely no one-size fits all answer to the million dollar question: What is the best way to display rocks?
The best way to display rocks of course is going to depend on what type of rocks you want to display – and where you want to set up the display of course.
If you are setting up a display at a rock and mineral show, that's going to be a LOT different than if you are setting up a place for them in your house. So, let's start by asking some good questions so you know what to look for first!
First: How Heavy/Big Are The Rocks?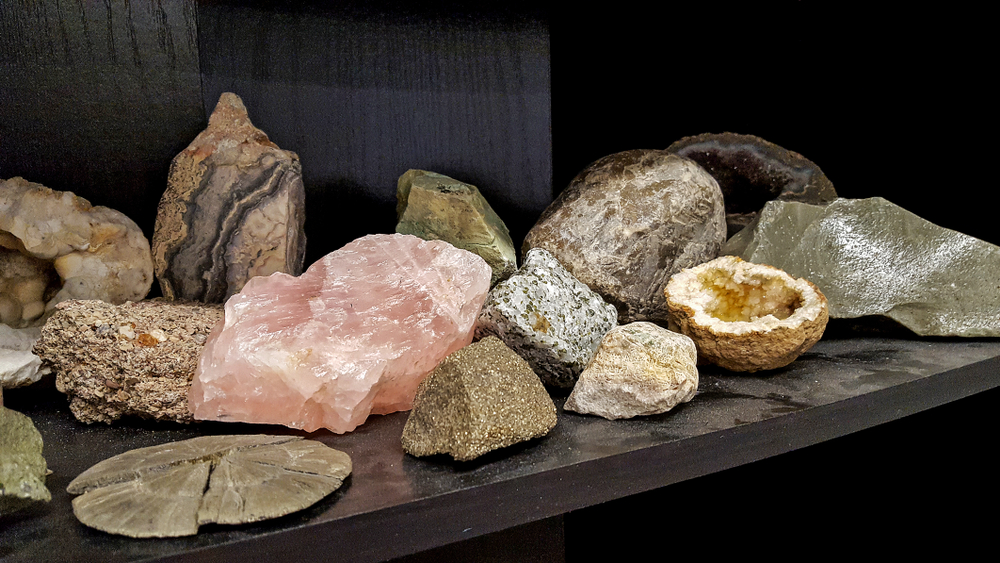 If you have very large rocks or even a small amount of rocks that weigh a ton – you definitely need to consider this for any type of display you might be setting up.
Sadly most of today's particle-board furniture is NOT up to the task of holding a lot of heavy weight. Even if you have high quality shelving, its still possible over time the weight will cause the shelves to warp and bend.
Most furniture pieces include weight limits and ratings, so be sure if you buy any type of shelving or cabinet for your rocks that you carefully consider whether it can support the weight!
This is also an important consideration if you are hanging any items or attaching items to the walls. ALWAYS use hooks and hangers that will support the weight you need to hang.
All hooks/hardware will also need to be mounted into the studs of the walls. Do not rely on something screwed into drywall or plaster to be able to support the weight of a shadowbox with stones.
Second: Do You Need to Easily Transport & Move the Rocks?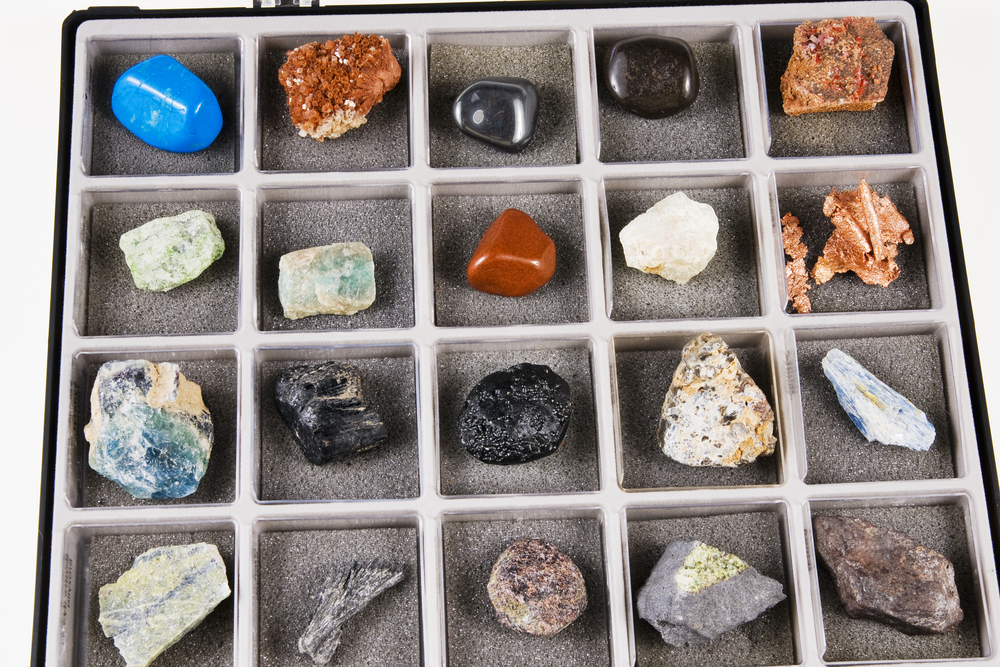 Another thing to think about is whether you need to be able to easily move and transport your rock collection.
If you frequently move from different cities or are someone who regularly attends gem and mineral shows, you will want to be sure your displays are portable.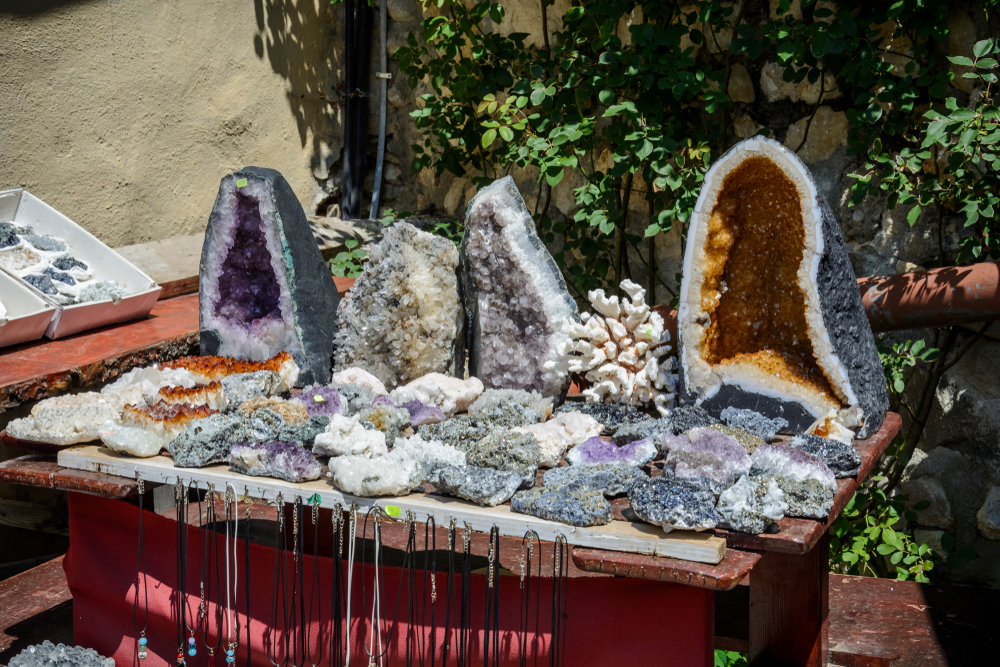 If you're happy at home for a long, long time, then maybe a built-in shelf or a curio cabinet makes better sense to give the rocks a dedicated space at home.
Third: Are Your Rocks Fragile or Valuable?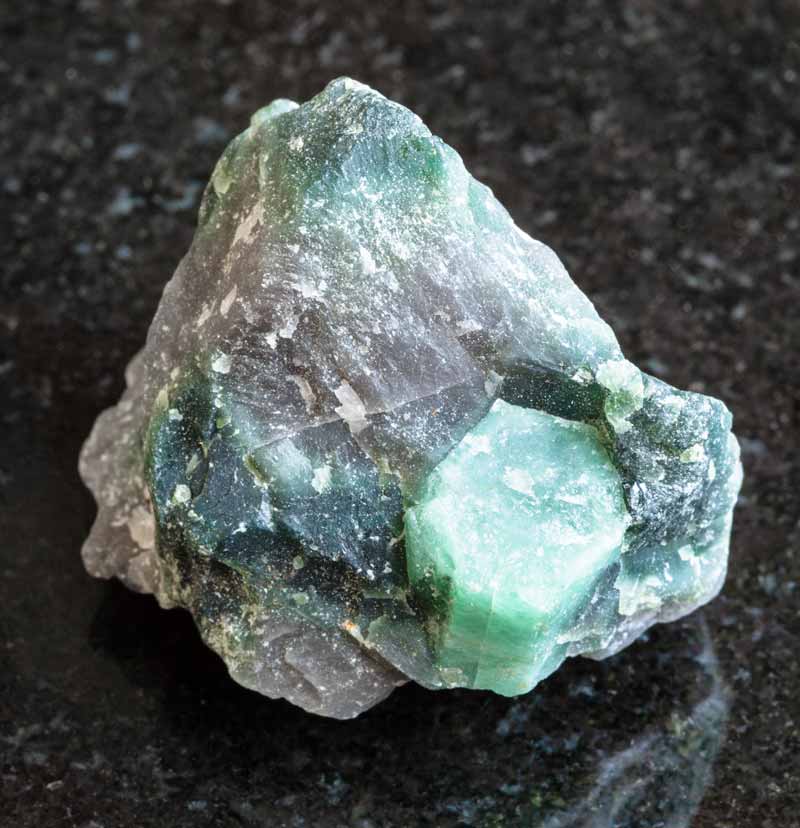 Another important thing to consider when choosing how to display your rock collection is whether your rocks or fragile or valuable.
People are naturally curious, and so if you don't want people moving or touching your rocks, it's probably a good idea to invest in some sort of see-through case where rocks can be seen but not touched.
On the other end of the spectrum, if you love picking up the rocks and looking at them and they aren't particularly fragile or valuable, why not make them easy to reach?
Keep them in bowls or jars where someone can easily look through them just for fun anytime!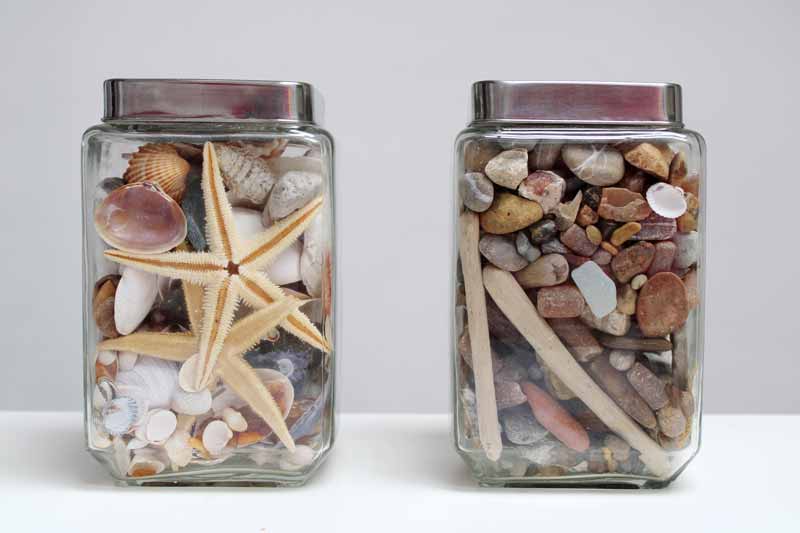 Now that we've talked about some important considerations, let's jump into some of my favorite ways to store and display rocks in my own collection!
---
12 Ways to Display Rocks & Minerals in Your Collection
1. Rock Collection Boxes
Rock collection boxes are a great option if you want to keep your rocks and minerals neatly organized. They come in a wide variety of styles and sizes to choose from.
This also makes them easy to transport – perfect if you're going to a gem and mineral show or meeting with your local lapidary club!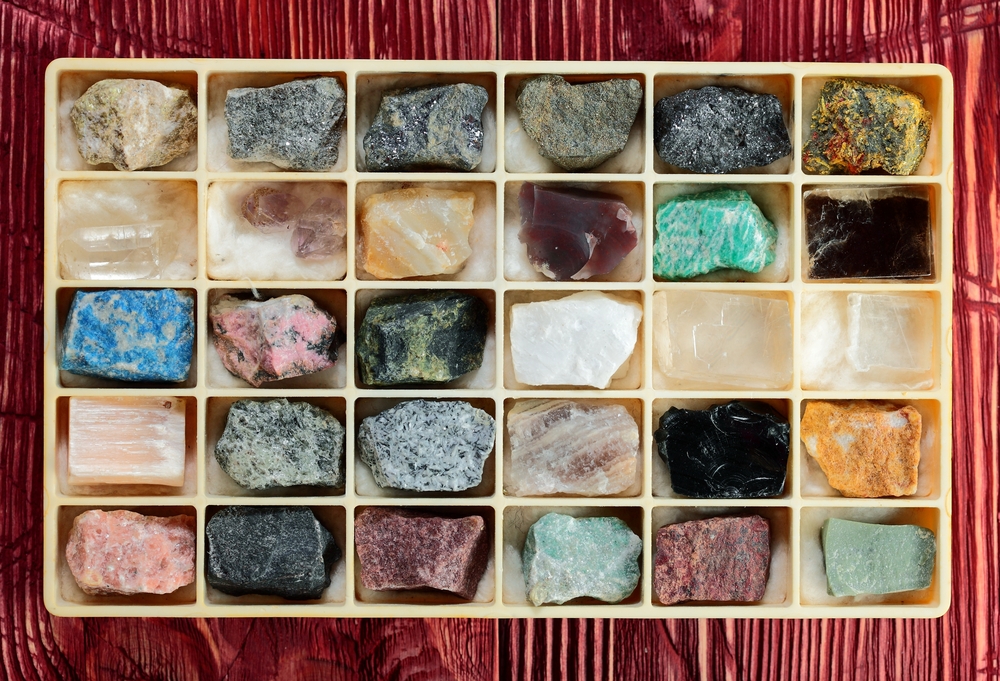 While they make some very limited options specifically for rocks, you can also have some success finding interesting things if you look into other types of storage solutions.
For example, a Bamboo tea organizer box is meant for tea, but the beauty of the natural bamboo would make it a nice way to display some of the smaller rocks in your collection.
---
2. Organizing Trays for Minerals & Rocks
Another option is to look into different trays for display. You can find many options for divider trays at almost any sort of store that sells accessories for storage and organization.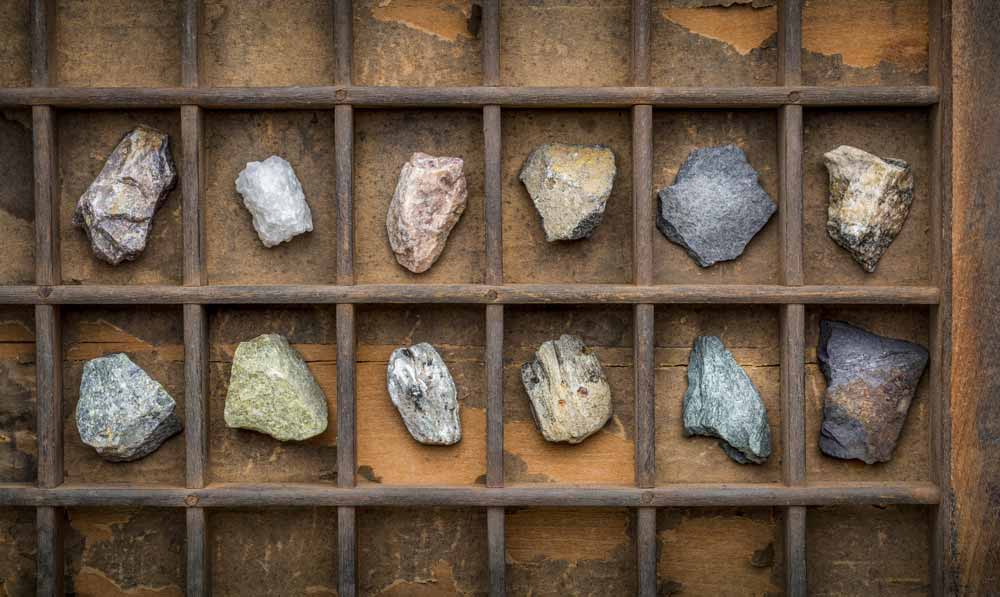 Shown above is an old typesetter letter tray – once used to hold different letters of the alphabet for printers. Today it houses a lovely display of different rocks and minerals.
These trays are typically shallow but you can find ones with a wide variety of different configurations that make it easy to find the size you need.
3. DIY Portable Display and Storage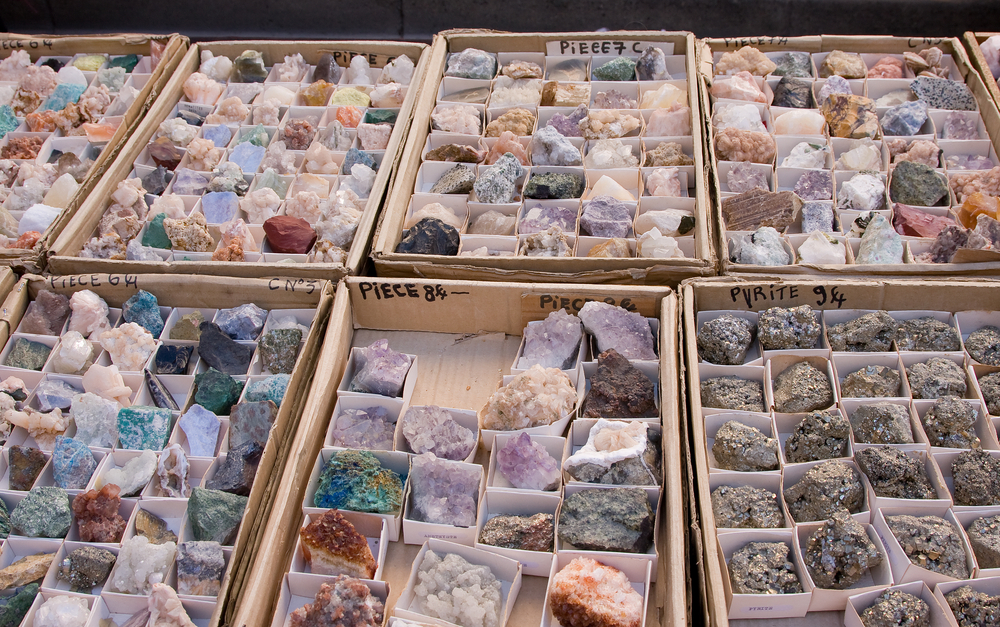 Above is a great example of one vendor who very cleverly displayed and organized rocks using cardboard boxes nested in larger boxes to sort by type and price.
Trays and boxes like the ones we already mentioned are also a great idea if you are a vendor of any type – whether you sell at local fairs and festivals or other events.
If you are a rock and mineral vendor you definitely want a system that helps you keep track of things like prices and types of minerals in your collection.
---
4. Museum Grade Quality Display Cases
Beyond trays and boxes with compartments, there are also a lot different ideas for rock display cases.
While the cases above are the kind of thing you might expect to see at a jewelry store or museum, there are all sorts of options that can be used at home.
Cases are best suited for rocks you want to keep protected, otherwise the cost of the case could exceed the value of the rock itself.
Display cases are used by collectors of all types for all sorts of things.
Advantages of Rock Display Cases:
Minimizes dust and exposure to air, moisture and sunlight
Prevents people from touching fragile mineral specimens
Allows for easy organization of your inventory
---
Acrylic Display Cases for Collectible Rocks
When my oldest kiddo had a football autographed by all of their favorite players on the team, we bought an acrylic display case for it so it wouldn't get destroyed by the toddlers in the house.
These cases are also a great choice for rock collectors, especially if you have large pieces.
Some cube shaped cases only have 4 or 5 sides. This is helpful if you know the item is rather heavy or large and might crack the case if it were sealed inside.
---
5. Hanging Wall Display Cases & Frames
Hanging wall display cases and shadow box frames with doors are another good option to explore if you are looking for a nice way to display your collection on the wall.
They are available in all sorts of different sizes and different configurations. Whether you have a small collection or large you are sure to find something that works for you.
If you do not have exceptionally large or heavy rocks and minerals in your collection that might be too heavy for the walls, these hanging type of shadow boxes can be a nice way to give them a dedicated spot in your home.
---
6. Display Your Minerals on Shelves
Shelves are also another very good option to explore for ways to display and showcase your rock collection at home.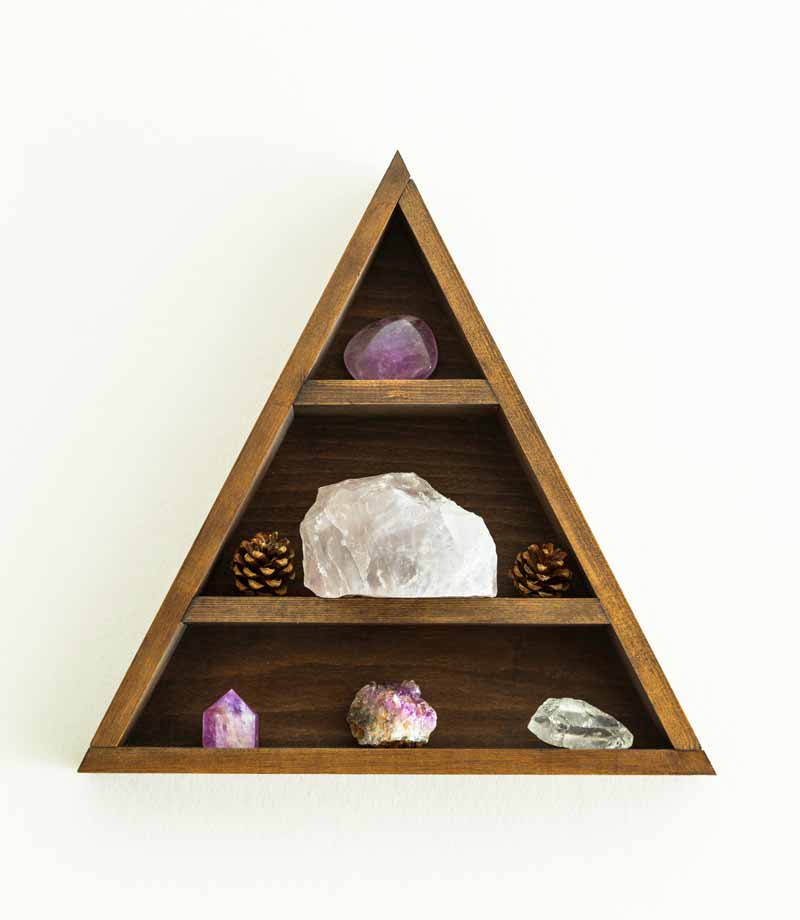 These solutions are usually best suited for someone who doesn't need their collection to be portable. Installing shelves is easy enough, but you definitely don't want to be lugging around furniture.
If one of your other favorite forms of treasure hunting is to shop at estate sales or thrift stores, you can usually find book shelves very inexpensively.
Be sure if you use any sort of floating shelves for rocks that they are able to withhold the weight and are securely anchored into the studs of your walls.
---
7. Custom Built in Shelving & Storage Solutions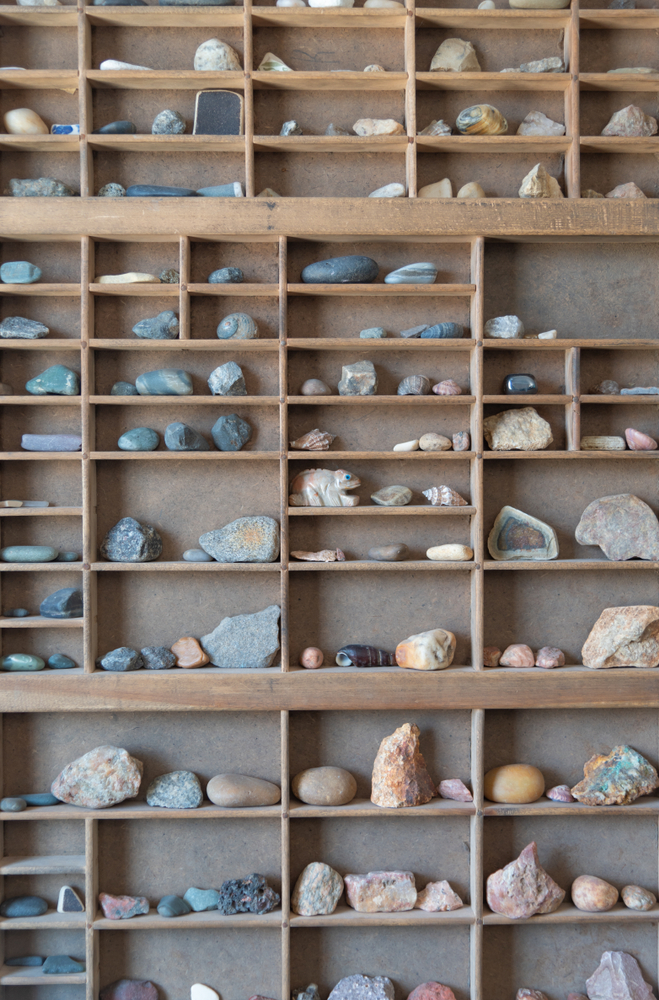 Built-in shelves like the ones you see above of course are a nice custom option, but you don't necessarily need to go to that sort of extreme. Any type of bookshelf or cabinet will do just fine!
---
8. Freestanding Curio Cabinets
Curio cabinets are another great way to display any type of collectible item – whether it's rocks or salt shakers or your favorite toys from when you were a kid.
Usually curio cabinets are more traditional design-wise so I was really excited to see some sleek and contemporary designs that are out there now.
One of the nice thing about cabinets like these is they often have a door that can help protect your collection from dust and people picking up and touching items.
---
9. Decorate With Rocks, Crystals, Gemstones & Minerals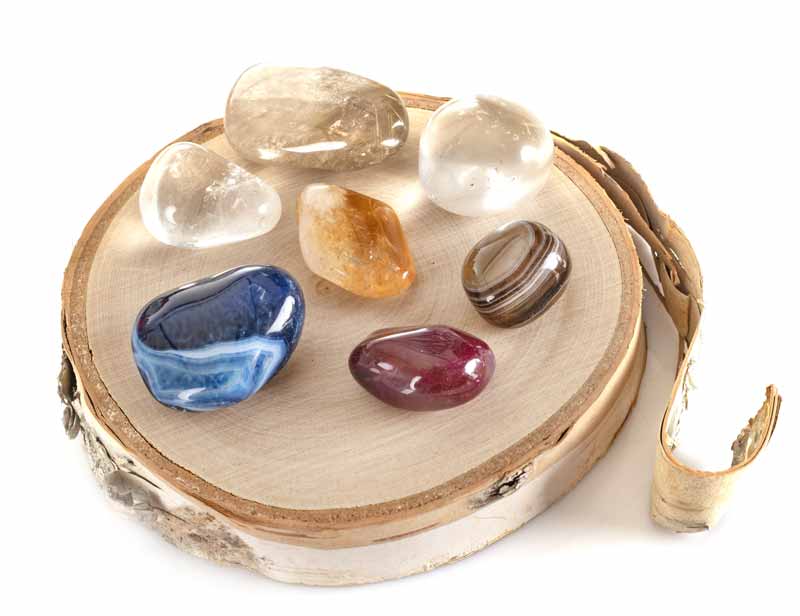 Decorating with rocks is always a fun idea and super easy to do. If you are like me and collect "whatever I like" you end up with a lot of rocks that maybe aren't necessarily rare or valuable, but certainly are great decorative accents around the house.
Smaller stones can be thoughtfully arranged almost anywhere – on a window sill, along the edge of chair rail, or on a fireplace mantel. I love the idea above where simple wood rounds are used as a base.
Larger rocks and minerals can become statement pieces on a coffee table or even next to the TV on a media cabinet.
10. Make Your Own Jewelry
I'm sure there's plenty of people who would agree with me that one of the best ways to regularly display the gemstones in your collection is to wear them as jewelry.
Most lapidary shops are able to create one-of-a-kind unique pieces with almost any type of stone.
You can also learn how to make basic wire-wrapped jewelry to create all sorts of different styles of rings, necklaces, bracelets and more. All you need is some basic jewelry wire and a simple jewelry making kit that comes with all the tools and supplies you need to get started.
This video on YouTube below shows a great example of how you can quickly and easily make your own wire wrapped jewelry at home with polished rocks.
---
11. Stones in Jars & Vases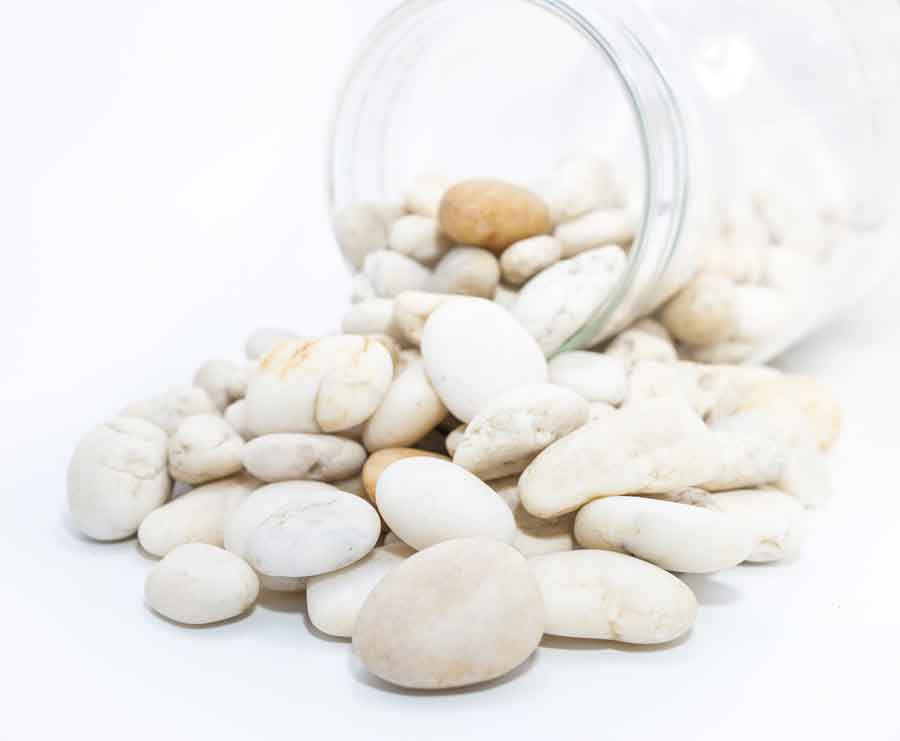 Vases and jars are a super simple and common way to display different stones all over the house. You can place rocks and stones in a vase and place it on a table, nightstand, window sill, bookshelf or even fireplace mantel.
Mason Jars are super easy to find and very inexpensive. You can get them at almost any store near the canning supplies or of course you can always order them online if you are looking for any specific size or style.
I can't even count anymore how many times I've bought wide mouth quartz size canning jars for all sorts of different things besides just canning. The wide mouth is definitely important if you want to easily be able to get things back out!
Below is another example of beautiful collection of agates in a ball mason jar. This is a great way to start watching your collection grow slowly over time.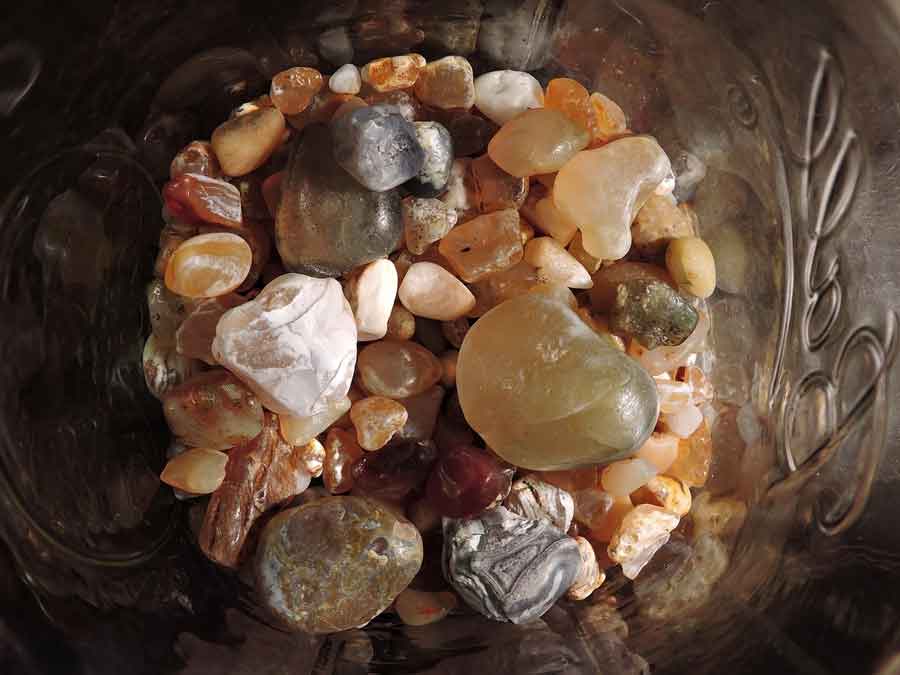 The nice thing about these jars is it lets you sort your collection in any way that makes sense for you!
Check out this example of stones arranged by color in different jars. This would be a great way to organize and sort your collection of polished stones this way – you could make a whole rainbow!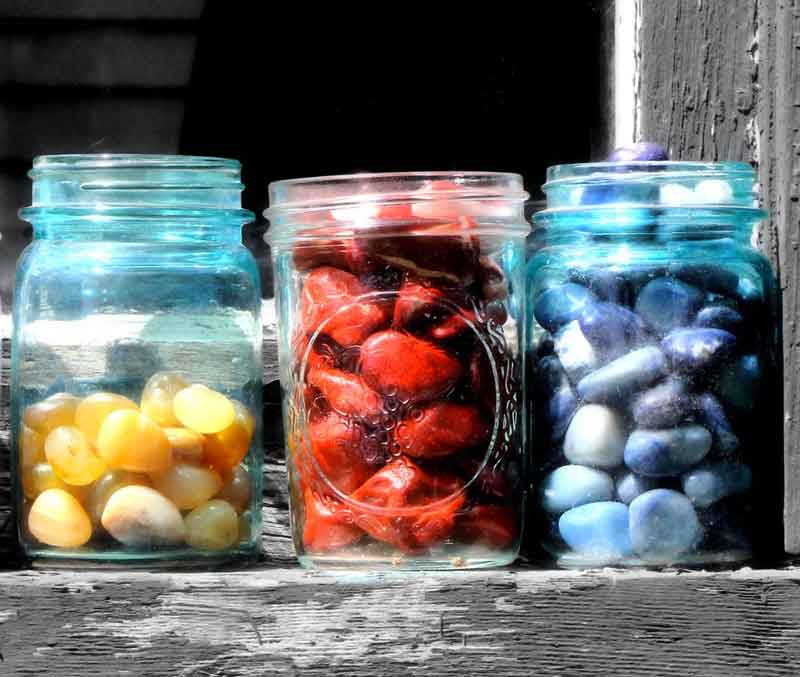 ---
12. Pretty Bowls, Dishes & Plates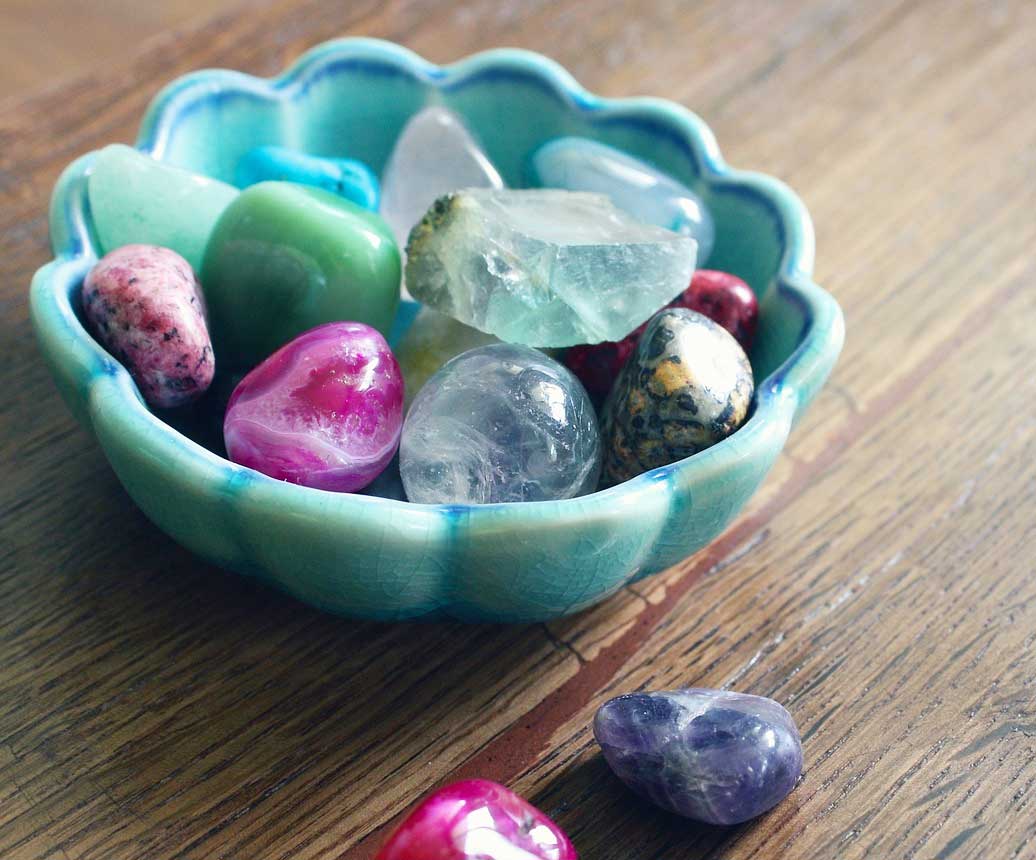 Much like the trays we shared earlier, bowls, dishes and plates can also be used to display different rocks, minerals and crystals around the house.
These can be a great thing to put out on your coffee table, side tables, or even the dining room table.
If your rocks are meant to be held and admired, keeping them in easy reach like this can be a LOT of fun for adults and older kids alike who come visit.
One caveat of course is to make sure kids and adults alike both know that rocks aren't candy or try to eat them or put them in their mouths.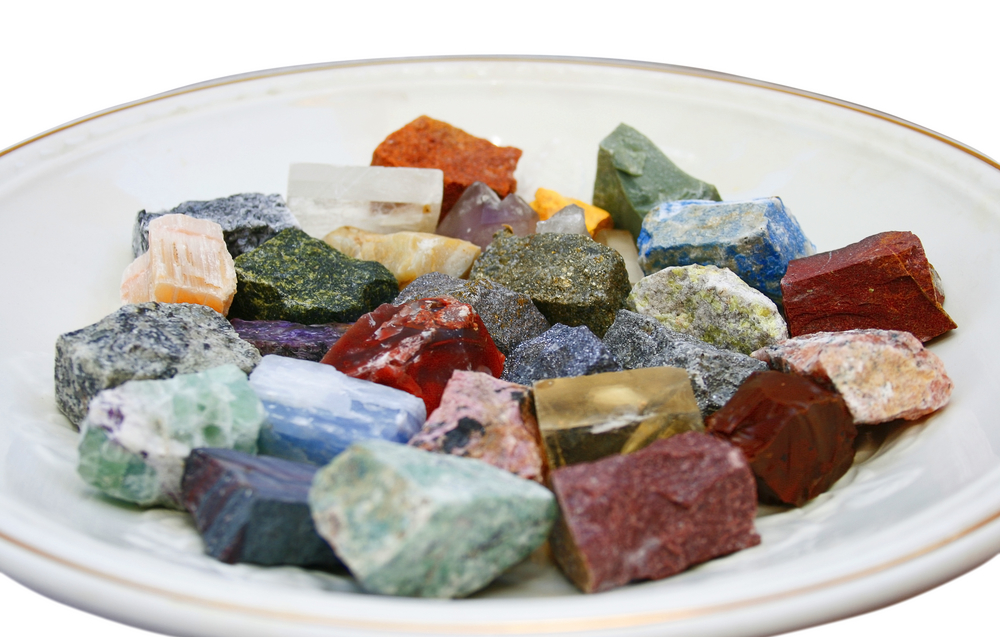 If you have very young toddlers you definitely will want to make sure they are old enough past that "everything i see goes in my mouth" phase of development.
---
There are so many beautiful ways to showcase and display your rocks, minerals and gemstones – I hope this post inspires you to organize and enjoy your rock collection to the fullest!
Do you have any tips for displaying rocks and minerals or rock collection display ideas we might have missed? How do you organize and display your rock collection? Share your thoughts in the comments section below!