We may receive a commission when you make a purchase from one of our links to sites such as eBay and others. As an Amazon Associate we earn from qualifying purchases. Thank you for support!
The Encyclopedia of Creative Cooking, edited by Charlotte Snyder Turgeon, is probably one of the biggest and heaviest cookbooks in my vintage cookbook collection.
Seriously, the book is HUGE. This book has over 2,000 recipes and is around 772 pages long, not including the mammoth index at the end of the book which lists each recipe individually.
It's the kind of book you definitely don't want to accidentally drop on your toes!
The cookbook is organized alphabetically, as one might expect in a book that is encyclopedic in nature.
It is a little bit of a different structure that you might see in most cookbooks, but it also makes it fun to flip through because you don't realize what kind of recipes might be hidden under any given letter of the alphabet.
As a book collector, the first place I usually turn to is the publishing information on the first page. You can learn a lot about the history of a book this way!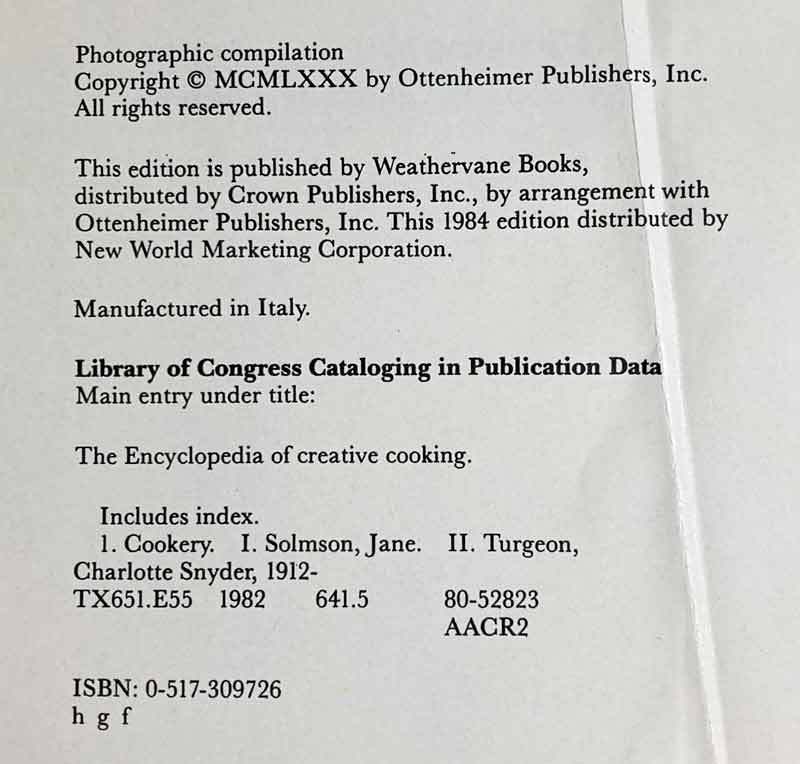 The first edition of the book was published and printed in 1982. I have a second edition of the book, printed in 1984.
I was admittedly unfamiliar with Charlotte Snyder Turgeon, so I had to do a bit of research to learn more about her.
Wikipedia did not offer much info – only mentioning that she was a chef that graduated from Smith College in Massachusetts and was a fellow student with the better known chef Julia Child.
Fortunately, in searching for her obituary, I was able to find this article published by the New York Times in 2009.
Perhaps the quote at the end of that article best summarizes the types of recipes you might find in the Encyclopedia of Creative Cooking:
When King and I got back from his sabbatical in France, I realized that there were all these young Amherst faculty wives who were scared to death of cooking and had to live on a nickel, the poor things. I wrote my cookbooks for them, and others like them. I just wanted to make the cooking part of life intelligible and fun.

Charlotte S. Turgeon
At first glance, many of the recipes appear to be quite fancy – dare I say even intimidating? But it is true that her cookbook is very much easy to understand, walks you through step-by-step and also includes a lot of handy illustrations and photos.
Here is an example of how detailed the step-by-step instructions are for puff pastry!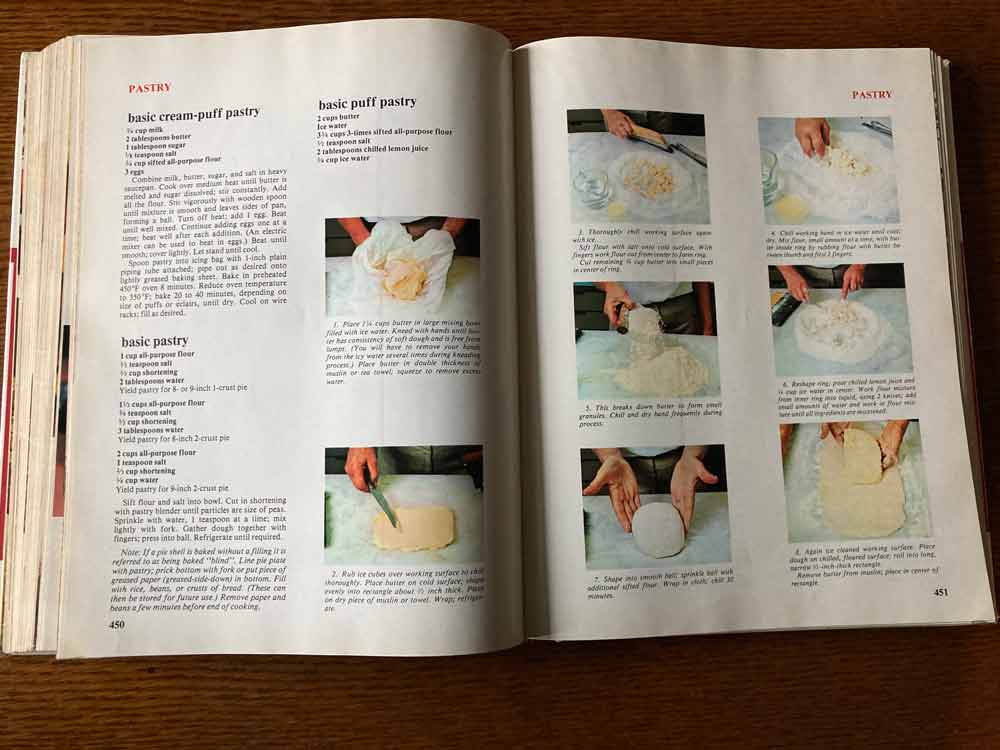 While most of the recipes are not nearly that detailed, it is definitely helpful to see that sort of guide in a cookbook!
One thing I would have liked to see in the cookbook, especially with it being an "encyclopedia" is more details and history about each recipe. I like knowing where a recipe originated from, like these famous ole grape jelly cocktail meatballs almost everybody has had at some sort of party gathering at one time or another.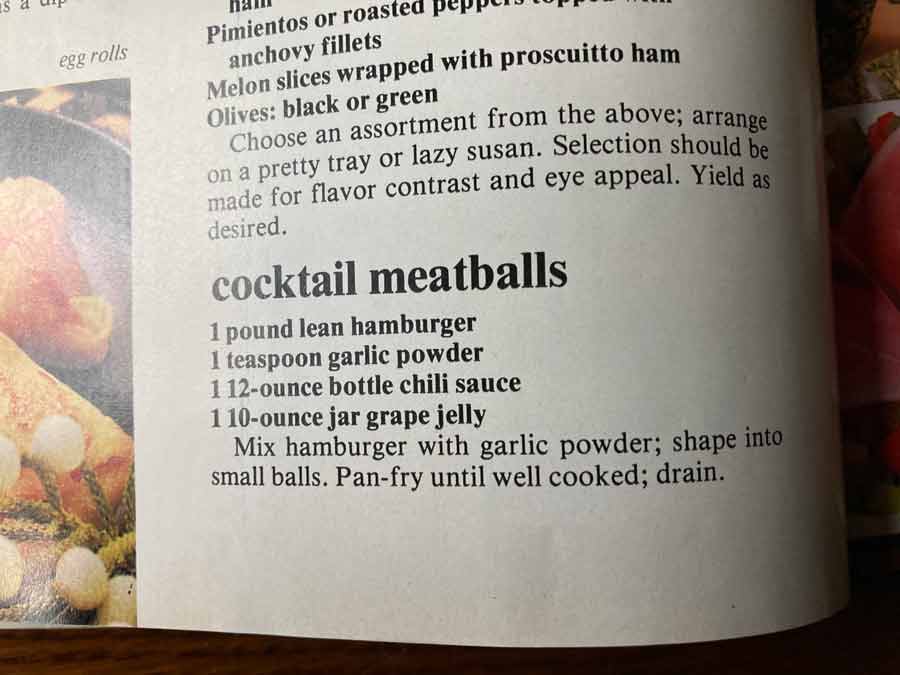 This generic cocktail meatballs recipe as shown above in the encyclopedia is definitely not an original recipe, and even finding the origins of the recipe proves to be a challenge.
Most people attribute the official "published source" of the recipe to being first published as "Chaffing Dish Meatballs" in the 1967 Elegant But Easy Cookbook by Marian Burros and Lois Levine, but even that is somewhat debated.
While there are definitely a couple of these generic types of recipes in the Encyclopedia of Creative Cooking, there are also TONS of recipes I have actually needed to research what the main ingredients are.
Please tell me I'm not the only person who has never heard of squab before!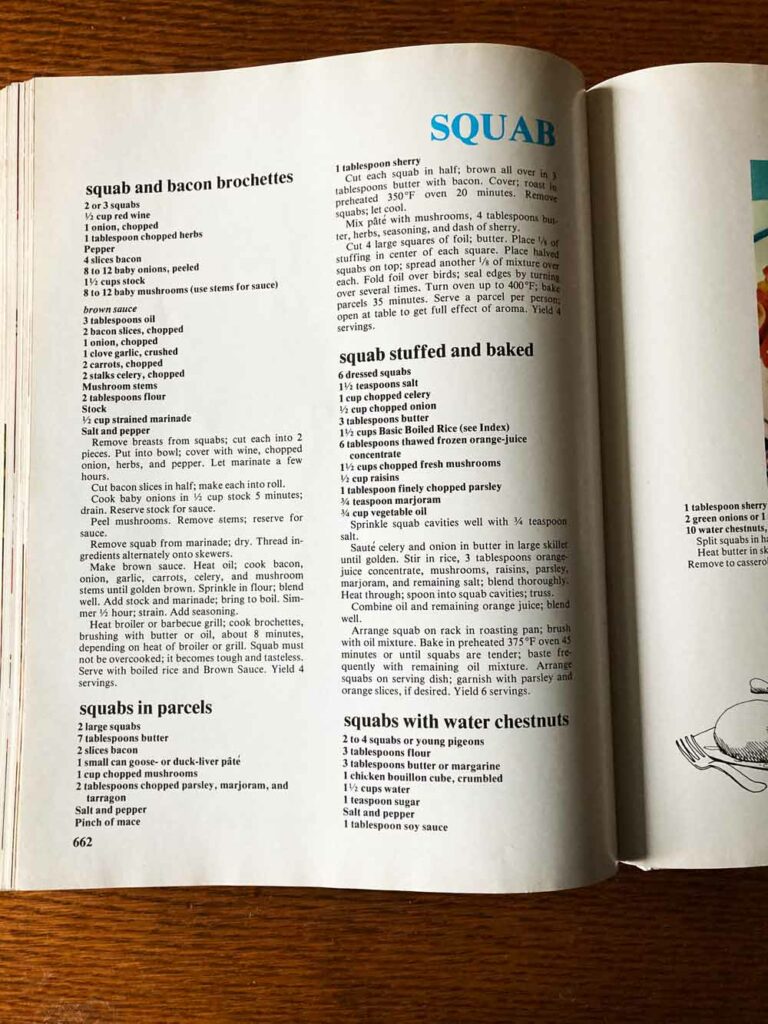 For those of you who were wondering, squab is a young pigeon. Don't think I'll ever cook anything in that section, but it's still interesting nonetheless.
I don't think I will ever actually cook all of the recipes found in this cookbook, but I am not worried about that – half the fun is just looking at the old vintage food photos and reading through the recipes.
If you would like to own a copy of this cookbook for yourself, you can often find great deals on used versions on Amazon.
Do you have this cookbook? What are some of your favorite recipes from it? Share your thoughts in the comments section below!