We may receive a commission when you make a purchase from one of our links to sites such as eBay and others. As an Amazon Associate we earn from qualifying purchases. Thank you for support!
I have been on a quest (yes, a quest!) to find the best potato soup recipe for nearly 30 years. After years of testing and development, I have finally created the perfect recipe that is super easy to make and so darn good!
This potato soup is VERY easy to make, and it's also naturally gluten free. I didn't make it gluten free on purpose, but one thing I really did NOT like about most potato soups is they usually required making some kind of roux and it just seemed like a lot of extra effort without any real benefit.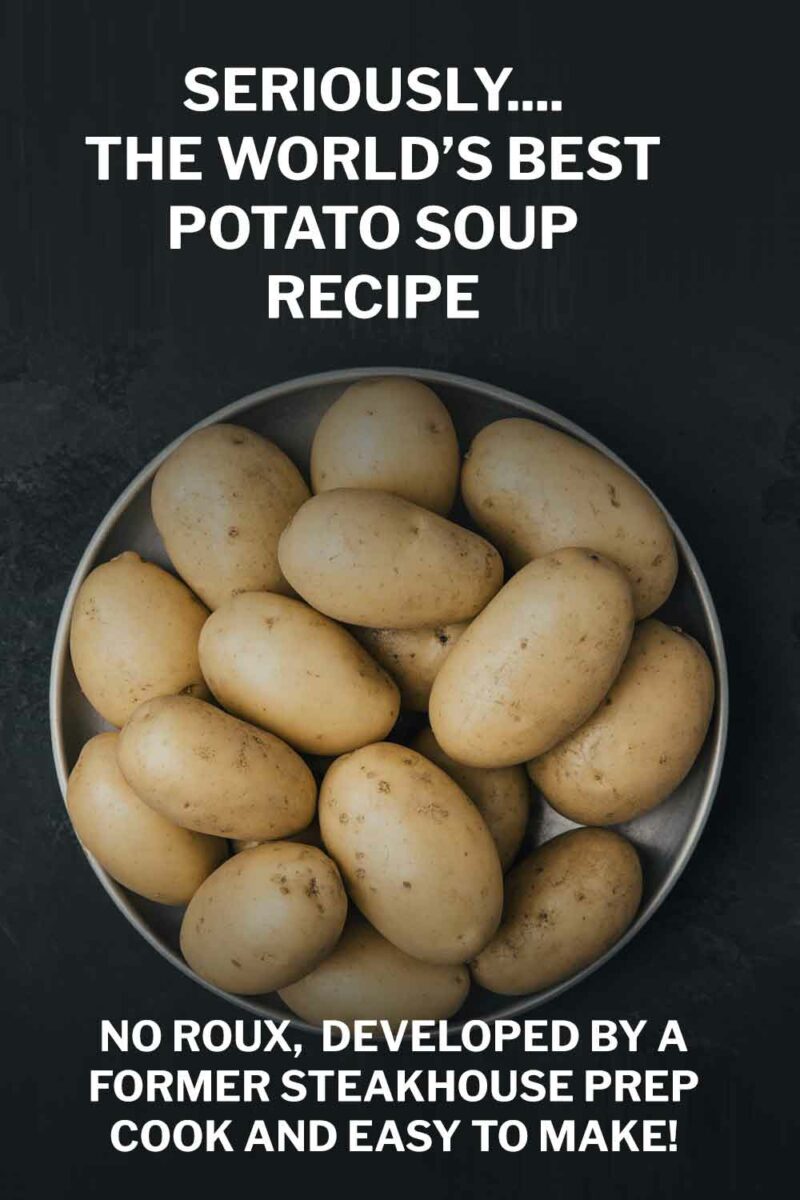 My recipe for potato soup is for the stovetop, but it is also very easily adapted for the crockpot – simply cook the potato base in the crockpot and then add the seasoning + cream ingredients at the end.
The Perks of Having Restaurant Prep Cook Experience
There were a lot of influencing factors into what helped me finally create this masterpiece, my pièce de résistance, but there are a couple of pivotal moments that made me really understand the intricacies of developing the perfect soup:
When I was in my 20's, I worked at several popular steakhouses as a prep cook as well as part-time for a caterer. I learned a lot about the secrets of their soups from this, although some that was not the case. The very sad news about most chain restaurants today is they DO NOT make their soup on site. It comes in a bag + they just reheat it. Gross, right?
One restaurant I worked at did make their soup fresh every morning, and while it was okay soup (a lot of guests loved it + we usually went through like 3 pots of it) – it was kind of bland in my opinion and started with baked potatoes. (Why do you think they call it baked potato soup?!)
While baked potatoes are good and they do add some of that "intangible" flavor to the soup, if you're familiar with comedian Mitch Hedberg, it takes forever to make them! I do not have those kind of executive functioning skills to plan that far in advance!
If you want to use baked potatoes though, go for it – will definitely cut down on the cooking time in the beginning. 🙂
This soup is super easy to make, and you can even plan to make it totally last minute, especially if you use diced canned potatoes instead of starting with fresh ones uncooked.
There are a couple of optional ingredients in this recipe that a lot of times I don't have on hand but man they are nice additions if you do have them, which are fresh celery and a small slice of leftover baked ham. (Again, having them on hand requires executive functioning and planning skills I simply just do not have!) So if you skip them, don't worry, your soup will still be amazing. 🙂
And if you do have them, they are definitely nice to add!
This potato soup recipe is also super forgiving – many times I've made it without even measuring, although the past four times I did take care to measure properly to make sure the recipe could be duplicated and so that I could actually share the ingredients and steps with you!
I do not have any photos of the finished soup, because that too would require some planning – I'd have to make the soup and then NOT EAT it for nearly an hour while I tried to photograph it. Who has time for that?
Some people like garlic in their potato soup, I'm not a huge fan of it, but you could probably add a clove of minced garlic in the beginning if you like a garlic flavor.
The celery salt is probably one of the most important ingredients, you can use a little less or more of it, depending on your taste preferences. You can also experiment with the salt – I think this soup is plenty salty, but my husband usually adds more on top of it so really just depends on your own personal preference.
The soup is so good though, you really won't mind taste testing it to get the right salt and seasonings for what you like!
Some Tips Before You Make This Potato Soup
A couple of quick tips before you cook the soup:
Dice your potatoes to be small
Use a food processor if you want to mince your onion + celery very finely (I usually don't lol…but I also have all those years as a prep cook for experience in mincing them!)
For a very creamy soup with no lumps, put in a blender or use an electric egg beater instead of your basic potato masher.
This recipe makes about 12 generous servings, so you will want to use the biggest stock pot you have, but it's easily halved.
If you want to double it for a very large event, I'd probably make it 2 batches just because that much soup in a big commercial size stock pot is going to take forever to cook and be harder to manage.
We like a lot of leftovers here, and usually between the 4 of us the soup is completely gone by the next day. If you have leftovers, there is another very important trick I learned from working at restaurants, which is you need to cool the soup down super quickly before putting it in the fridge.
This is usually pretty easy to do if you put the soup in a bowl/pan of ice water, you can also put smaller portions of it in the freezer for about 10 minutes before putting it in the fridge. Either way, you want that soup to get down to about 70 degrees as fast as possible before refrigerating it. This makes it safer to eat, and of course if you reheat it the next day you want to heat it up all the way to 165 degrees.
This is another benefit of working at restaurants – you learn a lot of food safety!
You could probably also freeze the soup, although I haven't tried that, it's always gone by the next day!
So…anyways, without further ado, I present to you what, after years of development and testing, I believe truly is one of the best potato soups in the world!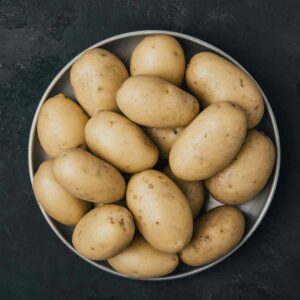 The World's Best Potato Soup Recipe
This soup was developed after YEARS of experiments and testing by a former steakhouse prep cook…no roux, easy to make, naturally gluten-free, seriously so good!
Ingredients
12

Potatoes

Peeled, Washed and Diced

14.5

oz

can of sliced carrots, undrained

64

oz

chicken broth

1

onion

minced

1

stalk

celery

optional, minced

1

tsp

salt

To taste – I usually just give 10 good shakes from my salt shaker

1

slice

baked ham

totally optional, good if you have leftover ham from something, but totally not required

1

tsp

celery salt

Don't skip this one!

1

tsp

onion powder

2

dried bay leaves

1

stick

butter

2

cups

milk
For Garnish
1

cup

Sour Cream

1

cup

Shredded Cheese

1

cup

Crumbled Bacon

2

Green onions

thinly slic3e
Instructions
Place peeled, washed and diced potatoes in a large stock pot, add chicken broth, minced onion, minced celery and the canned carrots, undrained and salt.

Cook for about 40-50 minutes, uncovered, or until potatoes are soft and can be mashed easily

Using a potato masher, lightly mash the potatoes (Can also use egg beater for creamier and smoother soup)

Add celery salt, onion powder and bay leaf and 1 stick of butter, stir until butter is melted

Add milk and cook on low heat for another 10 minutes or so

Remove bay leaf and garnish with all of your favorite loaded baked potato toppings!
Notes
You can substitute 4 cans diced potatoes for fresh potatoes, can also substitute fresh cooked carrots for canned carrots. 
Use food processor to finely mince celery, onions, etc. if you want super small pieces + creamier soup.
To make in a crockpot, cook potatoes + soup base on high for 4 hours, add in seasoning + cream ingredients last half hour.
Use an electric egg beater instead of a potato masher for a smoother and creamier soup. 
Be sure to rapidly cool the soup down to 70 degrees before refrigerating leftovers and reheat leftovers to 165 degrees.
Nutrition
Calories:
716
kcal
Carbohydrates:
72
g
Protein:
38
g
Fat:
31
g
Saturated Fat:
11
g
Polyunsaturated Fat:
7
g
Monounsaturated Fat:
10
g
Cholesterol:
58
mg
Sodium:
36946
mg
Potassium:
1593
mg
Fiber:
6
g
Sugar:
33
g
Vitamin A:
6000
IU
Vitamin C:
47
mg
Calcium:
441
mg
Iron:
3
mg
I hope you enjoy this potato soup – it is seriously so good! Now you will never have to worry about what the soup of the day is – it's easy to make the decision!
If you make this recipe, I'd love to know if you tried it! And if by some random chance you happen to be a professional food photographer and actually patient enough to wait to eat the soup to snap a photo, please send one for me to use in this post at hello@resalvaged.com. That'd be awesome! I am seriously so bad at food photography!
Anyways, this recipe for baked potato soup is amazing! It may have taken years of development and experimenting, but it was worth all the trial + error!