We may receive a commission when you make a purchase from one of our links to sites such as eBay and others. As an Amazon Associate we earn from qualifying purchases. Thank you for support!
You are probably familiar with vintage pyrex dishes even if you are not yet a collector – you may even remember them in the kitchens of your grandparents or parents.
From vintage pyrex mixing bowls to bakeware, these iconic dishes have been passed on from generation to generation over the years.
Why is vintage pyrex so popular today? The nostalgia factor is a big part of why these dishes are so popular, as many often associate certain patterns with family memories and occasions.
For example, I can fondly remember my grandmother's pink pyrex mixing bowls with little white flowers – which I now know is a Cinderella mixing bowl in Gooseberry Pink!
A Brief History of Pyrex
These popular borosilicate glass dishes were first introduced by Corning Inc. in 1908. The dishes can be used in the oven, which made them quite versatile for many homemakers in the early 1940s and 1950s.
In the 1940s the company began producing many of the fun and quirky colors and patterns which are now so highly sought after by collectors worldwide.
---
Where to Buy Vintage Pyrex
Finding Vintage Pyrex is not difficult, but it can take some searching if you are looking for rare and collectible pyrex patterns.
Here are some of our favorite places to look:
eBay: eBay, even after all these years, is still hands down one of my favorite places to go for finding vintage pyrex.
Etsy: Etsy also has a lot of nice vintage pyrex mixing bowls, dishes and other assorted bakeware listed for sale on their website.
Yard Sales, Flea Markets, Your Parent's Kitchen Cabinets: Of course, there are plenty of other places you can find vintage pyrex bowls and baking dishes – although you'll likely need to do some searching!
Estate auctions can also be a great source for finding many unique dishes in assorted patterns.
---
My Favorite Vintage Pyrex Patterns
Collectors value different vintage pyrex patterns for different reasons. Some patterns are rarer than others; making the demand much higher than the available demand.
This can of course influence the value of a vintage item – it's not unrealistic for many of the highly sought-after patterns to sell for $300 or more for a mixing bowl!
At the same time, there are some which are more common but hold a special place in our hearts, often because of the "nostalgia factor". A dish with the pattern your grandmother or mother once owned can bring back happy fond memories of childhood events and family gatherings.
My favorite pyrex patterns may not be the "most valuable" – some I just like because they are ever so iconic, quirky, and fun and would be a great addition to your kitchen!
The dishes are also very practical – they can be used both in the oven and just like any other mixing bowl – you could theoretically mix up a cake in the bowl and then just pop it right into the oven!
Even today with so many different new baking dishes available, I still find myself loving the practicality and style of the vintage pyrex bakeware and mixing bowl sets!
---
Pyrex Butterfly Gold Vintage Pyrex Mixing Bowls
My mom has a set of these dishes, and I know her set is at least as old I am, because she's had them since I was a baby! This pattern is definitely has the "nostalgia value" for me, but still is a wonderful addition to any collection.
Also, just to say my mom still has a nearly complete set after 4 kids, 5 grand children, and 30+ years of daily regular use has to say something for just how truly sturdy and long lasting these dishes can be!
---
Pyrex Turquoise Blue Amish Butterprint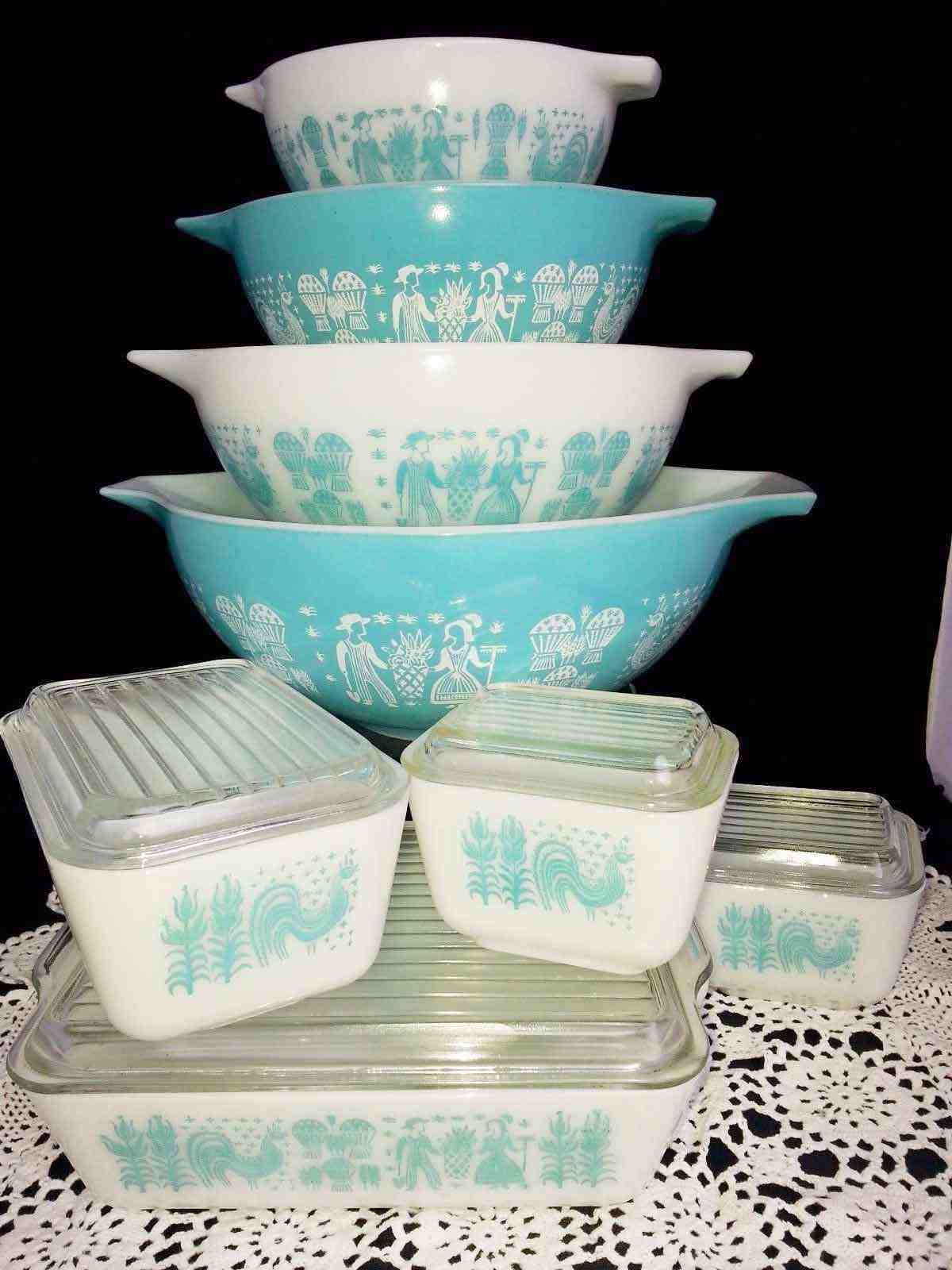 This is a popular one amongst collectors, and a set can bring you quite the pretty penny if you happen to stumble across one at a yard sale or flea market!
---
Daisy Green Vintage Pyrex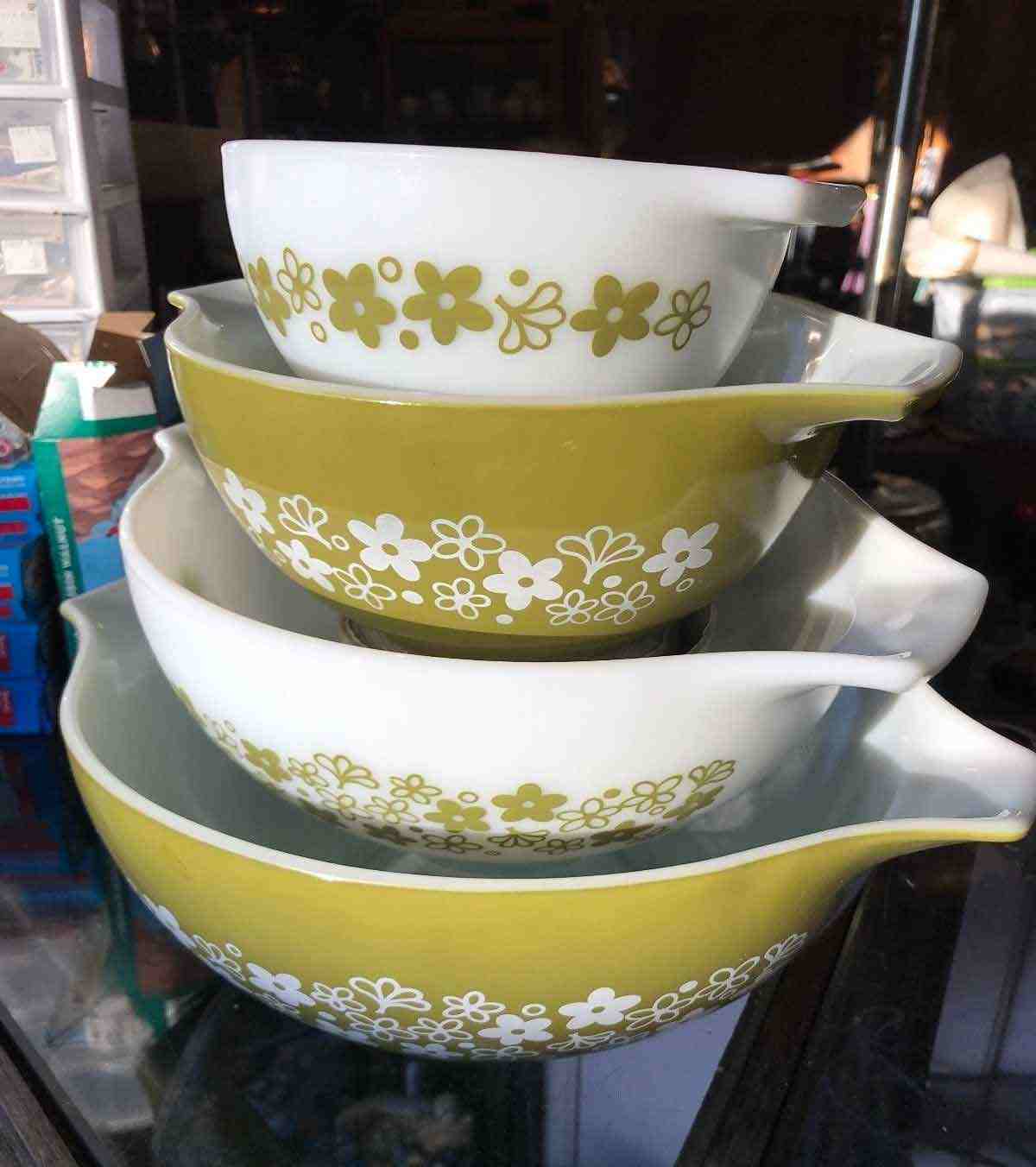 Daisy green is another one of my favorites, yes, it pretty much just screams "retro avocado". I don't know why I love this one so much, but I do!
---
Friendship Pyrex Pattern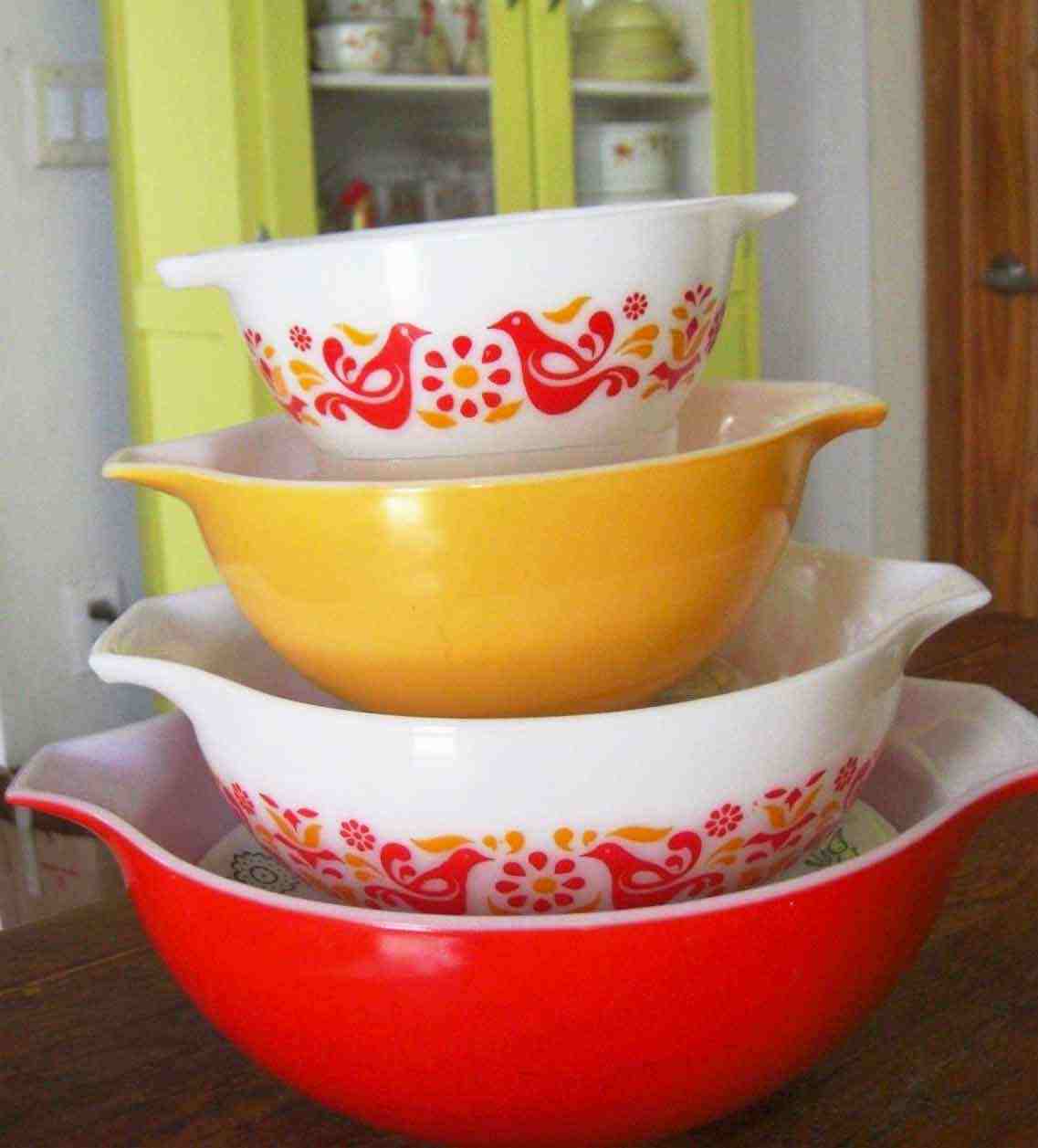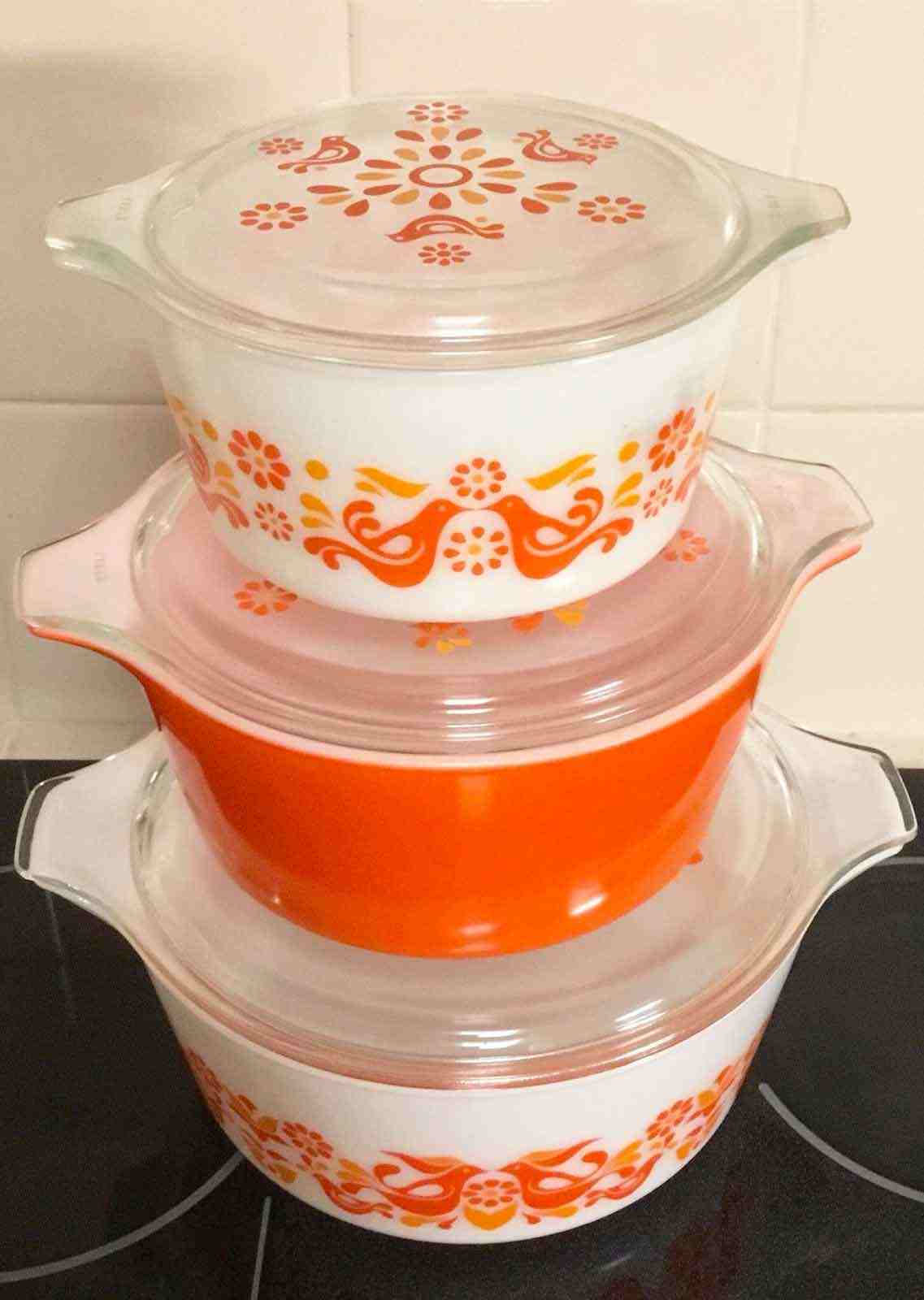 The friendship pattern features bright bold orange/red orange colors and two sweet birds and flowers. I LOVE this set and have been keeping it on my radar, especially when shopping at estate sales and church rummage sales.
---
There are so many great choices when it comes to shopping for vintage pyrex! Also, don't forget there are often many different coordinating accessories which match the pyrex mixing bowls – if you can snag a matching mug or butter dish you are indeed quite lucky in your finds!
Have Any Questions About Shopping for Vintage Pyrex? Do you collect these quirky iconic dishes? What vintage pyrex patterns and colors are YOUR favorites? I'd love to hear your thoughts & experiences with these dishes in the comments section below!