We may receive a commission when you make a purchase from one of our links to sites such as eBay and others. As an Amazon Associate we earn from qualifying purchases. Thank you for support!
Today I am sharing Wimpy's Weakness – a pistachio pudding pie kind of dessert bar recipe that was one of my grandmother's absolute favorites.
When my mom and I were going through her old cookbook collection, with many cookbooks that once belonged to my grandma, we found stuffed in one of the cookbooks maybe 20-30 copies of Wimpy's Weakness, all typed up even!
While I've seen plenty of pistachio pudding pie recipes in my day and lots of pudding based dessert bars, I've never seen them called Wimpy's Weakness, so I decided to do a little bit of detective work to see if I couldn't figure out perhaps the meaning of the name and maybe where this specific recipe originated from.
The first thing I found in the newspaper archives was an article published on December 4, 1980 with a recipe for Wimpy's Weakness in the column Kitchen Kupboard by Jackie Olivetti.
The author of the column Jackie sources Helen Raling of Ligonier, PA as the source for this and several other holiday recipes, so found that kind of interesting also – we actually hold our family reunions in that area, which is not too far away from Pittsburgh where we live.
While this is sort of helpful – maybe this could be some weird Pittsburghese name for pistachio pudding dessert bars?!?! – it really doesn't tell us very much.
Although it is kinda neat that the article was posted on Dec. 4th – that's wear brown shoes day!
I did type in "Wimpy's Weakness" in a google search and found very little there, although I did find one reference to Wimpy's Weakness from PopEye in this interesting article about making hamburgers for D-Day.
So, while maybe we could say this is a PopEye reference (it's green, and it's not healthy like spinach?) – I don't know – I feel like if that were the case this would be a recipe for some kind of amazing hamburger dish.
The only other thing I found was this interesting post about Friedrich Nietzsche and the peacefulness of St. Francis and the whole meek shall inherit the earth philosophy.
While interesting reading for sure, and my grandmother was Catholic… I really don't think this has anything to do with the naming behind this pistachio pudding dessert obviously lol.
We need more information! And so, to solve more of the mystery, let's look at the ingredients!
Key Ingredients For Wimpy's Weakness:
Instant Pistachio Pudding
Cool Whip
Margarine
Nuts
Pistachio Pudding was invented in 1975 – so this tells us this recipe has to be from a time period no earlier than then.
Cool-Whip was invented in 1966.
Margarine was also super popular in the 1970's. You can always tell you have a 1970's cookbook if the recipes all tell you to use margarine!
I will have to investigate some more – and maybe someone from my family can explain why it's called Wimpy's weakness to me someday.
Most importantly, this recipe is easy to make and since it's a dessert bar kind of pudding pie recipe baked in a 9×13 pan it's a great choice for any kind of event feeding a crowd!
Since this recipe is green, it would also be a great choice for any event where you need some green stuff! St. Patrick's Day, Christmas, International Eat Green Foods Day…
And since this is made with pistachio pudding, and Pistachio Day is on February 26, and that's only like 2 days before my Grandma's birthday, maybe you could make it that day too!
All kidding aside, it's a great recipe – you don't even need a reason to make it!
You could also very likely adapt this recipe to make it muffin cups for easy individually wrapped single servings – simply line your muffin pans + bake the crust in that.
Wimpy's Weakness Recipe Notes
One thing that is important to note is this recipe calls to use 3 cups of milk to make the pudding and not the usual 4 you would need to make 2 boxes of instant pudding.
Instant pudding is also very important here – you don't want to the cooked kind! (I'm not sure if they even make cooked pistachio pudding or not anymore or if they ever even did? But make sure whatever you get it's instant!)
And of course – if pistachio pudding is not your forte, you can always substitute that pudding with ANY pudding you like.
I definitely need to do a LOT more digging on the whole story and source of this recipe, but for now am going to publish it just as I have it from my grandma's cookbook – I mean, she did make like 40 copies of this to hand out and share so it only seems right I share it with you too!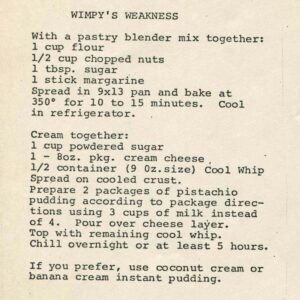 Wimpy's Weakness Pistachio Pudding Pie Recipe
Wimpy's Weakness is a great dessert bar recipe featuring pistachio pudding and one of my grandma's all time favorites.
Ingredients
For the Crust:
1

cup

flour

1

tbsp

sugar

1

stick

margarine

or butter

½

cup

chopped nuts
For the Filling:
1

cup

powdered sugar

8

oz

Cream Cheese

9

oz

whipped cream

divided

2

packages

instant pistachio pudding

3

cups

milk
Instructions
With a pastry blender mix together all of the crust ingredients. Spread in 9×13 pan and bake at 350° for 10 to 15 minutes. Cool in refrigerator.

Cream together the powdered sugar, cream cheese, and half of the container of whipped cream. Spread onto the cooled crust.

Prepare 2 packages of pistachio instant pudding according to package directions using 3 cups of milk instead of 4. Pour over the cream cheese layer and top with remaining cool whip.

Chill overnight or for at least 5 hours.
Notes
This recipe can be made with almost any flavor pudding such as banana cream or coconut cream.
Nutrition
Calories:
200
kcal
Carbohydrates:
21
g
Protein:
3
g
Fat:
12
g
Saturated Fat:
5
g
Polyunsaturated Fat:
2
g
Monounsaturated Fat:
4
g
Cholesterol:
21
mg
Sodium:
206
mg
Potassium:
93
mg
Fiber:
0.3
g
Sugar:
16
g
Vitamin A:
418
IU
Vitamin C:
0.04
mg
Calcium:
63
mg
Iron:
0.3
mg