We may receive a commission when you make a purchase from one of our links to sites such as eBay and others. As an Amazon Associate we earn from qualifying purchases. Thank you for support!
Are you looking for apps to help you manage and research your coin collection? Today I thought I would put together a list of the different apps available for coin collectors so you can find one that meets your needs!
The best part? There are coin collecting apps and software programs for almost any operating system!
Whether you are looking for something to use on your iPhone, Samsung or want something on your desktop Windows or Macbook, there's an app for you. I even found some open source apps for you Linux fans out there!
Hopefully this list of coin collecting software programs and apps will help you find something that makes researching and organizing your coin collection fun and easy!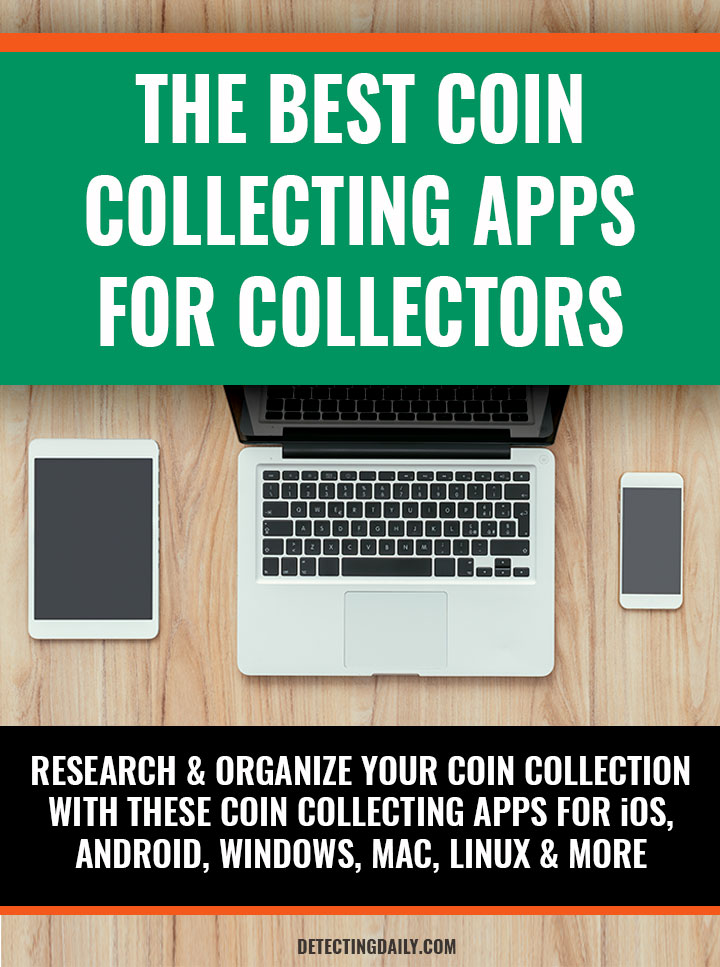 Our Favorite Coin Collecting Apps for Researching & Organizing Coin Collections
---
PCGS Coin Facts App – Android & iOS
The first place to start for any collector of course is to check out the numismatics apps provided by PCGS. PCGS is the industry standard for grading and valuing coins, so you can be confident their information is accurate!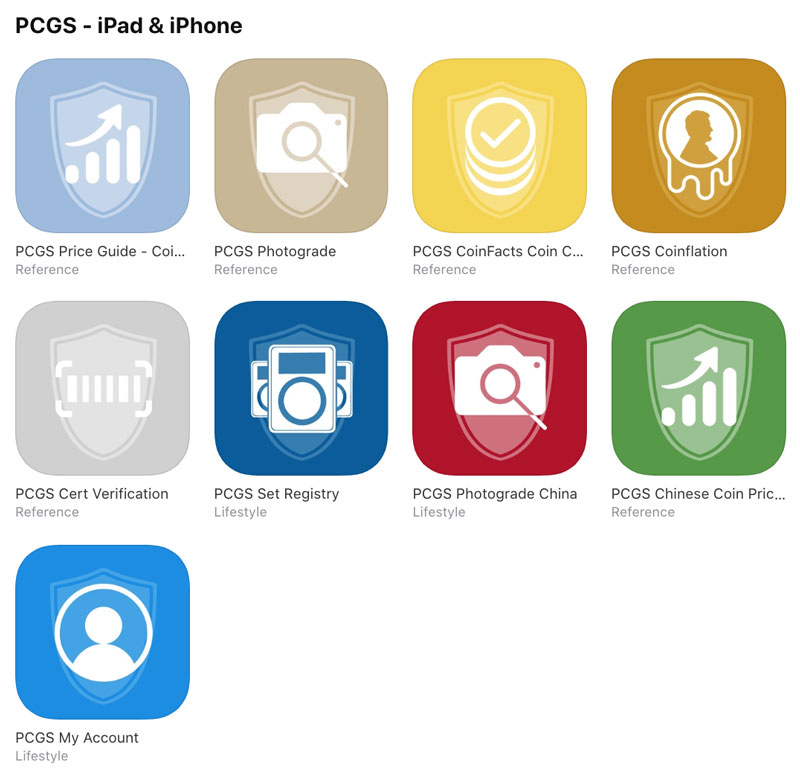 CoinFacts is one of their most popular ones and a nice app in the fact that you can be sure of accurate and up-to-date information on the pricing and value of different coins.
PCGS offers an entire line up of different coin apps, so even if Coinfacts isn't exactly the one you want, you are sure to find others! They provide a nice variety of different coin collecting apps for both iOS and Android phones.
Here is a list of all the apps for numismatics offered by PCGS:
PCGS Price Guide: An app for looking up prices
PCGS Photograde: An app with over 2,750 photos to use for grading and estimating condition of coins in your own collection.
PCFS Coinflation: A great app to access the calculators available at Coinflation.com on the go
PCGS Cert Verification: Verify coins graded by PCGS
PCGS Set Registry: Organize your PCGS registered collections and sets
PCGS My Account: A great way to manage your PCGS account on the go
PCGS Photograde China: An app of Chinese coins with photo references for grading purposes
PCGS Chinese Coin Prices: Easily look up Chinese coins and current values.
---
NGC Coin Collecting App – Android & iOS
The NGC coin collecting app is available both in the iTunes store and on Google Play. This app is created by the Numismatic Guaranty Corporation and offers the ability to look up and verify different coins they have graded.
The NGC census is also helpful because it gives you a rough estimate for how rare a coin you have may be. Rare coins generally are more valuable, so it's helpful to know whether your coin is common or whether it is highly sought after by other collectors.
This app is free, so it's definitely one worth checking out to see if it is useful for you. It is also available in English, Chinese and German.
---
Coin Book Pro by Pocket Soft
Coin Book Pro is an app available for iOS that offers pricing and photos for different coins. Unfortunately I could not find an Android version of this app.
This is a paid app, but it offers a user-friendly interface and is highly reviewed. Being able to look up different U.S. coins and images is always nice!
---
US Coin by SaintSoft LLC – Mac & iOS
If you are an "Apple Person", finding apps for Mac that are also compatible with iPhone and iPad can sometimes be tricky. Fortunately US Coin by SaintSoft is one of those choices!
This was the first app I found for Mac, and it's available as an app for your Macbook. There are also companion app to use on the go with your iPhone or iPad.
This app is helpful not just for research, but also for tracking and managing your own coin collection. This is very useful if you're looking for a digital option to use along with a coin collection spreadsheet!
The SaintSoft blog written by the developer has a lot of tips for using both the desktop Mac and iPhone iOS apps, so if you are considering the software this is a good way to research it to see if it meets your needs.
If you are an Apple person looking for a way to catalogue and research coins in one place it is definitely a good coin collection app to consider.
---
Coin Manage by Liberty Street
Coin Manage is an app by the software company Liberty Street. The app is available for both Windows and Mac operating systems.
If you are looking for a way to keep a database of all of your coins along with the PCGS values, Coin Manage might be a good budget friendly option to consider.
They offer a free trial on their website, so give it a try and if you like it you can always upgrade to the paid version of the software!
One of the features I like about this app is the ability to generate reports. Reports can be a great thing to include in your coin collecting binders!
---
Collector's Assistant by Carlisle Development
Carlisle development offers a variety of coin collecting software both for Windows and Mac systems. They offer Collector's Assistant for managing your inventory of coins, as well as a Lite Version for seniors which offers a simpler interface with the most popular features.
In addition to Collector's Assistant for coins, they also offer Currency Collector's Assistant, which is software useful for managing and tracking currency beyond just coins, such as dollars and other notes.
---
OpenNumismat – Windows, Mac & Linux
If you love open source software, you'll love OpenNumismat. This is a free software program developed to help you manage and organize your coin collection.
This software allows you to organize features of different coins, as well as upload up to 8 different pictures of a coin. You can also create a wishlist and batch edit different coins in your collection.
---
When it comes to researching and organizing your coin collection, there are plenty of great coin collecting apps to choose from. With options for Android, iOS, Windows, Mac and Linux, you are sure to find the perfect coin collecting software that works for you.
Do you have a favorite coin collection app? Maybe you use one that is not on this list of apps – I'd love to learn about it and check it out!
Tell me what software and apps you use to manage and value your coin collection in the comments section below!