We may receive a commission when you make a purchase from one of our links to sites such as eBay and others. As an Amazon Associate we earn from qualifying purchases. Thank you for support!
This recipe for creamy cooked dressing makes 2 cups and is a great option to use in place of a hollandaise sauce over freshly cooked vegetables or can be used in salads such as potato salad or macaroni salad in place of Miracle Whip or mayonnaise.
This dressing is a bit thicker than your typical bottled dressing – some even compare it to being more like miracle whip or mayonnaise. It is cooked over a double boiler to prevent burning. Some people also call this recipe "boiled dressing".
We found this recipe for cooked salad dressing in this vintage recipe box alongside two other recipes for dressing:
We don't know a whole lot about the origins of the recipe box, other than it likely belonged to someone living in Indiana during the 1980's.
In our research, it was difficult to find a good source for where this dressing may have originated.
Many people such as the Iowa Housewife Blog have similar recipes. She could source it all the way to appearing in a church cookbook from 1935 and also said she found it in three other cookbooks she owned.
Either way, this recipe is a good substitute for mayo or miracle whip, and can be used for egg salads, potato salads, or even tuna salad if you wanted.
Here is the original recipe card:
This is the front of the card as it appeared in our vintage recipe box:
And here is the back of the recipe card with directions: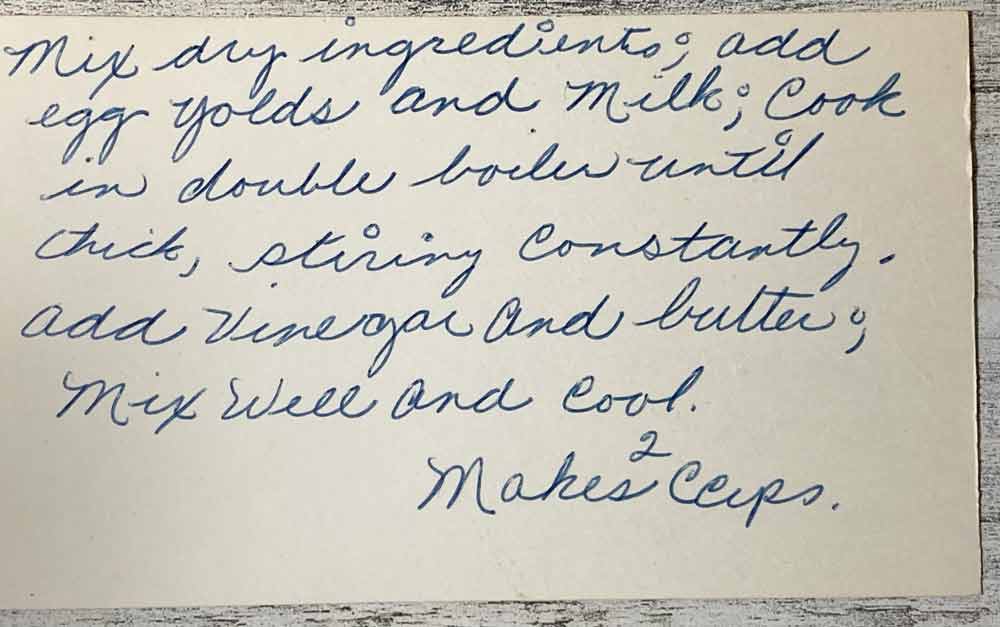 It is written in blue ink on a 3×5 index card. There is one spelling error on the card – you'll see it says "egg yolds" instead of "egg yolks".
A double boiler is a great investment if you do not already have one – you can use them for making all sorts of different sauces and even candy!
To use a double boiler, you'll fill the bottom pan with water and the top pan with the ingredients of the recipe. This prevents the sauce from burning to the pan.
The recipe yields about 2 cups, so if you have any leftovers you will want to be sure to keep them in a sealed glass jar in the refrigerator. It will keep for about a week.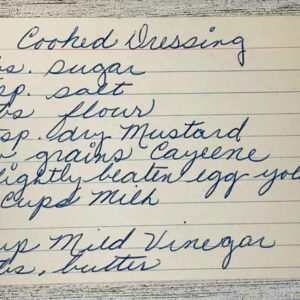 Creamy Cooked Dressing Recipe
This old fashioned homemade creamy cooked salad dressing can be served as a hollandaise sauce or used in place of mayonnaise or Miracle Whip in salads such as potato or macaroni salad.
Ingredients
4

tablespoons

sugar

2

teaspoons

salt

4

tablespoons

flour

2

teaspoons

dry mustard

few grains cayenne pepper

4

slightly beaten egg yolks

1 ½

cup

milk

½

cup

mild vinegar

1

tablespoon

butter
Instructions
Mix dry ingredients; add egg yolks and milk.

Cook in double boiler until thick, stirring constantly.

Add vinegar and butter. Mix well and allow to cool.

Use at once or store in a tightly sealed glass jar in the refrigerator for up to 1 week.
Notes
This recipe can be halved to make 1 cup of dressing.
Nutrition
Serving:
2
tablespoons
Calories:
432
kcal
Carbohydrates:
48
g
Protein:
14
g
Fat:
19
g
Saturated Fat:
9
g
Polyunsaturated Fat:
9
g
Cholesterol:
399
mg
Sodium:
2275
mg
Fiber:
1
g
Sugar:
26
g
I hope you enjoy this vintage find for creamy cooked dressing and of course if you have any questions or try this recipe, we're happy to hear from you in the comments section below!