We may receive a commission when you make a purchase from one of our links to sites such as eBay and others. As an Amazon Associate we earn from qualifying purchases. Thank you for support!
This recipe was titled "Mayonnaiso" and is a recipe for mayonnaise. We are not sure if the misspelling is intentional or simply a mistake, but it sounds fancy to say "Mayonnaiso" so we are leaving it just as that!
We found this mayonnaise recipe in our first vintage 1980's recipe box from Indiana. This recipe appeared with a number of other salad dressing recipes.
If you're looking for a lighter substitute for mayonnaise, you may also want to check out the recipe for Cooked Dressing from the same recipe box.
The recipes are similar, except the mayonnaise recipe includes salad oil as an ingredient, which naturally adds to the fat content of the mayo.
Here is the original recipe card for mayonnaise as scanned: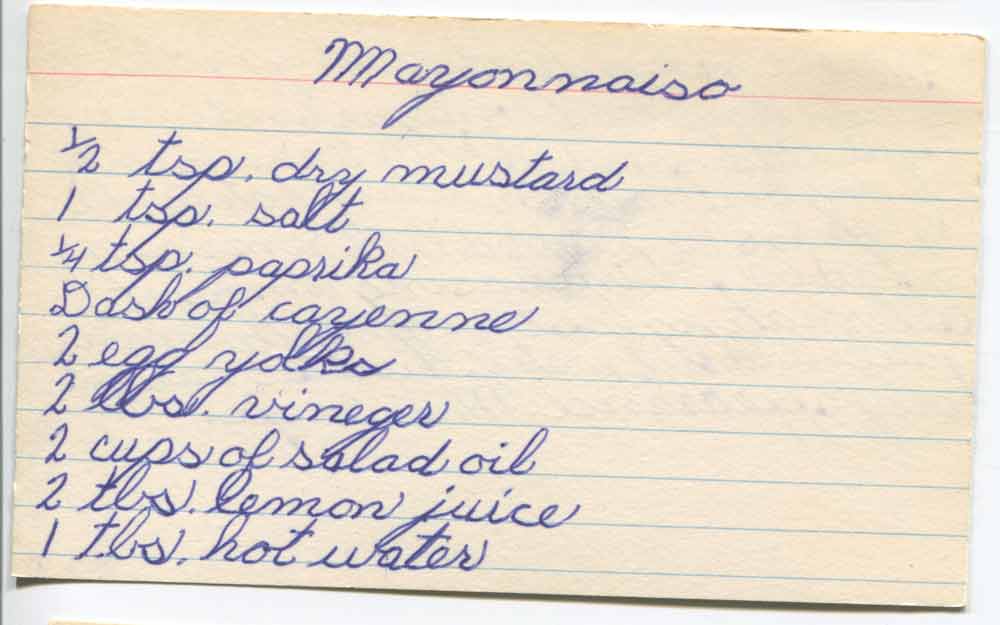 The front of the card is a handwritten list of ingredients.
The back of the card is pretty tight to read, but the directions to make this recipe for mayo is pretty straightforward.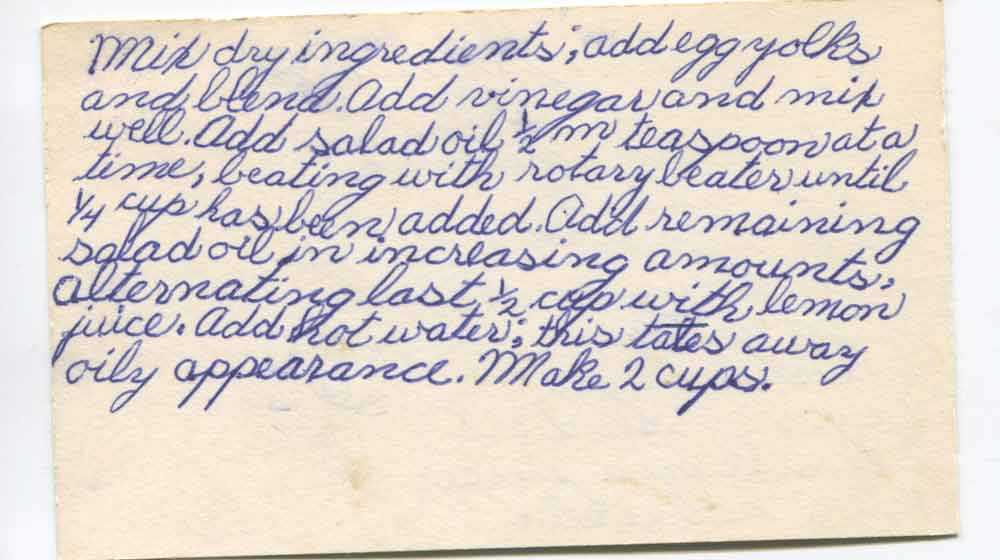 The note of using a rotary beater in this recipe is interesting, because it suggests that the recipe may have been created before the 1950's.
The rotary beater was first invented in the late 1800's. It wasn't until 1953 that Sunbeam patented the invention of an electric hand beater, which is a lot more common in most home kitchens today than rotary beaters!
It is so interesting and fun to look up the different history about foods and cooking equipment through the years. Of course, the more we try to find the original source of this recipe, the more confusing it gets!
MANY people have a similar recipe on their website with nearly identical ingredients, usually attributing it to being their mother's or grandmother's recipe. It's quite possible this recipe may have published in a popular cookbook at some point, but it's difficult to pinpoint exactly which one.
As far as we know, this is the ONLY recipe for "mayonnaiso" in the whole wide world. It's that handwritten charm that makes me love this hobby of collecting old cookbooks and recipe boxes and kitchen ephemera so much!
What to Do With Mayonnaise?
Mayonnaise is a pretty versatile "salad dressing" – and it's frequently a main ingredient in salads such as potato salad, macaroni salad, tuna salad and more.
Some people like to use mayonnaise as a spread on sandwiches. While I don't mind it being mixed in with salads, I am definitely a "hold the mayo" kind of person for sandwiches.
Perhaps the most interesting possible use for mayo is in recipes like chocolate cake. The mayo is often attributed to increasing the moisture of the cake, making it less crumbly.
I usually don't keep mayonnaise on hand in my pantry because we don't eat it very often…so I like having this recipe so that if I do need mayo I can pretty easily whip up my own whenever needed!
Important Note: This is an older recipe which is not cooked and includes raw eggs! To quote the health department and what you'll see on every restaurant menu: "Consuming raw or undercooked meats, poultry, seafood, shellfish, or eggs may increase your risk of food-borne illness, especially if you have certain medical conditions."
If you are concerned about consuming raw eggs, you may wish to stick with store made mayonnaise brands, which have undergone the pasteurization process for food safety.
Another option, if you really, really, really want to try this recipe but are worried about salmonella risks is this process by Epicurious that involves pasteurizing the egg yolks in the microwave without cooking them.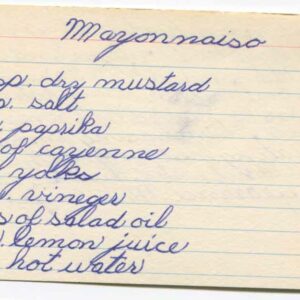 Mayonnaiso – Recipe for Mayonnaise
This old-fashioned homemade recipe for mayonnaise can be used in a wide variety of salads and baking or as a sandwich spread.
Ingredients
½

teaspoon

dry mustard

1

teaspoon

salt

¼

teaspoon

paprika

⅛

teaspoon

cayenne pepper seasoning

2

egg yolks

2

tablespoons

vinegar

2

cups

salad oil

2

tablespoons

lemon juice

1

tablespoon

hot water
Instructions
Mix together dry ingredients; add egg yolks and blend.

Add vinegar and mix well.

Add salad oil 1/2 teaspoon at a time, beating with rotary beater until 1/4 cup has been added. Add remaining salad oil in increasing amounts; alternating the last 1/2 cup of oil with lemon juice.

Add hot water – this takes away the oily appearance.
Nutrition
Serving:
1
teaspoon
Calories:
43
kcal
Carbohydrates:
1
g
Protein:
1
g
Fat:
5
g
Saturated Fat:
1
g
Polyunsaturated Fat:
1
g
Monounsaturated Fat:
3
g
Trans Fat:
1
g
Cholesterol:
4
mg
Sodium:
24
mg
Potassium:
1
mg
Fiber:
1
g
Sugar:
1
g
Vitamin A:
8
IU
Vitamin C:
1
mg
Calcium:
1
mg
Iron:
1
mg