We may receive a commission when you make a purchase from one of our links to sites such as eBay and others. As an Amazon Associate we earn from qualifying purchases. Thank you for support!
When it comes to digging up targets when metal detecting, having the right tools makes all the difference! Today I wanted to share some of my favorite digging tools when metal detecting and how to choose the best metal detecting shovel for what type of location you may be scouting.
The type of shovel you use while digging up targets when metal detecting is greatly going to depend on where you metal detect. A lot of different metal detecting locations have different soil conditions, so that is the biggest factor.
There's a big difference between digging in sand vs. digging through packed clay soil full of tree roots and rocks! Today we'll take a look at some of the best shovels and digging tools to use while you are recovering targets found while metal detecting.
---
Best Digging Tools for Metal Detecting​
---
Our Top Picks for All Purpose Metal Detecting Shovels
When making this list, we choose to share only products we ourselves have personally used or know very close friends who swear by these items. Getting the name brand for tools definitely makes a difference – because trust me when I tell you there is nothing worse than a tool breaking while you are trying to dig up a good target!
---
Popular Pick: Lesche Standard Digging Tool and Sod Cutter
The Lesche digging tool is by far one of the most popular and industry standard shovels for metal detecting. While it may not look much like a shovel, this tool is excellent for digging plugs and metal detecting on land where it's important to not leave evidence you were ever there.
The fact that you can get one for less than the cost of a nice dinner out makes it a very affordable and wise investment! Of course, this tool does require a lot of bending over and time on your knees. If that is something that might be an issue, don't worry, we have options for you!
---
Back Friendly & Powerful: Lesche Sampson T-Handle Shovel
If you like the idea of being able to dig targets without getting on your hands and knees, this Lesche T-Handle shovel is another great metal detecting shovel to consider.
This shovel is ideal for clay soil or areas where you might come across roots or stubborn packed down dirt.
Constructed of heavy-duty material and lightweight at only 4 lbs, it is not a bad option to consider, especially if you are looking to minimize the amount of time you spend bending over on your knees.
Many people have reservations using this shovel when metal detecting because it definitely is bigger and a lot less discreet. However, you'll soon find that it's lightweight and really doesn't add onto much bulk – and the time it saves while digging is well worth it!
---
Compromise Between Both: The Mini Sampson
If the idea of a 31″ shovel seems too much, another popular choice is the 18″ Lesche Mini Sampson digging tool. This has all the great features of it's big brother, but much smaller and a bit more compact.
Of course, since this mini shovel is only 18″ tall, this does mean you will have to do some bending over and spend some time on your knees. However, it is lightweight, and this might be a good thing if you are adventuring deep into the woods or fields.
---
Top Picks for Beach and Sand Metal Detecting Shovels
Now that we've looked at some of the best multi-purpose shovels for digging up targets, it's time to talk about metal detecting at the beach. Beaches have sandy, sometimes rocky soil, and it can be tough to sift through the sand and find things – especially when objects are small or caked with wet sand.
If you are metal detecting in areas where the soil is very sandy, such as the beach or even in some coastal regions away from the water, you will likely want to have a good sand scoop.
---
Recommended Pick for Beach Detecting: The RTG Aluminum Sand Scoop
The RTG Aluminum sand scoop is most definitely the best choice for anyone who wants to do some serious detecting. First of all, it is made of aluminum, so will not rust and is much more lightweight compared to its stainless steel cousins.
The long 40″ handle also is a great choice to save your back and hands from repeated digging and bending over. The high quality and ease of use of this long handled scoop makes it easily worth every penny.
---
Runner-Up Best Sand Shovel: Garret Sand Scoop
Garret is a trusted brand and manufacturer of metal detecting equipment, and this heavy duty galvanized steel sand scoop is certainly one to consider if you want to start small or will be digging directly under water and a handle would be cumbersome.
This scoop does have sharp edges – specifically to make it easy to cut through wet sand, so this is important to know this and use some caution. Wearing a good pair of gloves in recommended!
We recommend always getting a metal sand scoop over the plastic inexpensive scoops. You will find the metal sand scoops are far more durable and will hold up a lot better to rocks and wet sand, which gets heavy.
---
What to Look for to Choose the Best Metal Detecting Shovel for You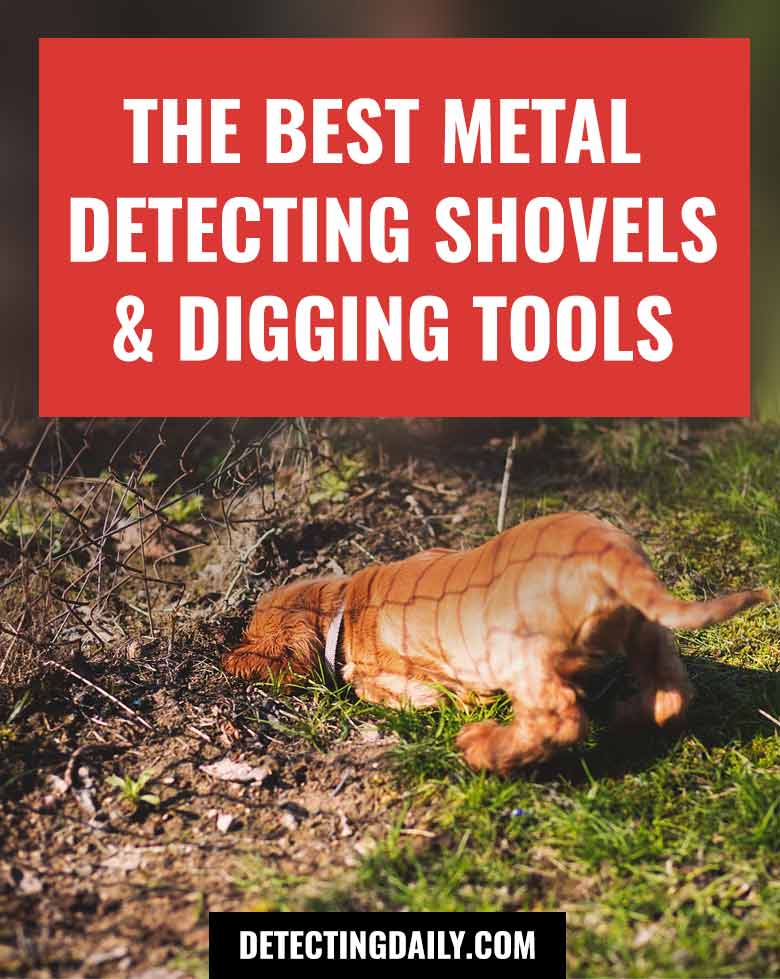 There is no "one best" tool for digging, because everybody is different! Someone with a bum knee from an injury years ago for example may prefer something that doesn't require kneeling in the dirt.
Others might find the areas they go metal detecting have a lot of obstacles, like tree roots, rocks, and packed down dirt. If you do a lot of detecting in areas like state parks or playgrounds, you'll want to use a tool that doesn't make a mess and won't leave holes.
Questions to Ask When Choosing Digging Tools
---
What is the Ground Like Where You Will Be Metal Detecting?
If you're in rocky terrain, you will want a shovel that is good for that type of digging condition.
Likewise, if you're at the beach, you're going to want a reliable sand scoop that can make it a breeze to sift through wet sand for targets.
What are Your Physical Limitations and Requirements?
Personally, I am not too keen on carrying anything too bulky or heavy far distances. My husband did a lot of professional hauling and moving work, but after 2 surgeries for hernias, he's not exactly thrilled at the notion of anything heavy either!
If you have back pain or knee pain, you may want to consider these things as well. You might prefer something that doesn't require bending over or kneeling on the ground.
Even if you're a young and athletic like we once were, it's always a good idea to choose tools that will not cause a lot of strain – because it will catch up with you in 10-20 years, I promise!
What is Your Budget?
If you've been metal detecting for any length of time, you know how quickly you could spend a fortune on this hobby if you are not careful! Fortunately, there are a LOT of great affordable options to start out with – you can always upgrade as you gain more experience.
I've found it's best to save up and invest in high quality tools that will last a long time rather that use cheap tools that might break or rust. If there's something I want, I will put aside some cash to be able to buy it within a few months. Doing this makes it easy to get the right tools you need without putting too much stress on your budget.
---
Shop Metal Detecting Shovels and Digging Tools
When it comes to digging up targets while metal detecting, there are a lot of great shovels and digging tools to consider. Going with a trusted manufacturer and investing in high quality tools is sure to last you for many years of treasure hunting.
---
Share Your Thoughts
Do you have a favorite metal detecting shovel you love using? Is there anything we would check out that might not be on the list? What types of digging tools do you find to be useful?
Share your thoughts and experiences in the comments section below!