We may receive a commission when you make a purchase from one of our links to sites such as eBay and others. As an Amazon Associate we earn from qualifying purchases. Thank you for support!
Finding antique stores and flea markets locally can be a challenge, but thankfully there are tons of great online antique stores where you can find all kinds of wonderful vintage items for a great deal.
Best of all, unlike a traditional flea market, you won't have to worry about parking or haggling over prices!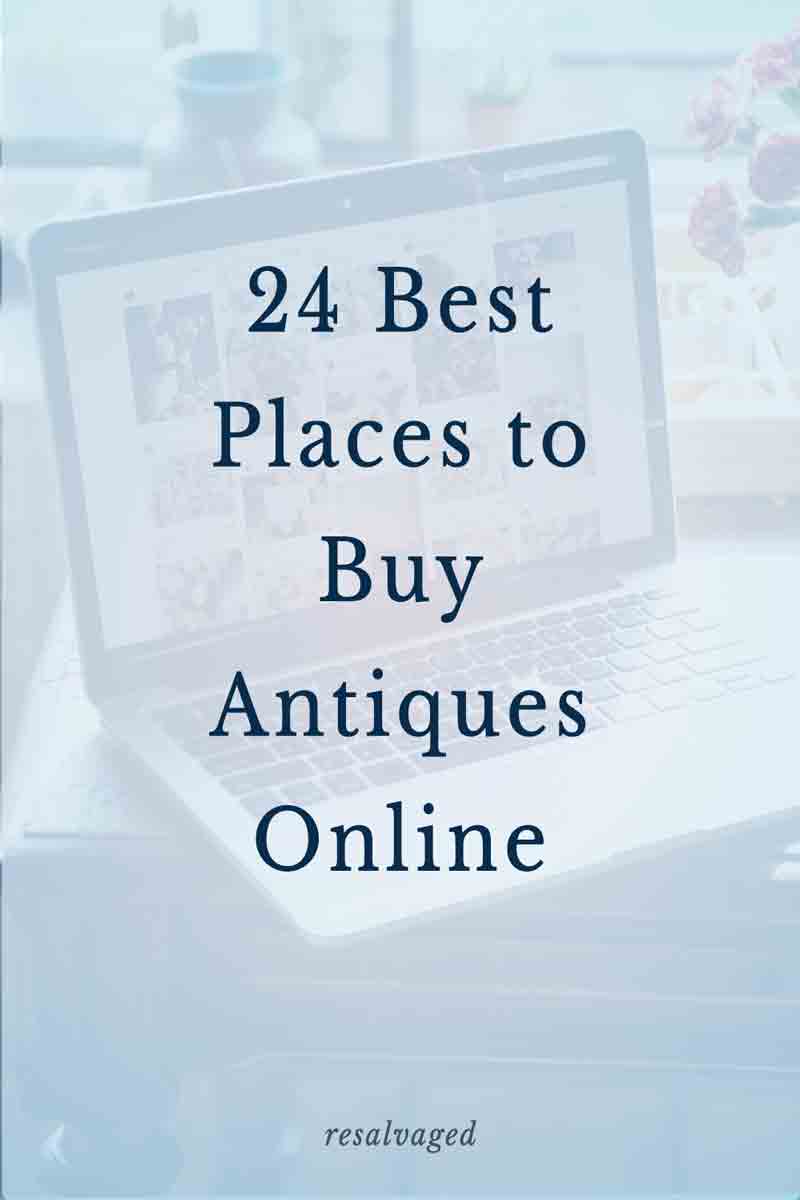 Here are some of my favorite online flea markets and antique stores to shop online:
1. Etsy
Etsy technically isn't an antique store, as its an online marketplace, but you sure can find a LOT of great antiques here! There's tons of stuff from vintage ephemera to housewares to even Victorian furniture pieces.
To find antiques on Etsy, simply search in the search bar for whatever it is you are looking for. You can find all kinds of great stuff!
---
2. RubyLane
RubyLane is another awesome online antique store to check out. They are a great place to check if you are looking for antique pottery, art, jewelry and other collectible items.
I took a short look through their Porcelain and Pottery category to see they have over 10,000 items listed!
---
3. eBay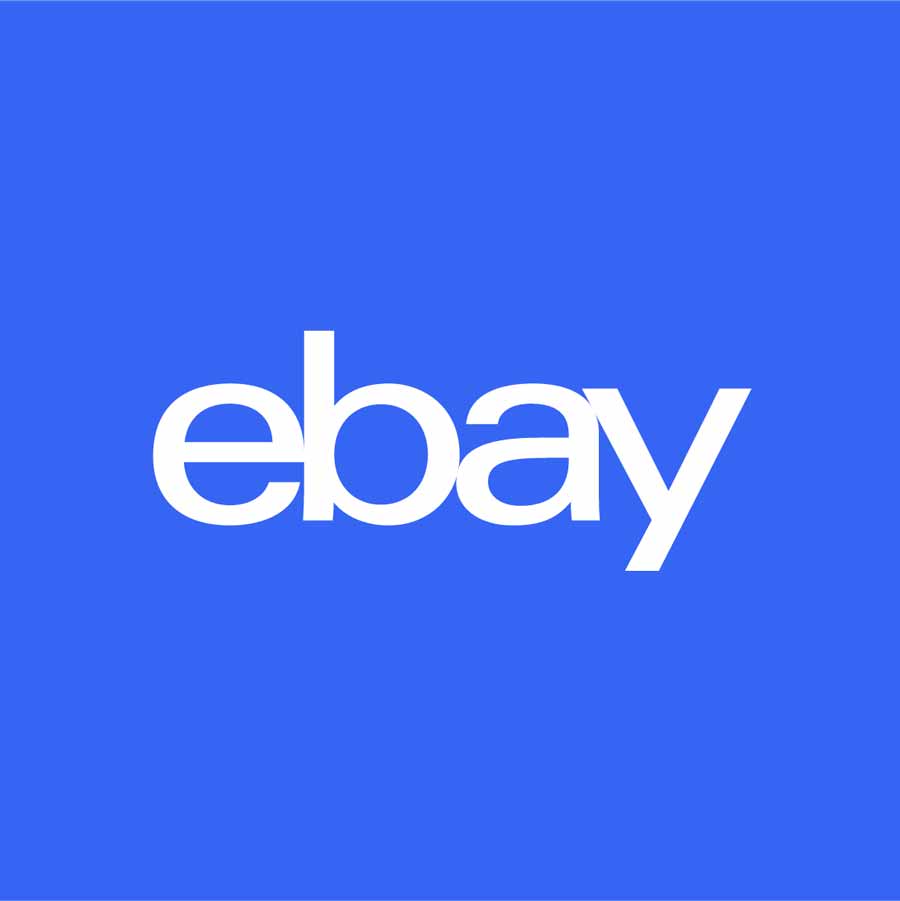 What is a list of antique stores and online flea markets without mentioning eBay? Of course you know of eBay – they've been around since 1995 and are one of the oldest long-standing online retailers for antiques and collectibles.
eBay offers many items for sale as an auction, but there are also many items that are listed as Buy It Now items if you hate the suspense of bidding on something.
eBay is probably my favorite online source for vintage ephemera and collectible books – My Victorian Scrapbook, Vintage Needlework Magazines and even my 1926 Book of Knowledge Encyclopedia set were all great scores from eBay!
In addition to ephemera, I also shopped eBay to buy my 1947 Singer 201 sewing machine and an awesome set of vintage weaving looms.
If you're looking to collect coins, baseball cards, or household items, you're sure to find it on eBay.
---
4. 1st Dibs
If you're looking for something unique, 1stDibs is a great place to find it!
They have highly curated collections and vetted vendors, so if you find something you like here you can be confident in it its authenticity!
They have everything from art to furniture to other high-end collectibles and you're sure to find some great stuff.
---
5. Chairish
Chairish is a play on the word cherish and no doubt you are sure to find some things here that you like! This is another website very similar to 1stDibs.
They have great selection so if you are looking for something unique or specific, be sure you check here as well!
6. Tias.com
Not many people know of Tias.com but it's one of the internet's best kept secrets as a source for antiques and vintage, especially if you are looking for a specific type of collectible. They have a TON of great vintage and antique advertising items!
They've been around nearly as long as eBay and are a great source for all kinds of things, so if you haven't shopped here before be sure to check it out!
7. Go Antiques
GoAntiques.com is another great source to check out for various antiques and collectibles.
They have a decent variety of different things and you'll find this online antique store is a bit more budget friendly as they offer common antique items and collectibles.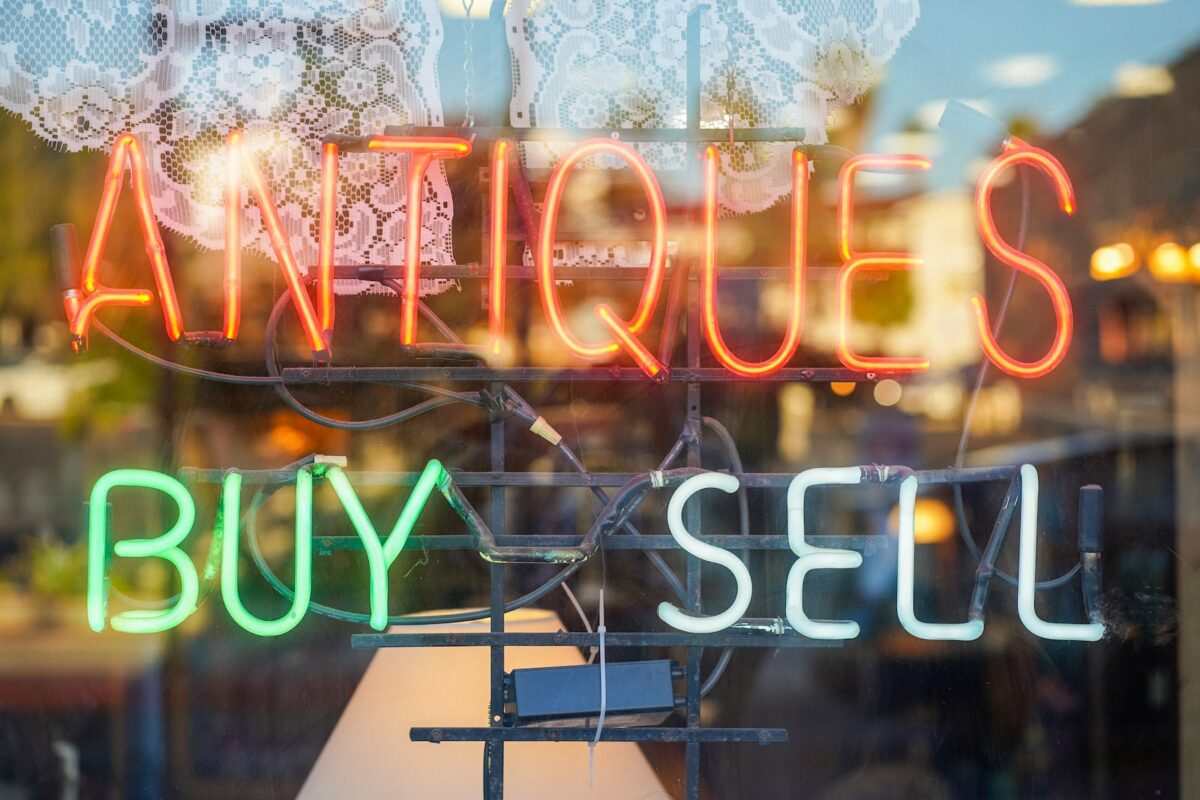 8. Old Good Things
Old Good Things is an antique store with locations in New York, L.A., and a massive warehouse in Scranton, PA. Unlike a lot of the online antique stores in this list, this one is not a marketplace but just one seller.
They have a wide variety of different items available to purchase online and are a great source for hardware and antique salvage. They even have a whole category dedicated to Altered Antiques, which is right up my alley!
9. Shop Goodwill Online
Most of us are familiar with Goodwill thrift stores throughout the country, but did you know you can also shop Goodwill online?
Their online shop features their special finds of hand-selected items from all of their stores and you're sure to find antiques, vintage and more!
10. Everything But the House
Everything But The House is an online auction site that is more like an estate sale than an online antique store, but you are sure to find some great finds here!
They focus on unique vintage and antique items and all of their auctions start at just $1 so there are some great deals to be found!
11. Mercari
Mercari is not specifically an antique marketplace, but I know many eBay sellers who have started selling there as well with great success. I've also had a lot of luck here finding hard-to-find items from the 1980's and 1990's.
While they don't have nearly as much volume on high-end antique items as the many other online flea markets on this list, they DO have an awesome selection of all kinds of vintage items like dishes, housewares, decor items, collectibles and more so they worth a look!
If you're on a budget and looking for antique or vintage, Mercari is a great place to shop!
12. Soethby's
Soethby's is the ultra-luxurious online antique marketplace and one of the world's most famous auction houses for high-end goods and collectibles.
While I sadly don't have it in my budget to buy most of the stuff they sell, if you are a bazillionaire, this is your best bet.
Even if you're just a poor schlep like me, it's super fun to window shop and dream here. As a book collector, I especially enjoy looking through their rare manuscripts and first edition book collections!
13. Hart Mercantile Goods
Hart Mercantile Goods is a Wisconsin based antique store with a great online shop to browse and buy from. They have an awesome selection of all kinds of things you can use for decor and more.
I haven't bought anything here yet, but they are definitely one to bookmark and check out while shopping for vintage and antiques!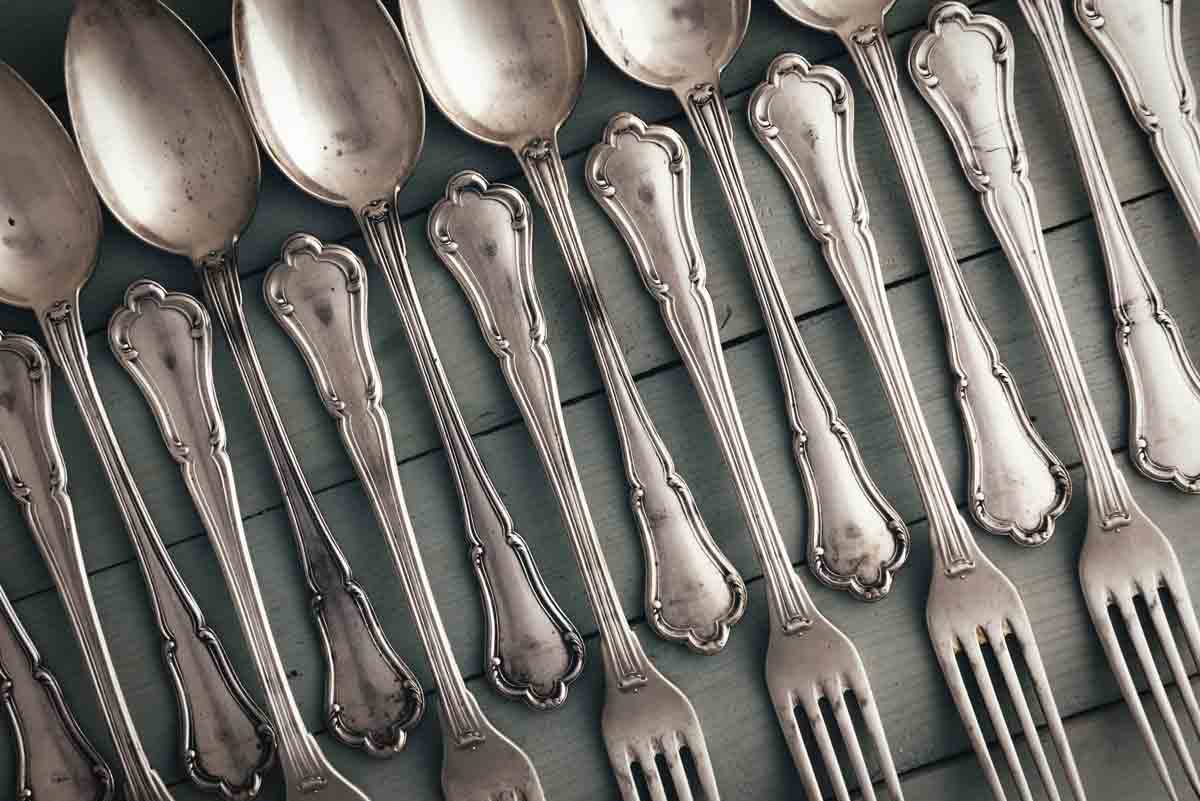 14. Replacements
Replacements LTD is an online store that has specialized in replacement dishes, silverware, and other hard to find items since the 1980's.
If you are a silverware or glassware collector, you are sure to find some great finds here – even if you aren't necessarily looking to replace something that's broken or missing! I've had great luck here finding things to complete sets that would ordinarily be miss matched!
They also have a good variety of estate jewelry and much more, so it's definitely a fun site to check out and browse to shop for antiques online!
15. Modern Antiquarian
Modern Antiquarian is the online antique store of Margaret Schwartz, who has a fabulous eye for design and antiques. If you are looking for unique, one of a kind decor items and furniture items, you are sure to find some great items here! I'm definitely adding it to my watchlist!
16. French Metro Antiques
French Metro Antiques is an antique store based out of Fayetteville, Arkansas. They import French antiques as well as offer 17th, 18th, 19th, and 20th century collections. There are so many pretty pieces here!
17. Bonanza
Like many marketplaces that try to rival eBay, Bonanza is your average online flea market that has a little bit of everything.
While they don't have a huge selection of high-end antiques, you will find some fun quirky things here and most stuff is priced very affordably.
It's not my favorite shop online, but if you are looking for something very specific and haven't found it elsewhere, it never hurts to try!
18. Offer Up
I first learned about Offer Up several years ago when my friend was selling her son's toys on the app and her phone kept on dinging every time someone bought something.
While the app is not the kind of online flea market that will ship to your house, it does make finding local antiques and flea market items MUCH easier!
19. Facebook Marketplace and Antique Buy/Sell Groups
I know that it's hard to think of Facebook as an online antique store, but there are so many antique buy/sell groups plus local listings that many times if I'm looking for something specific I will look there.
While most of the things you find there will be local pick-up only, there have been a few times where I've bought stuff and had it shipped to my house so it is totally possible!
Also, don't forget to check specific buy/sell groups and not just the marketplace. A lot of great groups exist for buying vintage ephemera, coins, and more!
20. Craiglist
Of course, we also can't neglect to include Craiglist as an online flea market site as well. While Craigslist is technically a classified ads website, there are TONS of people who still use it to buy antiques, collectibles and more.
While most items here will be local pick-up only, more and more sellers on Craigslist have learned the many benefits of accepting payments online and delivering items.
I was absolutely THRILLED when I recently asked about some interesting rare vintage Lego minifigs I wanted to buy for my brother and the seller not only accepted PayPal but delivered them to my door!
There are also many local antique dealers and vendors who will list things on Craigslist, so it never hurts to check there as well if you like to look for stuff online!
21. Elsie Green
If you love decorating with antique and vintage, you're sure to find tons of design inspiration at Elsie Green along with all kinds of antique furniture items and decor.
They are based in California with a physical shop but you can also buy things online here and they have some really beautiful home decor items!
22. M.S. Rau Antiques
M.S. Rau Antiques is another great high-end antique shop online that specializes in rare and unique items.
Founded in 1912, they are based out of New Orleans and a fourth generation family owned business.
23. The French Antique Store
The French Antique Store is based in Europe, but they do ship internationally whenever possible! They have a fabulous selection of hand-picked French antiques so this could be a great source for things you may not find elsewhere!
24. Love Antiques
LoveAntiques.com is another Europe based shop in the UK. If you are in the UK this is an awesome option to explore with over 30,000 antiques and 400 verified dealers!
---
I hope this list of online antique stores and flea markets is helpful for you and that you find all kinds of awesome treasures!
Do you have any favorite shops or sites not on this list? Let us know in the comments below where you like to shop online for antiques, vintage and collectibles!