We may receive a commission when you make a purchase from one of our links to sites such as eBay and others. As an Amazon Associate we earn from qualifying purchases. Thank you for support!
Today I am so very excited to share The Keystone Tall Tree Girl Scout Council Cookbook from 1987 that has been in my Mom's collection since it was first published.
This fundraising cookbook is what I consider the gateway cookbook that led me to collecting fundraiser cookbooks in the first place.
Where Did This Cookbook Come From?
I was in Girl Scouts as a kid and so for 32 years of my life, I really thought my mom had bought this cookbook as a fundraiser for my own troop. But after talking to her to get the story about it last night, that actually is NOT the case!
Apparently, this cookbook was never even my mom's originally. My grandma bought this cookbook when it was first published in 1987. When my grandma died in 1989, this is one of the cookbooks in her collection, along with other great favorites like Cookie Cookery that my mom was sure to save from the estate.
And then, to make things more interesting – apparently my aunt on my Dad's side of the family also has this same cookbook.
While it's not clear whether my grandma bought it from my aunt as a fundraiser for my cousin's troop or from someone she worked with as a fundraising cookbook collector, this makes this specific cookbook even more special than it already was! (In my eyes, anyways…lol…we already established I am crazy for collecting these, right?)
And while I definitely was a Girl Scout around the time the cookbook was published, I actually was technically in a different county, and a different council, as the Keystone Tall Tree Girl Scout Council was more of the north east region of Pennsylvania, going from Butler County up to Oil City area.
Here's a map of their coverage area that was thankfully included in the cookbook: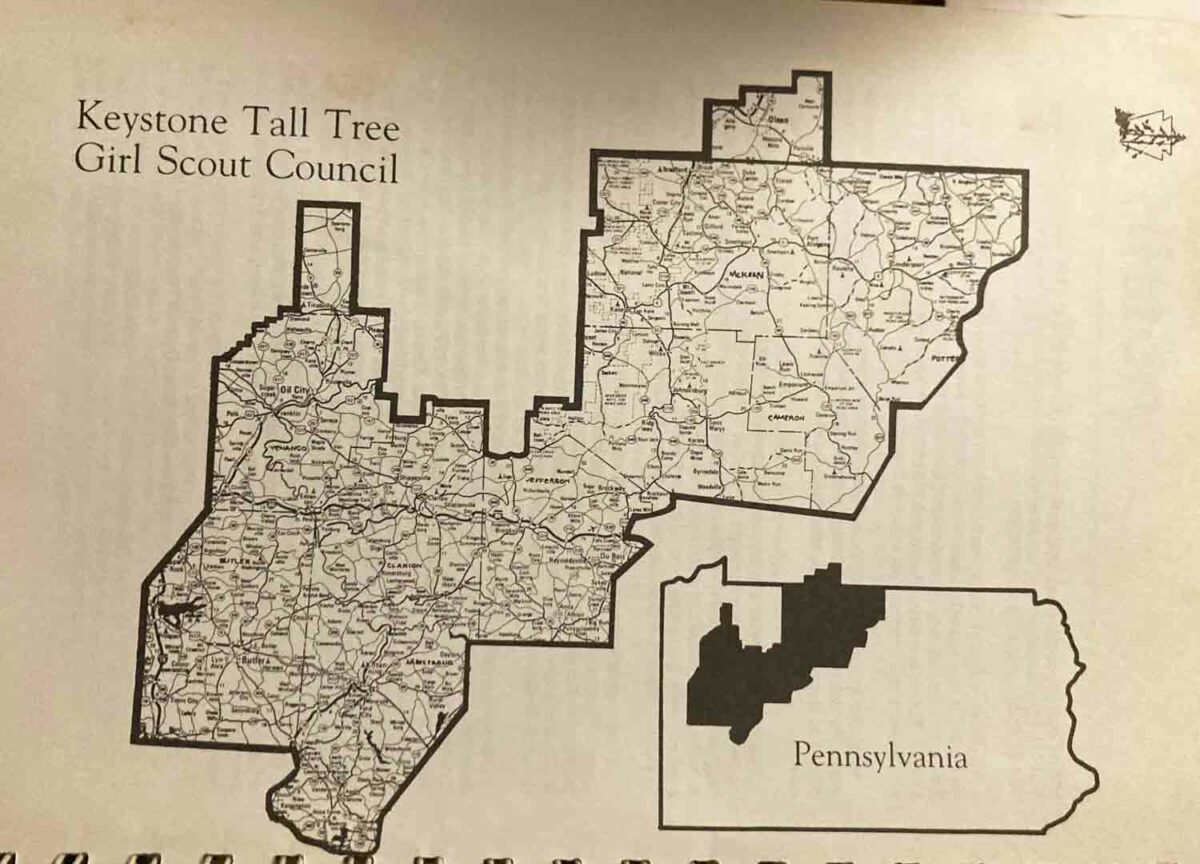 The Keystone Tall Tree Girl Scout Council has since been rezoned + changed over the years, and so most of this area is actually now part of the Western PA Girl Scouts Council, which is the council I was in back at the time of this cookbook being published.
This is another argument, by the way, for why these fundraising books are so great for historic research and preservation!
A Look Inside This Cookbook
This cookbook was published in 1987 and was celebrating the 75th anniversary of Girl Scouts then. It's pretty remarkable to think that Girl Scouts have been around for over 110 years!
The cookbook has a history section in this cookbook is exactly why I love cookbooks like these, because they often contain information that would be very, very hard to source and find online today.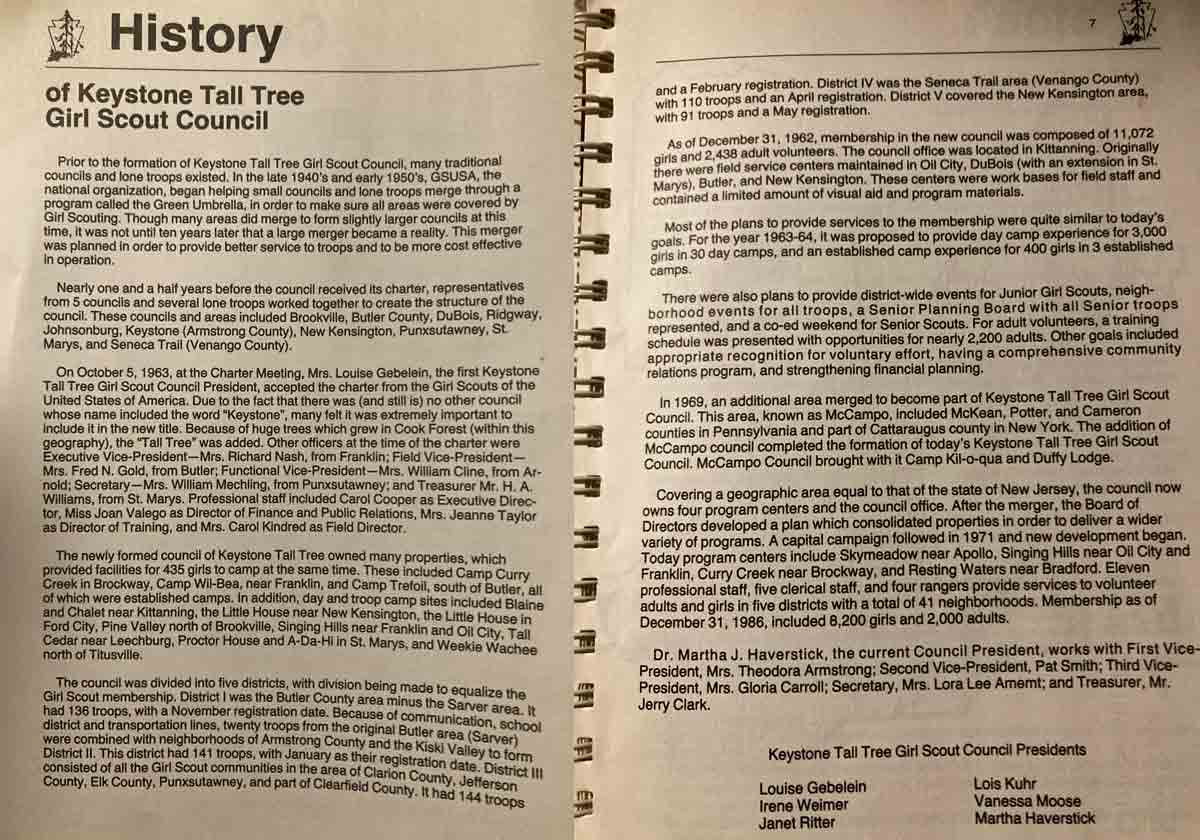 There's a lot of great information here about the council and girl scouts in general – so I may even have to get some of that info online here since I'm sure there are many people who be interested in that kind of stuff for family history and documenting their own Girl Scout memories!
According to the history section in the cookbook, membership of the council as of December 31, 1986 was over 8,200 girls and 2,000 adults, and so that's something to think about from a history/archivist perspective as well – that's nearly 10,000 people!
The cookbook also talked about some of the camps in PA…which sadly, heartbreakingly, were sold in 2017.
I would have loved to have bought one + we actually looked kind of seriously at one but the properties were severely neglected and in need of major repairs.
The only people who'd ever be able to buy a property like that would be a development corporation or maybe just some lucky rich person with like $2 million cash just kind of laying around in your back pocket.
Favorite Recipes From This Cookbook
My mom used this cookbook pretty regularly and one of the things she always did was make notes on the recipes she tried in it. If it was a good recipe, it got a checkmark.
Some of the recipes in the cookbook she tried were not good, and so in those cases she usually wrote "Yuk!" on them. (I forgot to snag a picture of those pages…maybe next trip to her house!)
As is the case with many fundraising cookbooks, there are usually often many recipes for the same thing or with similar names, even though the ingredients, measurements and baking times all vary for them.
This particular cookbook has multiple recipes for Sugar Cookies, so my mom actually took notes on the different ones she tried, what year, etc. See those check marks!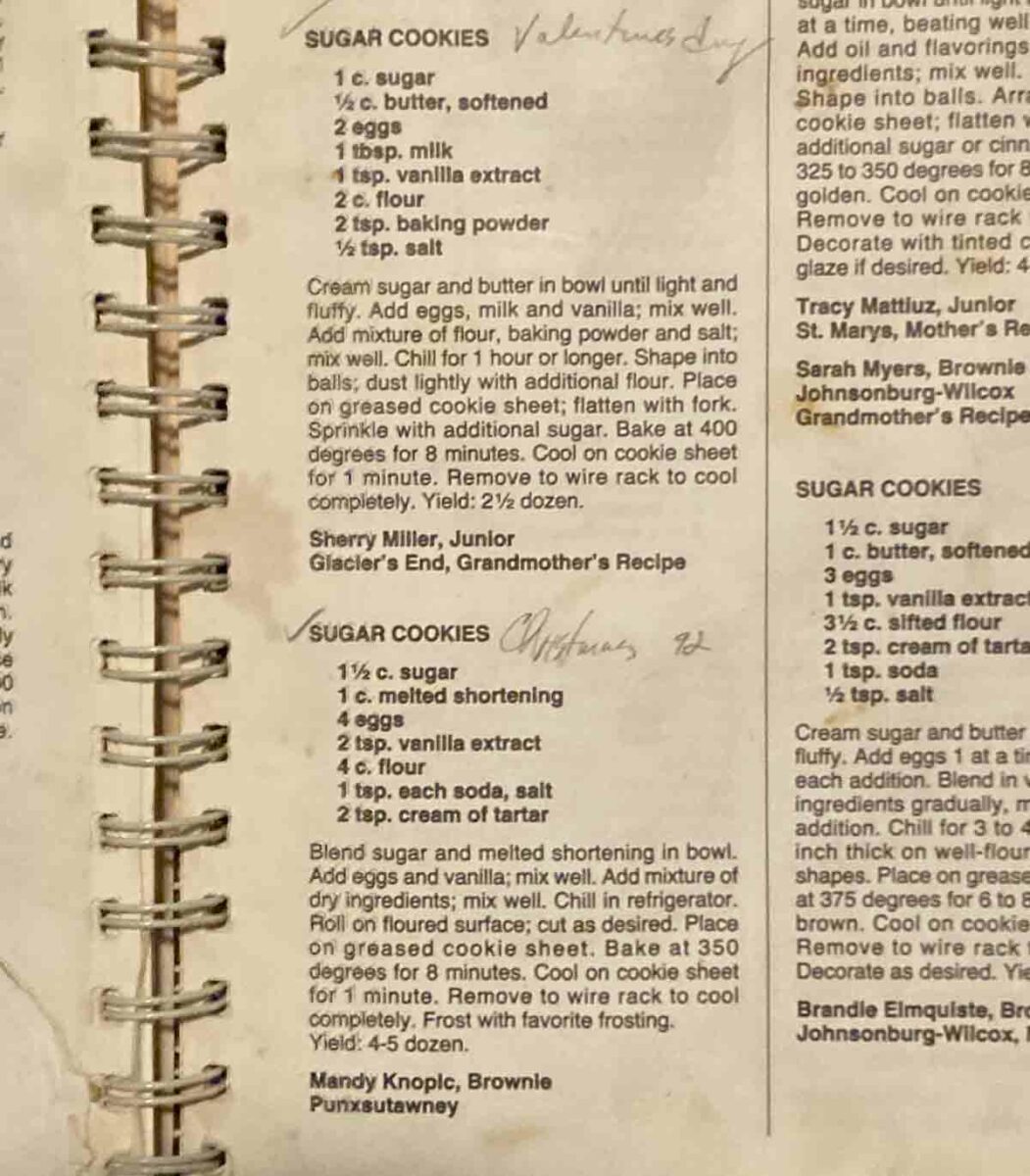 One she made for Valentine's Day cut-out sugar cookies, and another one she used for Christmas in 1992 + has been making specifically only for Christmas ever since.
Why we wouldn't use the same sugar cookie recipe for both holidays neither of us have no idea, but this is what she wrote and so is just how she's done it forever, since 1992 at least, for whatever reason.
Our *best guess* is it's because the heart shaped cookies are a little bigger and thicker than the ones we make for Christmas and don't have any detail and so maybe one over the other stays together better or doesn't run or doesn't burn or doesn't fall apart for the detailed intricate cookie cutters vs. big plain shaped ones…who knows really, but it's fun to let our imaginations try to piece it together logically!
The other go-to recipe in this cookbook was the one for Snickerdoodles.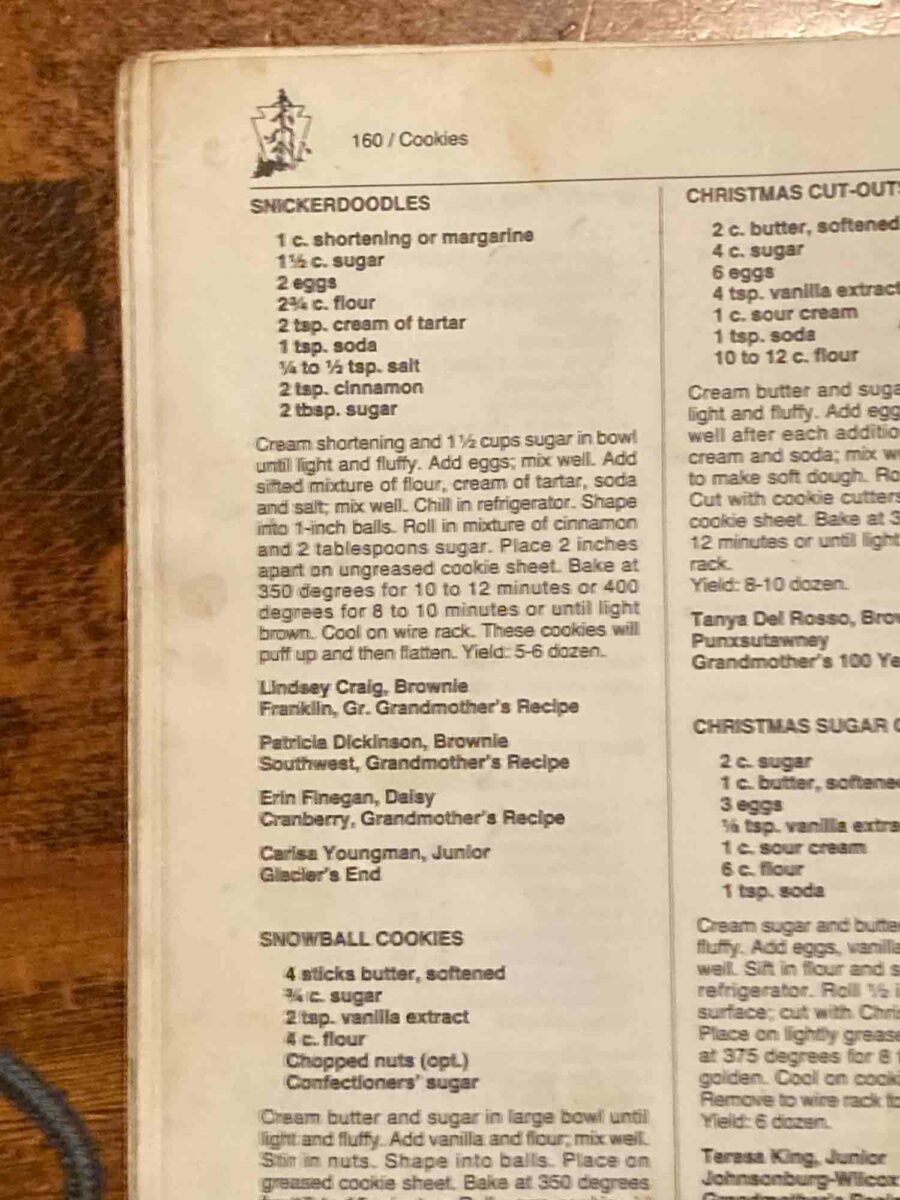 This recipe stands out in my mind a lot as a kid, because we were making this recipe and it was the first time as a 7 year old that I'd ever heard of such as a thing as cream of tartar – I remember worrying it was tartar sauce like you'd put on a fish. (Now that would really be Yuk!)
Thankfully, not the same kind of tartar. It's also obviously a very good recipe because not one, not two – but FOUR different people submitted it – I think we can be pretty confident it's a winner.
---
While this cookbook already is pretty special in my eyes because it was the gateway cookbook that caused me to be crazy enough to collect fundraising cookbooks in the first place, AND it turned out to be my grandma's cookbook AND my aunt also has this cookbook, being connected to girl scouts is another reason I like it as a collector.
I absolutely loved Girl Scouts as a kid and stayed in it all the way until I was in high school, mostly because we had such amazing troop leaders. So many good memories there, so even if I didn't already have this cookbook I can assure you I would have nabbed it up at a yard sale in an instant.
Who knows? I may still keep a lookout for a copy, since this one is my mom's, it kind of would be nice to have one of my own…
Anyways, yes, this is the gateway of collecting fundraising cookbooks for me. Crazy, sure, but I love my collection and it's totally fun and interesting for me to not only have great recipes, but also think about the people who come together to make these cookbooks possible.
Do you have this cookbook? Do you have any friends or family members who were connected to the Keystone Tall Tree Girl Scout Council in Western PA? I'd love to hear from you in the comments below!