We may receive a commission when you make a purchase from one of our links to sites such as eBay and others. As an Amazon Associate we earn from qualifying purchases. Thank you for support!
This recipe is titled "Rave Reviews Coconut Cake" and was found in our Vintage Floral Recipe Box, alongside with the recipe for Coconut Cream Cheese Frosting, both attributed to being from Becky Brewer.
It is a three layer coconut cake, and is a nice easy recipe to make thanks to the use of boxed cake mix. If you're intimidated by making a three layer cake, don't be! It's a lot easier than you might think and we cover the step by step tips to make sure your cake turns out beautiful!
While we don't know much about the owner of the recipe box, I have noticed a pretty big theme that a LOT of the recipes contain coconut in some way or another!
Here are some of our other Coconut Recipes From This Box:
And that's just the beginning of some of them! I've found a lot more that I am currently working on adding to our Vintage Recipe Archive here!
How to Make Rave Reviews Coconut Cake
This cake is easier to make, thanks to the use of boxed cake mixes! It is a three layer cake, and if that sounds intimidating don't worry – it's actually a lot easier to make a three layer cake than you might think!
Basically, all you need is your favorite brand of boxed yellow cake mix, a package of vanilla instant pudding mix, water, eggs, oil, coconut and chopped nuts.
It does not specify what type of nuts to use, but I would imagine almonds or pecans would be delicious! Walnuts would probably work as well if you prefer those.
The directions for making the cake are also very simple:
One thing this recipe does not really go into a lot of detail about is how to assemble a layer cake. If you've never made a layer cake, do not be intimidated, it is really easy!
How to Assemble a Three Layer Cake
Assembling a three layer cake is not as hard as you might think. The first thing to do is after the cakes have baked is you allow them to cool for about 10-15 minutes.
You want the cake to still be warm when you remove the cake from the pan, but not too hot. The top of the cake should be warm to the touch, but not burning your hands.
Take a knife around the perimeter of the cake pan to loosen the cake from the sides.
Place a pan or plate lined with wax paper on top of the cake, and then carefully, holding both sides, flip the cake over.
Allow the cake to cool completely, and if your cakes are uneven in height, you can shave off the top.
When you're ready to ice the cake, you'll turn over the first cake down on the bottom of the cake plate. Make sure to remove the waxed paper. It's normal for there to be a bit of cake on the waxed paper.
Put an even layer of icing on the top of the first cake, and then do the same as you did with the first cake for the next two cakes, layering icing in between.
When finished, you'll want to ice both the tops and sides of the cake. A good icing spreader makes that job easy. For a decorative touch, you can fill a piping bag and ice a decorative border around the top.
Make sure that you also get the recipe for the Coconut Cream Cheese Frosting to go with this cake!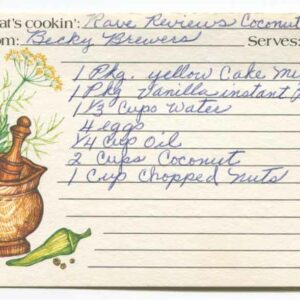 Rave Reviews Coconut Cake
This 3 layer coconut cake is sure to get rave reviews! Made with a yellow cake box mix it is also easy to prepare!
Ingredients
1

yellow cake mix

1

package of vanilla instant pudding

1 ⅓

cups

water

4

eggs

¼

cup

vegetable oil

2

cups

coconut

1

cup

chopped nuts
Instructions
Blend cake mix, pudding mix, water, eggs and oil in a large mixing bowl. Beat for 4 minutes at medium speed.

Stir in Coconut and Nuts.

Pour into 3 greased and floured 9 inch round cake pans.

Bake 350 for 35 minutes.

Allow cakes to cool for 10-15 minutes and remove from pans. Shave any excess off with knife so that all three cakes are of equal, even height.
Notes
Chopped nuts can be walnuts, almonds, pecans or a combination of these!
Nutrition
Serving:
1
slice
Calories:
331
kcal
Carbohydrates:
39
g
Protein:
5
g
Fat:
18
g
Saturated Fat:
6
g
Polyunsaturated Fat:
8
g
Monounsaturated Fat:
3
g
Trans Fat:
1
g
Cholesterol:
55
mg
Sodium:
339
mg
Potassium:
131
mg
Fiber:
2
g
Sugar:
20
g
Vitamin A:
81
IU
Vitamin C:
1
mg
Calcium:
111
mg
Iron:
2
mg
I hope you enjoy this recipe and of course if you make it, I want to hear all about it! Share your experiences and thoughts and photos in the comments section below!