There are a lot of different types of spinning wheels, so today I wanted to share a little bit about the different styles and what each kind of spinning wheel is best suited for.
While I can't possibly cover every single type of spinning wheel out there in a single blog post, hopefully this will help you identify a wheel when you come across one!
---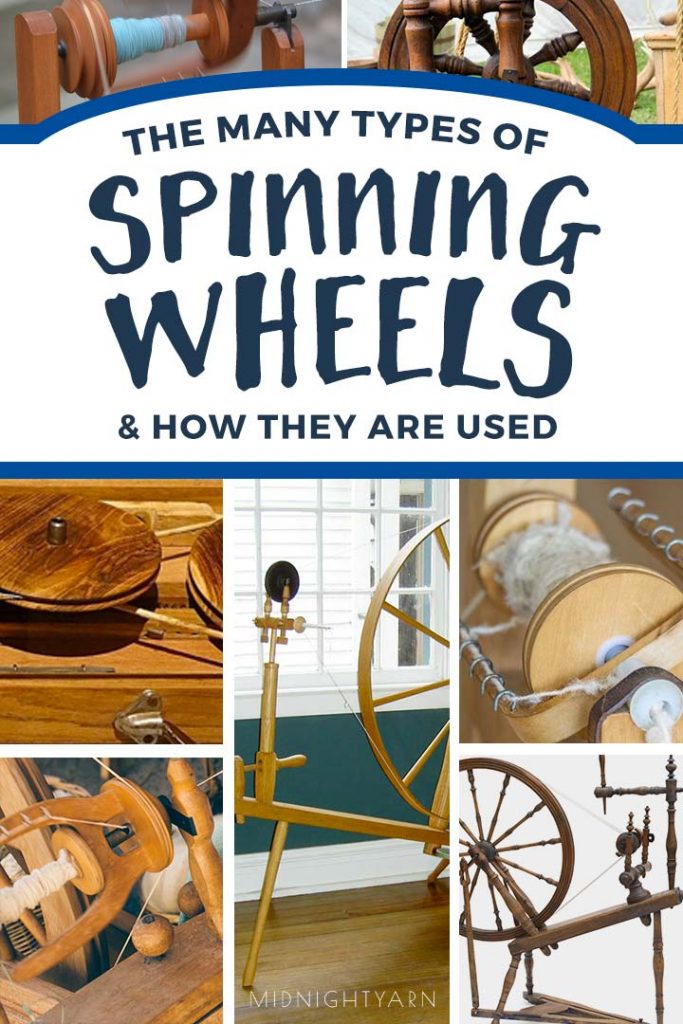 Spinning wheels are sold and classified based on the style of the body. The main body styles are Saxony, Castle, Norwegian, and Modern.
We'll take a look at some of the different types of spinning wheels below. If you are interested in learning more about specific brands and manufacturers of types of spinning wheels, please be sure to check out our Big List of Spinning Wheel Brands & Manufacturers!
1. Saxony Style Spinning Wheel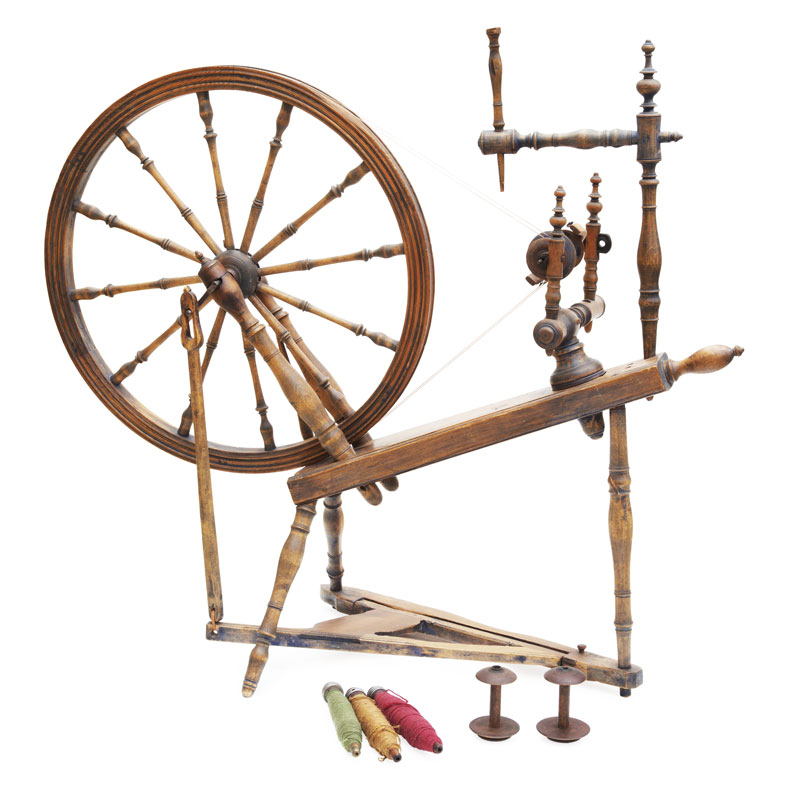 Saxony wheels are a traditional classic spinning wheel design. The wheel is on one side of the frame and the flyer is on the other. If you are thinking about buying an antique spinning wheel, you will likely come across a few Saxony style wheels!
Most of these wheels are built on a sloping frame. They typically have 3 legs and one or two pedals to treadle with. The treadle is connected to the wheel and as it moves up and down it turns the wheel.
There are a number of different options on these wheels. Wheels may be single drive or double drive. They may offer Scotch or Irish tension.
Common models of this wheel include the Ashford Traditional, Ashford Elizabeth 2, Lendrum Saxony Wheel, Schacht Reeves Double Drive Spinning Wheel, and the Kromski Symphony.
These wheels are a great place to start for beginners and are most suitable for spinning fine to medium weight yarns due to a smaller bobbin size.
Even if you do want to spin bulky yarns there are options! Many wheels can be fitted with a jumbo flyer with a larger orifice size or quill spindle that makes it easier to spin without getting caught in the flyer.
Saxony wheels are a wonderful and versatile option to explore, but there are many other great wheels out there, so let's take a look at those!
---
2. Norwegian Style Spinning Wheels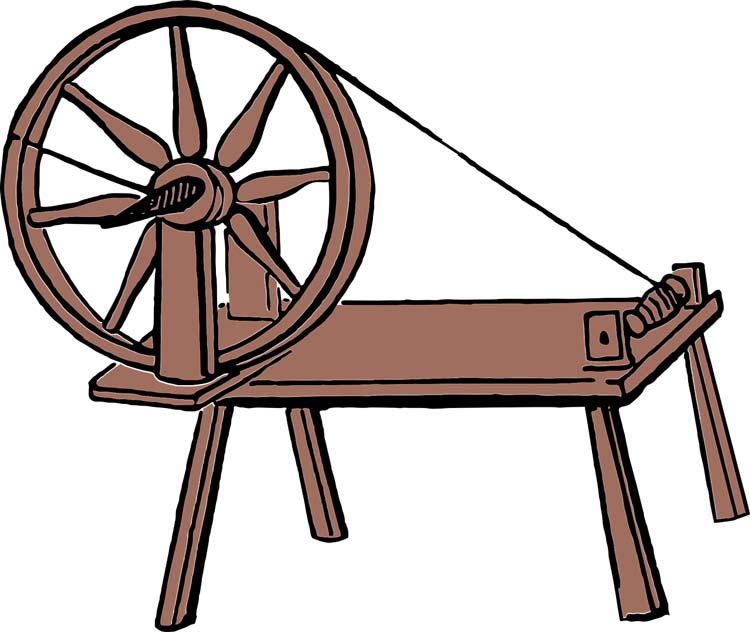 Norwegian spinning wheels look a lot like Saxony wheels, with the main difference being that they traditionally have 4 legs and a bench-style frame.
These wheels are used much in the same way as Saxony wheels. They are a popular choice for spinning fine wool, linen, and other fibers.
If you are buying a used spinning wheel, it's important to not confuse a working and functional Norwegian wheel with a SWSO – spinning wheel shaped object. The bench style design is often copied for decorative pieces for home and garden.
If you want one of these wheels, you may need to look for antique and vintage models, since not too many current manufacturers still produce this style in the United States.
---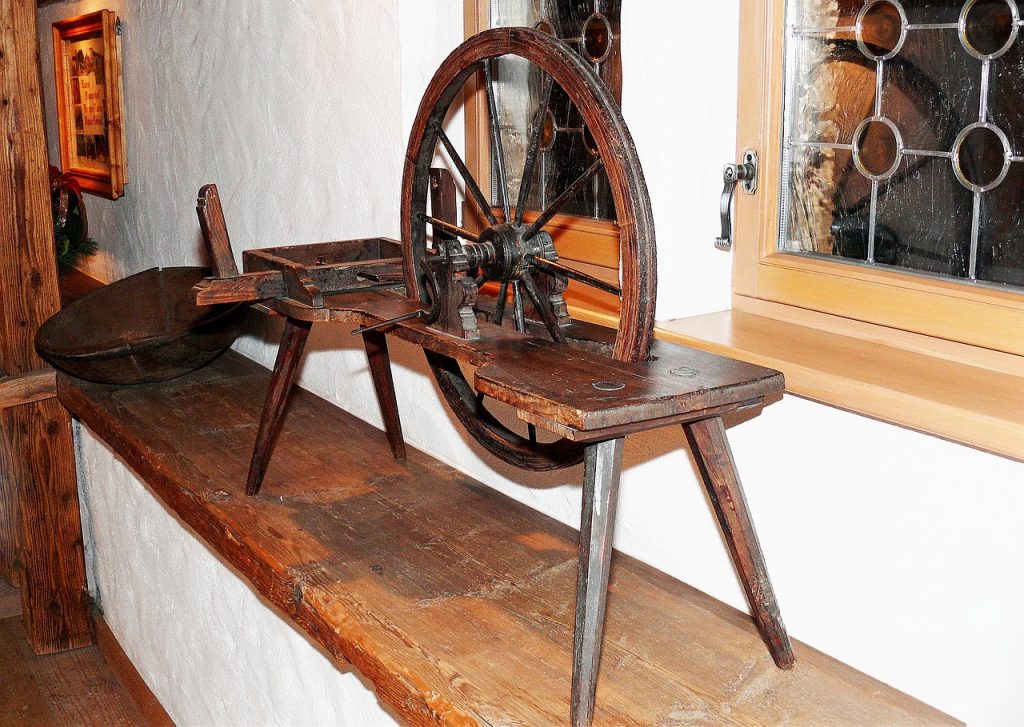 ---
3. Castle Wheels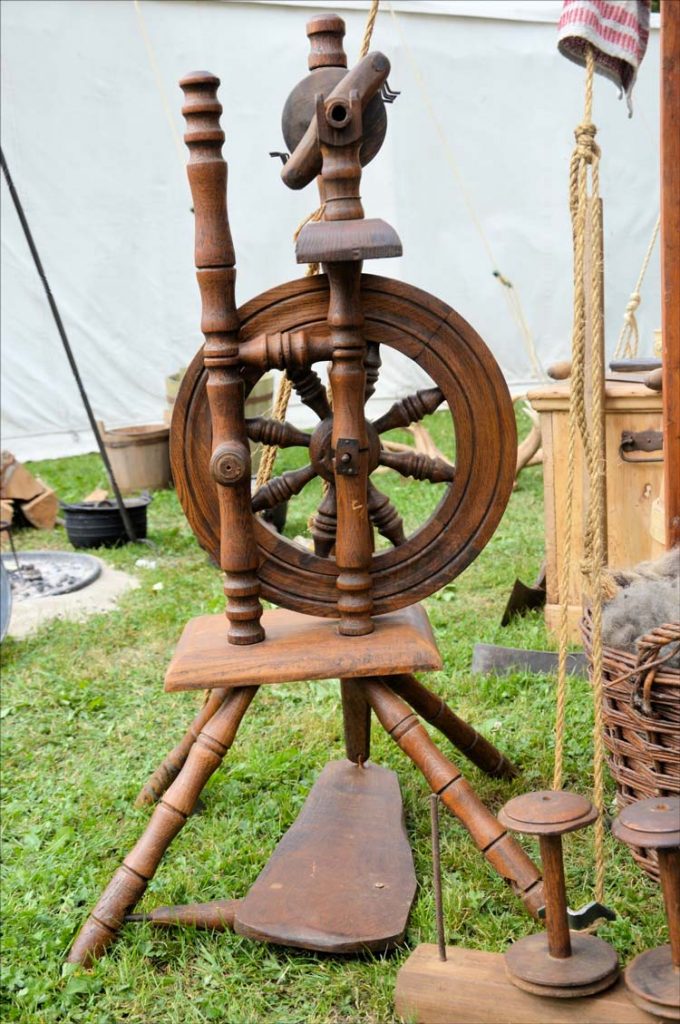 Castle wheels have a very distinct vertical shape, where the wheel is typically located below the flyer.
Most of these wheels offer a variety of options for different speed ratios. Adjustable spinning ratios give you more control for how much twist is put into the yarn as you draft the fibers and spin.
Popular wheels include the Ashford Country Spinner, Ashford Kiwi, Babe's Garden Spinning Wheels, Kromski Fantasia, Kromski Minstrel, Schacht Matchless, Lendrum wheels, Louet Wheels and many others. Many Spinolution wheels are modern castle style wheels.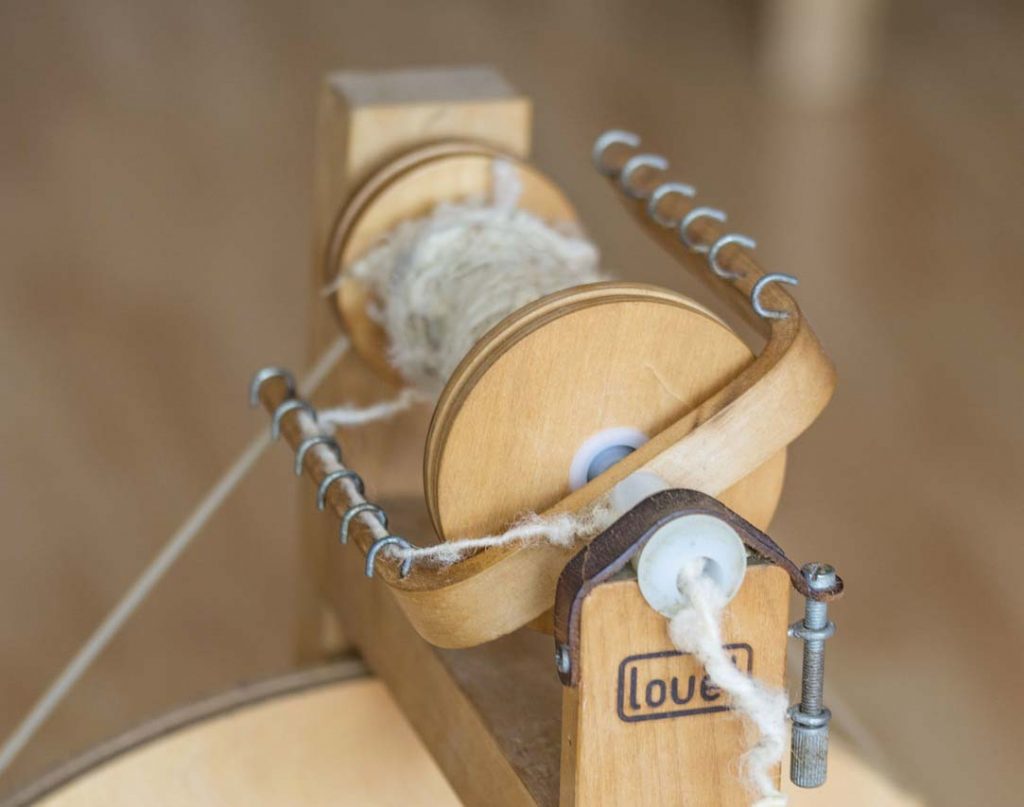 Our favorite thing about Castle Style spinning wheels is they can accommodate almost any type of fiber and spinning style.
Whether you want to spin fine silk or experiment with unusual materials like paper or fabric scraps, these wheels give you many options for adjustment.
If you enjoy spinning very bulky yarn and art yarns, a castle type of spinning wheel may be a good choice to explore because of the versatility of flyer options and speed ratios.
Many of these wheels offer Delta flyers, where the fiber does not have to pass through an orifice. This gives you a LOT of options for spinning beautiful thick and chunky yarns without it getting caught up in the flyer.
4. Great Wheels / Walking Wheels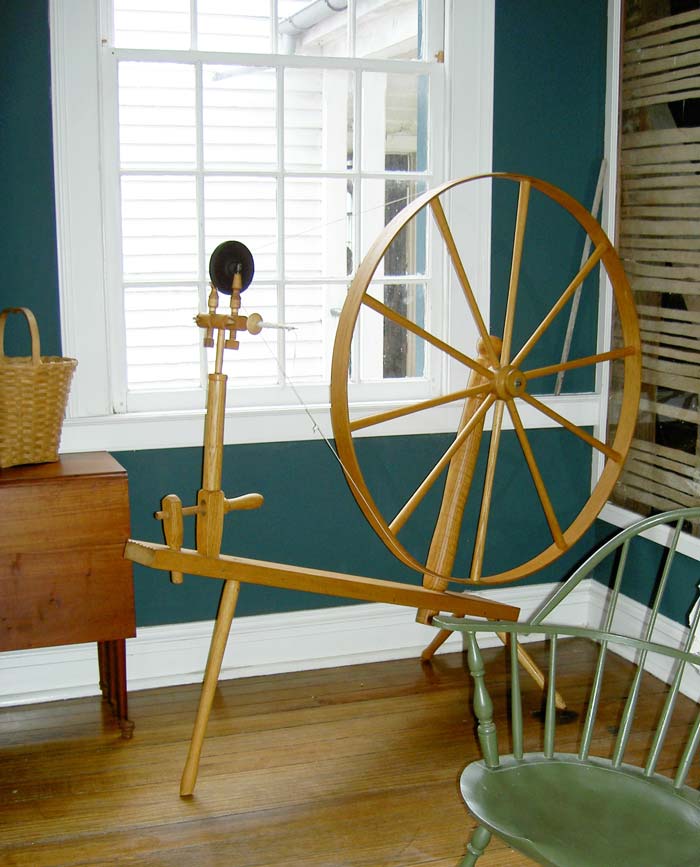 Great wheels, also known as walking wheels have a VERY big wheel, and if you look closely they do not have a treadle or a flyer. These are some of the earliest wheels used in the history of spinning.
With these wheels, the drafting and spinning is done by walking a distance away from the wheel as it turns or by turning the wheel by hand. Yarn is then wrapped around the spindle as you go, similar to a drop spindle.
While they might seem like they aren't very fancy, don't underestimate just what a powerhouse these wheels can be! Many people are able to do production-level spinning with one!
These wheels were a common design for very early American Colonial settlers. If you happen to live locally to a historic site, it can be worthwhile to check if they do demonstrations or classes on these wheels.
If you want to get a great wheel or walking wheel, you will usually have the best luck shopping through local spinning and weaving guilds or browsing antique listings.
Great wheels can sometimes be a bit costly due to their antique and historical value, but they truly are a wonderful part of history to own!
5. Travel & Folding Wheels
Travel wheels are lightweight and portable. They usually have a castle wheel design, with the added benefit of being able to easily fold them for transport.
Popular versions of travel wheels include the Ashford Joy, Kromski Sonata, Schacht Sidekick, Schacht Ladybug, Lendrum Original and the Spinolution Queen Bee.
If you travel frequently for spinning demonstrations or to spin with friends, these are great wheels to consider. Most of them weigh under 10 lbs and fold down so that it is no larger than the wheel itself.
If you live in a tiny house and space is at a premium, a folding travel wheel is a great option. These are also a perfect type of wheel to use if you like to camp or frequently set up to spin at festivals and craft fairs.
---
6. Electric Spinners
Electric spinning wheels are usually just called spinners, because there is no wheel at all!
These are a fantastic choice for anyone who wants to increase their productivity or struggles with pain while treadling on the more traditional wheels.
One of the biggest advantages to an electric spinner is you do not have to worry about speed ratios and you can still enjoy all of the benefits of being able to adjust tension.
There are a wide variety of different models and brands. Ashford is a recognized manufacturer who offers two sizes of their E-Spinner. We also like the Electric Eel Wheel, Sandra's Spinners, and the electric spinners offered by Heavenly Handspinning on Etsy.
---
7. Charkha Wheels: Table Top Vs. Box
Charkha wheels are a very old style of hand crank wheel that are small and portable. You may notice when looking at one they do not have a treadle, flyer or bobbin.
There are two primary styles of Charkha Wheels: Table Top Charkha Wheels and Box Charkha wheels.
Table Top Charkha Wheels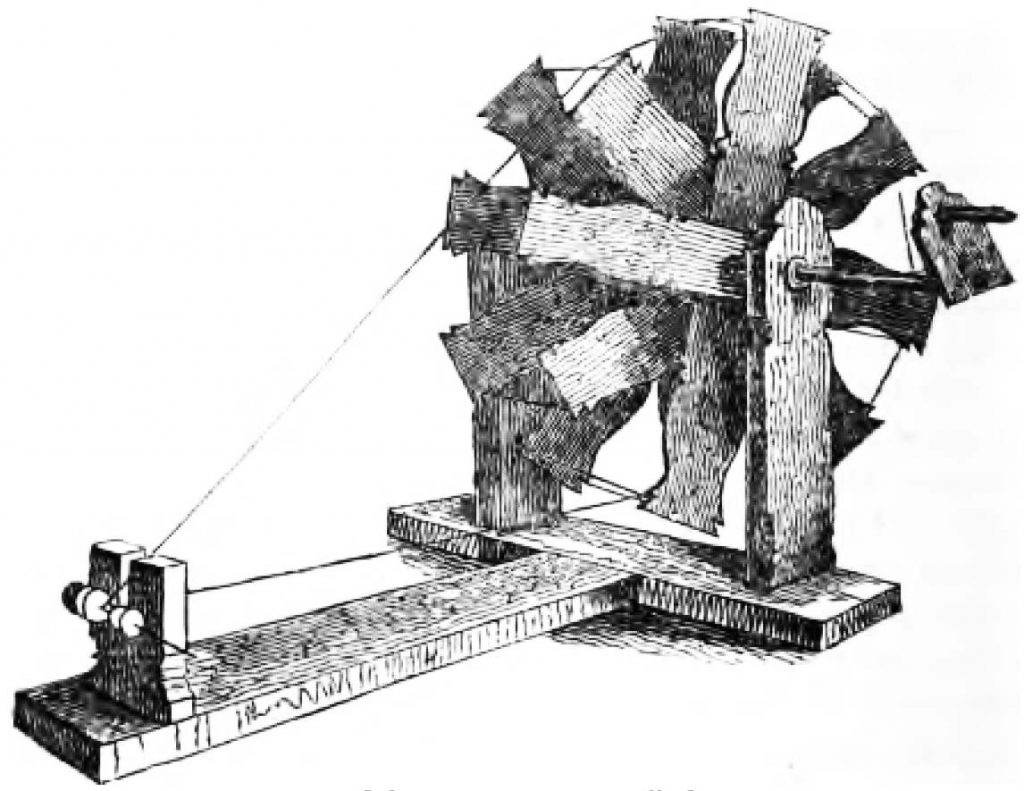 Table Top versions of the Charkha wheel are typically much larger than the box type and are common in many parts of the world where spinning is not just a hobby but a way of life.
While they are called a tabletop wheel because they can be used by placing it on top of a table, some of them are much larger and may not always fit on one!
It is more common to see these types of wheels in use with a spinner sitting on the floor next to the wheel while spinning.
Box Style Charkha Wheels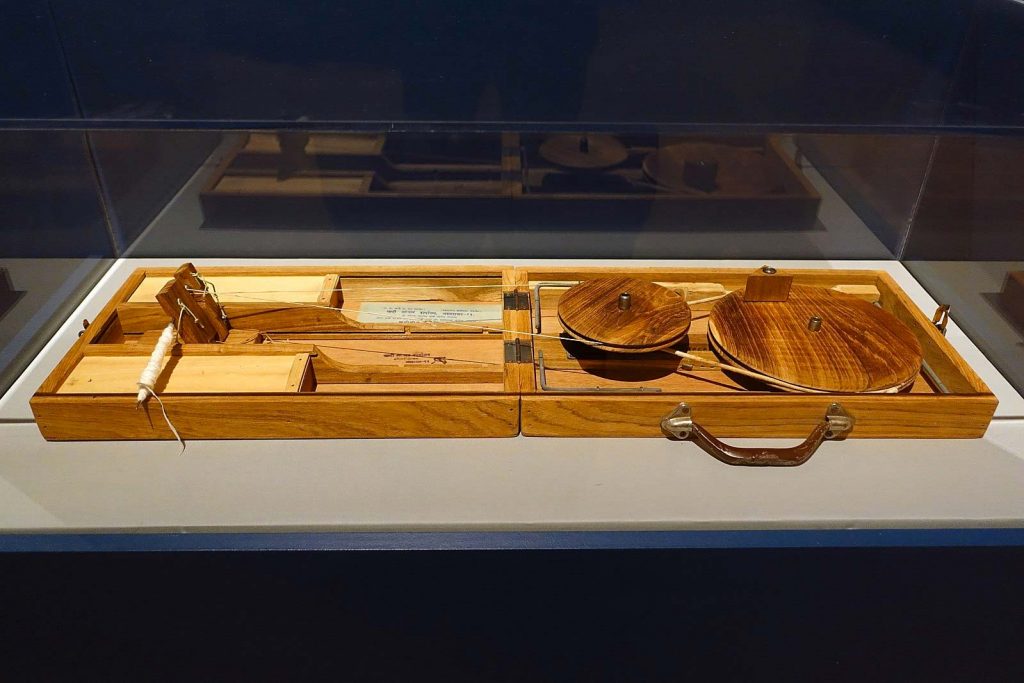 These wheels typically come in a box that can be easily folded for transportation and storage. Fibers are spun by cranking the wheel by hand.
These wheels usually are very small and can be used almost anywhere. They are much less expensive compared to other wheels and slightly more comfortable than a drop spindle for long-term serious fiber production.
---
Not a Wheel But Still Has Its Merits: The Drop Spindle!
If you are new to spinning, one of the best ways to learn is with a drop spindle. While it takes some practice, learning to spin yarn on a drop spindle can help make the transition to spinning on a wheel much easier.
Drop Spindles are ultra-portable and very inexpensive – you can even try making your own!
I've included drop spindles on this list because I've had people call drop spindles spinning wheels before while we demonstrated at various Colonial sites. While you definitely can spin yarn on a drop spindle, it is NOT a spinning wheel!
---
I hope you find this list explaining the different types of wheels useful!
I know when I first started researching wheels I didn't know what to look for AT ALL. I didn't even know how many different styles were out there until I met other spinners.
If you are interested in learning how to spin yarn, there are so many great choices and surely something perfect for you!
Which Types of Spinning Wheels Are Your Favorite?
I love all the different types of wheels, so it would be very hard for me to say whether there is any one best type of spinning wheel! There is really no "best wheel" – there is just the best wheel for you and your needs.
In most cases, understanding the type of yarn you want to spin and your needs for space and portability can help narrow down a lot of the choices.
That being said, I definitely want to ask all the spinners out there: Which types of spinning wheels do you have? Which ones are your favorite and why? Tell us your thoughts in the comments section below!